Last Updated: February 26, 2021.

In this post, we will cover the following topics:
1. Introduction: The eLearning Industry - Projected Growth
The eLearning industry was evaluated to be worth $107 billion USD in 20151, with projected growth up to $243-billion USD by 2022 (and $325 billion by 2025)2.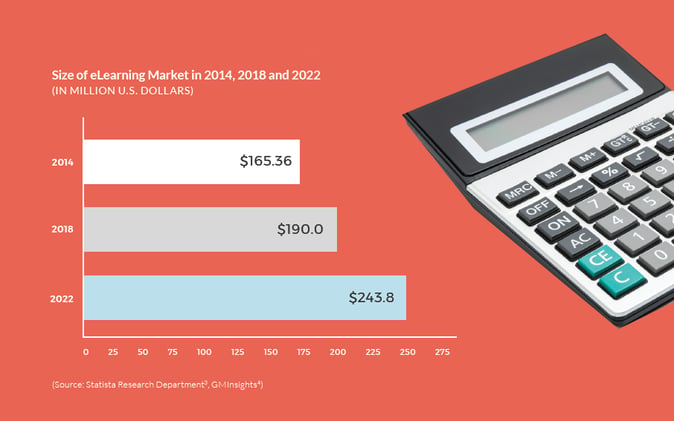 Impressive numbers aside, the industry is expected to continue to grow and prosper as the technology moves from the education sector into the rest of the market. Due to the rapid growth of this relatively young industry, many still have to ask:
"What exactly is an eLearning business?"
We will start by examining the state of the eLearning industry entering 2020, breaking it down by business activity and opportunity so that you can get a clear picture of the kind of businesses that make up this expanding and evolving industry.
So if you've ever wondered "What exactly is an eLearning Business, and how can I tap into this $200-billion industry?", the answers you're looking for are below!
You can also check out this article, What is eLearning? eLearning Defined to Benefit Your Business.
What Does the eLearning Industry Look Like?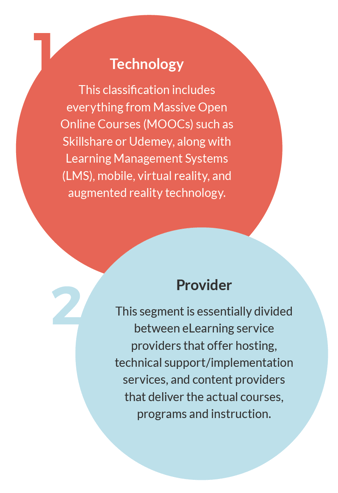 While there are many ways to segment the eLearning industry, we will be sorting eLearning businesses into the following two categories: Technology and Provider.
Many industries utilize eLearning technology to varying degrees, but the four industries where eLearning is utilized the most are: Healthcare, Education, Computer And Information Technology, and Retail/eCommerce. It is also worth noting that the Corporate Business sector is rapidly adopting eLearning across all industries.5
While there are technology providers who deliver solutions for eLearning itself, many eLearning businesses could be considered to exist within other industries.
For example, if you are a course creator (Provider) employed by a healthcare organization to create certification programs for their learning management system (Technology), you're in the eLearning industry within the healthcare sector.
Even if you are in a business that is running eLearning "at a loss", or not-for-profit, you are still part of the eLearning industry.
Anything produced for online consumption for onboarding, internal training, or product training for customers can be considered part of the eLearning industry, whether your business is making chocolate or selling Toyotas.
This also applies to the Education sector, whether it's K-12 or, more commonly, post-secondary institutions. Things get a bit more convoluted when examining the differences between for-profit "external" eLearning and "internal" Learning and Development programs, but it's still all part of the eLearning industry.
2. Technology
Massive Open Online Course (MOOC) Providers
MOOCs are generally the most recognizable players in the eLearning industry's technology segment. MOOCs surpassed 101 million learners in 2018, with market leaders in this market including Coursera, edX, XuentangX, Udacity, and FutureLearn. 6,7
These businesses provide the online infrastructure required for hosting, distributing, and administrating courses that are provided by users. The content providers and the MOOC website split the revenue, most commonly on a per-enrollment basis.
Everything from sewing classes to professional certifications - and now even full online degrees - are offered by MOOC platforms. Some only offer officially recognized academic courses, while others allow any user to upload courses on any and all subjects imaginable.
eLearning Business Opportunities:
MOOC Provider:
If you'd rather be the website that hosts the courses instead of creating them, you're looking at a sector that saw at least 20-million new users in 20168, 20179, and 201810. Coursera, the largest MOOC provider in 2018, achieved an estimated revenue of $140 million and 37 million users11.
But it's a crowded marketplace with over 12,000 MOOC providers active in 201912. To compete, even with modest goals, you will require a substantial investment in technology, support, and marketing to get off the ground. Many MOOC providers work in partnership with more traditional educational and certification institutions as a means of acquiring a more captive audience.
You need to make a substantial initial investment to get everything up and running if you are looking at entering the MOOC provider market. Once the platform is launched, however, the majority of the revenue will come from the sales generated by content providers and course creators who use your site.
Course Creator:
Uploading a course to a MOOC platform offers the lowest barrier to entry into the business of eLearning. Many MOOC platforms, such as Udemy and Skillshare, allow anyone to upload and sell courses on essentially any subject imaginable. Other MOOCs can have more stringent requirements to become a course creator.
Course types generally fall into the following 3 categories:
Direct to consumer
Corporate training
Online degrees & certifications

If you're looking to monetize a single course without having to worry about overhead and technological issues, working with a MOOC platform might be the right option for you. While you'll save on operating costs, the trade-off that you will be splitting your revenue with your platform of choice.
Learning Management System (LMS) Providers
Learning Management Systems (LMS) is software used to deliver, administer, and document online courses, professional training, and learning and development programs. Although academic institutions pioneered LMS adoption, today most LMS technology is focused on the corporate and business markets.
Estimates place the global LMS market at $9.2 billion USD in 2018, projected to reach $22.4 billion USD in 2023, an Annual Growth Rate of 19.6%13.
With over 800 LMS vendors that range from 100-million dollar software enterprises to modest cloud hosting vendors, there is no shortage of choice when it comes to learning management systems.15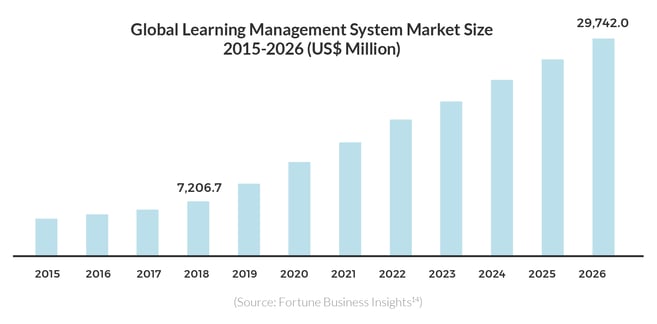 There are two broad categories of Learning Management Systems: Proprietary and Open-Source.
| | |
| --- | --- |
| Proprietary | Open-Source |
| Proprietary LMS platforms have 'closed code' which only the vendor has access to, while subscription and license fees are required to use the platform. | Open-source software's source code is released under a license that grants users the rights to study, change, and distribute the software themselves. |
The majority of LMS providers fall into the proprietary category, with the industry leader in terms of size being Blackboard.
On the open-source side, Canvas (200mm) and Moodle (178mm) are the largest entities.16,17
eLearning Business Opportunities:
Creating and distributing your own learning management system is essentially the only way to enter this segment of the market, and competition is fierce and numerous (but not as crowded as the MOOC market). There is also a split in the market between systems targeted towards the Education and Corporate sectors, as the features and requirements for each can be very different.
Decide where you want your LMS to fit and look into what separates the top of the heap from the rest of the competition. Ideally, have a specific underserved industry or segment to target with technology crafted to meet their specific needs.
*Jump to the Provider's section for insights into the businesses and opportunities associated with learning management systems and their service offerings.
Virtual & Augmented Reality
You may at first associate Virtual and Augmented Reality with gimmicky luxury consumer products and science fiction tropes, however, both technologies have found very practical applications in the business of eLearning.
The market for both virtual and augmented reality technologies continues to grow: The VR market is estimated to be close to $60 million USD in 2018, with a compound annual growth rate projected at 42.9% for the next eight years18.
While figures for the eLearning-specific augmented reality market are hard to come by, the market for the technology overall was $10.7 billion USD in 2019 with an estimated 46.6% annual growth rate until 202419.
Rapid adoption of both technologies has been seen in the healthcare sector, where it has been exceedingly successful. These successes, particularly for training initiatives, haven't gone unnoticed: Automotive, Retail, Military and Education industries are all projected to see major growth in the Virtual and Augmented Reality have found very practical applications in the business of eLearning adoption of both technologies in the near future20.
eLearning Business Opportunities:
You can split both VR and AR technology into either software or hardware. While the hardware segment is dominated by major players such as Google/Alphabet, Facebook/Oculus, Sony, and Samsung, it is projected to see the most substantial growth across both technologies.20,21
On the software side, Mobile applications for both AR and VR are predicted to see substantial growth as modern Smartphone technology and internet infrastructure make the technologies far more accessible.21 The corporate sector for training is projected to see the most growth as more industries embrace the technology for training purposes.18
If you don't have the capital to compete with some of the world's largest tech giants on the hardware, the software side (particularly for mobile devices) is primed to explosive growth, especially if you can get in on the ground floor as more and more industries adopt the technology.


Virtual and Augmented Reality have found very practical applications in the business of eLearning.


3. Providers
The nature of eLearning's digital landscape means that there are a plethora of opportunities for technical and subject-matter experts. While hosting, applications and support are usually handled in-house by proprietary Learning Management Systems, the open-source segment of the market can be the alternative for modest organizations.
Hosting
Cloud hosting is leading the way as the option of choice for keeping your content online and accessible. With more and more organizations moving away from expensive in-house hosting, freeing budget from acquiring and maintaining servers and eliminating significant burden to the IT department.22
eLearning Business Opportunities:
Providing cloud hosting services and support can be a lucrative revenue stream, so long as you have access to the infrastructure and technical expertise to provide the required security, performance, uptime, and recovery methods required by anyone hosting eLearning content.13
Many providers offer cloud hosting, but if you're looking for the best results without having to heavily invest in your own hosting infrastructure a partnership with a giant such as Amazon Web Service (AWS) may be the most cost-effective solution for finding adaptable and reliable servers for hosting.
Applications
Particularly relevant for the open-source LMS market, a large segment of eLearning businesses create, distribute, and support applications, add-ons, and plugins that provide everything from quality-of-life fixes, to interactive video creation, and full-blown virtual reality support. On the other hand, the proprietary LMSs in the market offer fully integrated solutions and therefore do not require additional add-ons and plugins to run the system. Of course, the level of functionality would differ depending on the type of package a company is opted in to.
eLearning Business Opportunities:
Both open-source and proprietary learning management systems can be your ultimate solution. With a careful assessment of your business needs, you can compare the different platforms to see which one has the potential to optimize the eLearning business opportunity. In general, access to the code of open-source technology such as Moodle and Totara Learn make them convenient platforms to develop for, albeit with a healthy amount of competition.
With some coding knowledge and the right idea, creating and monetizing applications, themes, and plugins for the most popular Learning Management Systems is a surefire eLearning business opportunity.
For proprietary LMSs, the benefit of it is that it often yields a simpler platform to use, and your L&D team can potentially save time and cost from maintaining and installing these additional apps. Another thing to note is that proprietary vendors provide more regular updates and bug fixes as they have full control of the scope of features and the roadmap.


Support
Getting things up and running, and keeping them running smoothly, is always a bigger job than first anticipated.
Technical support is a huge segment of any technology-based industry, and eLearning is no different. Whether it's the implementation of a brand new LMS, upgrading from an old system to new technology, or simply making sure the digital classroom doors stay open, there's always a large market for support.
Offering support and implementation services are generally limited to the open-source LMS market, but that support can be focused on the LMS itself and/or for third-party plugins and applications.
Content
There are essentially two ways to approach the business side of eLearning content: You can create the content for clients to utilize on their own LMS, or you can provide courses to end-users using your own LMS.
Course Providers:
Utilizing your own LMS you can provide courses, classes, and certifications directly to end-users yourself, whether these are individuals, groups, or larger organizations.
Whether you have an in-demand course and would rather cut out the MOOC middle-man by handling your own platform, or are a larger organization looking to expand the reach of your certification programs, utilizing your own LMS to deliver your content is an excellent idea. While the costs are higher than with a MOOC, the control and potential for profitability are also far higher.
In fact, many organizations that already have eLearning programs in place for internal Learning & Development initiatives are beginning to catch on to the idea of utilizing those courses to create a new line of revenue.
We reached out to organizations that currently have training programs hosted on an LMS, and here's what we discovered: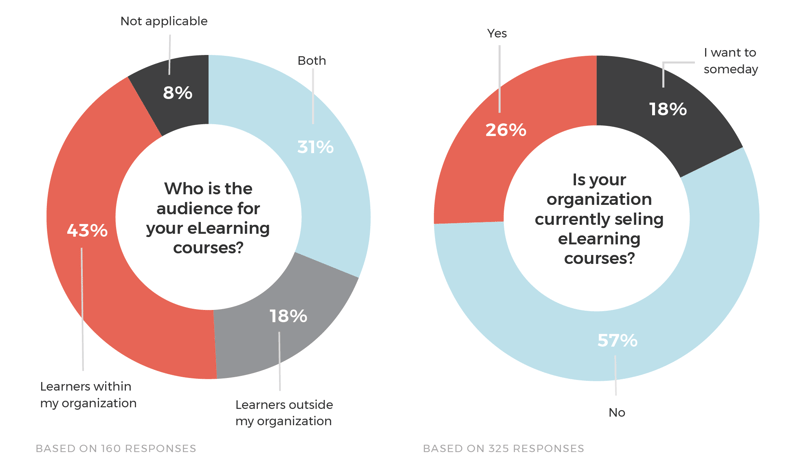 eLearning Business Opportunities:
With a growing majority of organizations using an LMS targeting external learners, the preference for transforming an L&D cost-centre into a revenue-generator by monetizing eLearning courses is only expected to grow in the coming years.
To create the ideal environment for selling courses with an LMS you need three key pieces of technology: The LMS itself, a robust eCommerce solution, and analytical reporting technology, all of which should be integrated directly with the LMS for the best user experience.
Then you just need to create your catalogue, get it in front of the largest audience possible, and measure, analyze, optimize, and repeat! Of course, that sounds much easier than it really is, as each one of those tasks is a job in and of itself. Which brings us nicely to the next section...
Course Creators:
What's the use of having a shiny new Learning Management System if you have no courses? And even if you have existing assets and materials, they probably need to be digitized, updated, and made compatible with your technology. Enter content providers! There are eLearning business opportunities on both the pedagogical and technical sides of digital content production.
When it comes to creating the course content itself, content specialists, instructional designers, and even instructors themselves are vital elements that many organizations need to get their eLearning and L&D initiatives off the ground. While many businesses will bring someone on in-house to do this, there is still a sizeable market for freelance design and instruction.
eLearning Business Opportunities:
Being an eLearning consultant, course creator, instructor, or digital learning coordinator is a viable option for both short and long term eLearning business models. You can target one-off customers that need courses built once, or sign on for a longer-term commitment to a client looking to roll out multiple courses or projects while supporting and updating old ones.
The nature of the tasks is highly variable based on the needs (and budget) of the customer, but there is a large market for non-traditional educators to take advantage of. Job duties will likely include some mix of media and material production, basic programming and graphic design, working with subject matter experts, and possibly even teaching the courses themselves (or being the talking head in the video content at least).
Administration:
On the technical side, taking those courses and making sure they actually work once implemented into an eLearning environment can be a full-time job itself. Even if you're not designing the content, there is still plenty of heavy lifting involved in making sure things run smoothly across platforms, devices, and browsers.
eLearning/LMS administrators are tasked with keeping the Learning Management System up and running, while also acting as the point of contact between technical support and management.
eLearning Business Opportunities:
Getting into the role of LMS administration and management requires a diverse set of skills and knowledge.
You'll be dealing with technical issues such as defining user roles, building and verifying custom certifications, and even implementing the courses themselves. You'll also have a role on the support side as well, troubleshooting user issues and dealing with learner and instructor feedback.
Administrators are often also responsible for the onboarding and training required to use the LMS for new staff and learners, so you'll need a balance of problem-solving acumen and customer service talent.
If that sounds like a difficult job to fill, well, you're right! And that's a good thing. Many organizations struggle to find an LMS admin within their ranks, which makes freelance and consulting work both lucrative and in-demand across the eLearning industry.
The nature of eLearning's digital landscape means that there are a plethora of opportunities for technical and subject-matter experts.
Conclusion
There is no one-size-fits-all eLearning business model. An eLearning business can be as small as a single entrepreneur creating their own courses to be sold online, or a large corporation that specializes in providing digital training programs. This means there is a tremendous amount of opportunity to grab a piece of this soon-to-be 300-billion dollar industry. You just have to find the right fit for what you bring to the eLearning table.
We've identified only a handful of eLearning business opportunities here based on recent market trends and historical growth. There are many other ways to create an eLearning business, especially within industry-specific niches.
Whether you are a teacher, programmer, IT company, or are looking to create a new revenue stream out of your existing eLearning, the right time to create your eLearning business is now!
Below you will find additional resources related to creating your own eLearning business, no matter which opportunities are right for you.
Ready to start your first eLearning business? Read this blog post for a checklist of things to consider: eLearning: Starting a Business for Dummies
Additional Resources
References
McCue, T. J. (2019, May 14). E Learning Climbing To $325 Billion By 2025 UF Canvas Absorb Schoology Moodle. Retrieved from https://www.forbes.com/sites/tjmccue/2018/07/31/e-learning-climbing-to-325-billion-by-2025-uf-canvas-absorb-schoologymoodle/#7ddd9f1d3b39.
Jaaskelainen, L. (2019, July 5). Topic: E-learning and digital education. Retrieved from https://www.statista.com/topics/3115/e-learning-and-digitaleducation/.
Statista Research Department. (2019, July 23). E-learning worldwide market size 2014. Retrieved from https://www.statista.com/statistics/501104/worldwide-elearning-market-size/.
Bhutani, A., & Bhardwaj, P. B. (2019, February). E-Learning Market Trends 2019-2025 Industry Size Research Report. Retrieved from https://www.gminsights.com/industry-analysis/elearning-marketsize.
Hallberg, A. (2017, December 21). Top 5 Growing Industries Using eLearning. Retrieved from https://elearningindustry.com/growing-industries-using-elearning-top-5.
Craft (2019). Skillshare Competitors. Retrieved from https://craft.co/skillshare/competitors.
Shah, D. (2019, March 21). By The Numbers: MOOCs in 2018 - Class Central. Retrieved from https://www.classcentral.com/report/mooc-stats-2018/.
Shah, D. (2020, January 6). By The Numbers: MOOCS in 2016 - Class Central. Retrieved from https://www.classcentral.com/report/mooc-stats-2016/.
Shah, D. (2018, November 21). By The Numbers: MOOCS in 2017 - Class Central. Retrieved from https://www.classcentral.com/report/moocstats-2017/.
Shah, D. (2019, March 21). By The Numbers: MOOCs in 2018 - Class Central. Retrieved from https://www.classcentral.com/report/mooc-stats-2018/.
Shah, D. (2018, October 31). Coursera's 2018 Revenue Estimated to be $140 million - Class Central. Retrieved from https://www.classcentral.com/report/coursera-2018-revenue-140-million/.
Shah, D., & Pickard, L. (2019, July 30). Massive List of MOOC Providers Around The World - Class Central. Retrieved from https://www.classcentral.com/report/mooc-providers-list/.
LMS Market Worth $22.4 Billion by 2023 | CAGR of 19.6% - Exclusive Report by MarketsandMarkets™. (2019, September 17). Retrieved from https://www.bloomberg.com/press-releases/2019-09-27/lms-market-worth-22-4-billion-by-2023-cagr-of-19-6-exclusive-report-bymarketsandmarkets.
Learning Management System Market Size - LMS Industry Report 2026. (2019, September). Retrieved from https://www.fortunebusinessinsights.com/industry-reports/learning-management-system-market-101376.
Leh, J. (2019, August 15). Why So Many LMS Vendors? Retrieved from https://talentedlearning.com/why-somany-lms-vendors/.
Ching, Y.-H., & Baldwin, S. (2019, July). View of Online Course Design: The International Review of Research in Open and Distributed Learning. Retrieved from http://www.irrodl.org/index.php/irrodl/article/view/4283/5089.
Mergent Intellect. (2019, November). Instructure - Company Overview. Retrieved from https://www-mergentintellect-com/index.php/search/companyDetails/61308551.
Zion Market Research (2019, June 26). Global E-Learning Virtual Reality Market Will Reach Around USD 1,478 Million By 2027: Zion Market Research. Retrieved from https://www.globenewswire.com/newsrelease/2019/06/26/1874373/0/en/Global-E-Learning-Virtual-Reality-Market-Will-Reach-Around-USD-1-478-Million-By-2027-Zion-Market-Research.html.
Markets and Markets. (2019). Augmented Reality Market. Retrieved from https://www.marketsandmarkets.com/Market-Reports/augmented-reality-market-82758548.html.
Mordor Intelligence. (2019). Augmented Reality Market Size: Growth, Trends, and Forecasts (2020 - 2025). Retrieved from https://www.mordorintelligence.com/industry-reports/augmented-reality-market.
Mordor Intelligence. (2019). Virtual Reality Market Size: Growth, Trends, and Forecasts (2020 - 2025). Retrieved from https://www-mergentintellect-com/index.php/search/companyDetails/61308551.
Lambda Solutions. (2018, December 5). Why Businesses are Choosing Cloud-based LMS Over Self-hosted Solutions. Retrieved from https://www.lambdasolutions.net/blog/why-businesses-are-choosing-cloud-based-lms-over-self-hosted-solutions.