Technology is changing the way we learn, teach, and train new skills.
This report will show you how to identify and overcome the most common challenges eLearning providers face regardless of industry, organizational size, or learning goals. Bringing all those solutions together will allow you to determine exactly what is required to address these challenges and achieve eLearning success.
Traditional methods of instruction are increasingly being supplemented by - or replaced with - eLearning. While eLearning offers some incredible benefits, this new wave of digital instruction comes with its own unique set of challenges, many of which go unaddressed and undercut the potential that eLearning offers learning and development initiatives.
By reaching out to 979 professionals across multiple industries we've found the most substantial and common challenges associated with eLearning, regardless of industry. Analyzing this data has provided insight into how to overcome those obstacles and achieve sustainable, scalable, and successful eLearning. We'll explore solutions for each problem, and identify how to bring those solutions together in a practical way that harnesses all the benefits eLearning has to offer.
Without knowing how we got the generation of online learning, we can't understand how to move forward and fully adapt to the needs of the users. Many of the challenges eLearning faces today spring from the disruption of The Fourth Industrial Revolution. To provide that vital context we will begin by examining our age of Digital Transformation so that we can recognize how we got to this stage of technological advancement.


Contents
Top eLearning Challenges of The Fourth Industrial Revolution
Training and development is key for adapting to the changes The Fourth Industrial Revolution (4IR) brings. There are many technologies that drive the 4IR, not all of them are suitable to adopt and utilize for many companies to optimize their workplace learning initiatives.
The age of Digital Transformation, also known as The Fourth Industrial Revolution (4IR) or Industry 4.0, is demanding fundamental changes in how organizations operate and work. The new technologies that are being created and sparked by the digital age pervades every aspect of modern life. From consumers to manufacturers to cities, 4IR advancements are more accessible and less costly than just a few years ago and have the potential to connect everything into one, giant, communicating network. The concept of the Fourth Industrial Revolution was coined in 2016 by Klaus Schwab, the founder of the World Economic Forum, in a book of the same name. Schwab defines 4IR as "a world in which virtual and physical systems of manufacturing cooperate with each other in a flexible way at the global level."1 However, it is more than just smart technology and connected machines and systems, it is a massive overhaul of production and industry standards using breakthrough technology. 4IR represents the convergence between scientific breakthroughs, such as nanotechnology, quantum computing, data mining, renewable energies etc, with the physical, digital, organizational and other such domains and is poised to gradually shape how we live, work, play, and even revolutionize how we experience.
All revolutions bring with it dramatic changes that are beneficial, creates opportunities, and foreseeable certainties. In the case of the Fourth Industrial Revolution, the advantages are clear: increased productivity, efficiency and quality in processes, greater safety for workers through risk reduction, enhanced decision making with data-based tools, improved competitiveness. Surprisingly, while 4IR is ubiquitous, not everyone is onboard. According to a collaborative survey between the World Economic Forum and McKinsey & Company, "Lack of resources/knowledge to scale", "high cost of scaling" and "hard to justify business case without short-term impact" and "Lack of leadership support and attention" are in the top ten reasons preventing the full adoption of 4IR technologies across enterprises.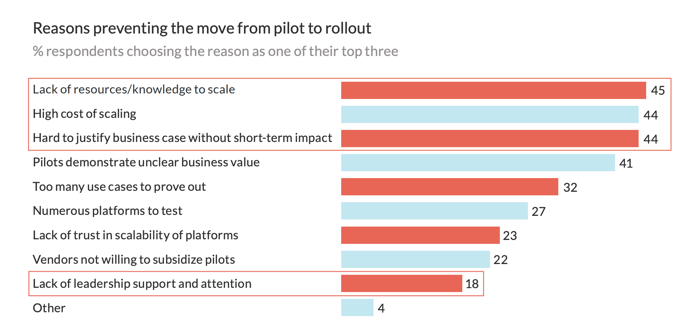 There is no doubt that the roadblocks to implementing new solutions are the perceived investment required and the difficulty of aligning the organization around the potential value and return on investment. In this article we will explore these 4IR adoption challenges as they pertain to workplace learning and find out how you can get the most from your budget while increasing eLearning ROI.
The Rise of The Fourth Industrial Revolution
To understand how we arrived at the Fourth Industrial Revolution, let us look back at the previous three industrial revolutions, how they impacted our lives and the world when they occurred.
First Industrial Revolution. It occurred at the end of the 18th century, in 1784, when steam was harnessed for mechanical production. The invention of the first mechanised loom was a watershed.
Second Industrial Revolution. In 1870, mass production powered by electricity was first introduced. The assembly line was invented and the industrial sector speeded up exponentially.
Third Industrial Revolution. In 1969, advances in computing led to machine programming, which opened the door to progressive automation.
Around 2014, the industry experienced a disruption in how we do things with the appearance of smart factories and online production management. Schwab foresaw what was to come in his book, The Fourth Industrial Revolution: "We are at the beginning of a revolution that is fundamentally changing the way we live, work, and relate to one another". The speed, scope, the unprecedented scale and complexity are the reasons upon which experts agree and consider this period to beThe Fourth Industrial Revolution.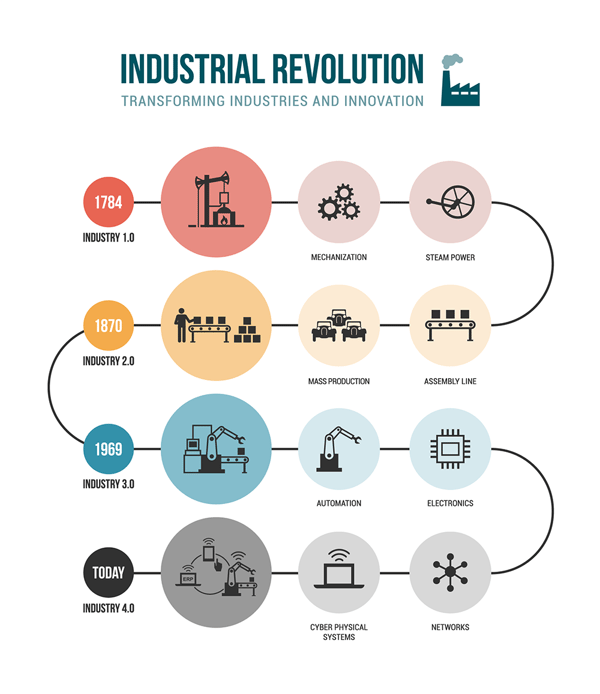 4IR Drivers for eLearning
Training and development is key for adapting to the changes 4IR technologies bring. And while there are many technologies fueling 4IR, here are some essential technologies many organizations can employ and combine to optimize their workplace training and development and deliver organizational impact.
1. Big Data. Information is power. Big data allows massive data management and interpretation for business purposes, which is particularly relevant when devising business strategies or making decisions.
2. Internet of Things (IoT). Technology designed to establish connectivity or the blending of the digital and physical worlds. This has revolutionized many sectors, and has interconnected billions of devices and more and more devices are becoming smart. IoT allows smart devices to collect data and connect to other devices to make everyday tasks easier and more efficient.
3. Cloud Technology. Also referred to as Cloud Computing, this technology, enables companies to scale and adapt at speed, accelerate innovation, drive business agility, streamline operations, and reduce costs. Cloud is a model of computing where servers, networks, storage, development tools, and even applications (apps) are enabled through the internet. Instead of organizations having to make major investments to buy equipment, train staff, and provide ongoing maintenance, some or all of these needs are handled by a cloud service provider.
4. System Integrations. 4IR is all about connectedness and how we can embed the technology into all aspects of our lives and industries. System Integration is a process commonly implemented in the fields of engineering and information technology. It involves the combination of various computing systems and software packages in order to create a larger system, and this is what drives 4IR to work at its optimum. System Integration increases value to a system by creating new functionalities through the combination of sub-systems and software applications.
5. Artificial Intelligence (AI). Also known as machine intelligence, it is the ability for machines to learn and adapt to different problems and situations. AI is one of the key technologies in the sweeping transformation of economy, society and labour market. AI is useful for many companies managing numbers and logistics as AI-enabled devices can process numbers at a faster rate than humans. As the technology develops further, AI's ability to learn and predict will allow it to be a solution to even more business problems.
6. Virtual and Augmented Reality (VR and AR). These technologies that combine the real world and the digital world using computer science, enrich the visual experience of both users and consumers by generating immersive experiences.
7. Cyber Security. The interconnected nature of 4IR driven operations and the pace of digital transformation mean that cyberattacks can have far more extensive effects than ever before, and manufacturers and their supply networks may not be prepared for the risks. In response, many companies are beginning to require all sorts of new authentication, from simple two-factor all the way up to bio-identification.


eLearning's Biggest Challenges & Solutions
1. High Cost of Scaling
Technology is regarded synonymously with cost. The more advanced and innovative the technology the higher the price.
However this is not necessarily the case. In fact, having access to big data prior to investing in more advanced technology can save a heck of a lot of time and money. With support for the 4IRs driver, the internet of things (IOT) and having the ability to connect online, data can be obtained faster, more effectively and with better efficiency.
While this does require a significant amount of upfront work to implement, it typically translates into optimized processes. The typical misconceptions on high-cost of scaling are with regard to technology, specifically the Learning Management System (LMS), and the infrastructure required to support them.
The implementation time does require a longer period of time, but you reap the benefits of increased optimization, reduced time and energy and shortened downtime and maintenance.
Constraints of LMS Solutions
10% of respondents said their LMS is holding them back.
eLearning evolves at the speed of our modern technology, and if your Learning Management System (LMS) can't keep pace, the quality of your training will be just as stunted. Both open-source and proprietary learning management systems can be your ultimate solution. With a careful assessment of your business needs, you can compare the different platforms to see which one has the abilities and functionalities to scale and grow your eLearning business.


Case study: Sandler Training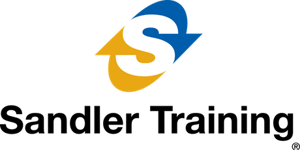 Sandler Training is one of the world's largest training and development companies with over 250 locations with 30,000 students world wide. While the organization was experiencing growth and increased demand for their training products, Sandler was faced with challenges employing advancements and innovations in training design and delivery as a result of an outdated LMS. Moreover, the platform was far too complex and expensive to upgrade. This ultimately was reflected in their sales as clients were not able to adopt the system.
Sandler needed a solution that was able to support their 8,000 users as well as have a rich feature set that not only will meet their training and delivery requirements, but also give them the ability to implement innovations in online learning. Most of all, the solution needed to save them time and money in administrative work.
Sandler accomplished all three of those goals, click here to see how they did it and how you can achieve the same results.

THE SOLUTION: Scalable LMS platforms
When your organization is ready to grow, for example, selling external training courses to other businesses, you might be thinking, how do I scale my eLearning business with my current LMS?
So, let's say you want to expand your business to different geographical regions. Here are some of the functionalities you should include as part of your checklist when evaluating a truly scalable solution:
Sophisticated taxation rules for different products and regions
Bulk purchasing and seat assignment for B2B selling
Multi-currency support
Child stores and alternate views with included language packs allow you to franchise or run region-specific versions of your store
Gamification and learning paths for building your eLearning or training courses
Custom certificates for individual learners upon course completions
When choosing between open-source and proprietary LMSs, the benefit of having a proprietary solution is that it often yields a simpler platform to use, and your L&D team can potentially save time and cost from maintaining and installing these additional apps. Another thing to note is that proprietary vendors provide more regular updates and bug fixes as they have full control of the scope of features and the roadmap.
Another important factor to consider is the vendor's ongoing support. In order to scale your business, you need a vendor that has the expertise to grow with you. Lambda Solutions is experienced in supporting industry leaders as they scale their training, and can offer guidance on both basic and advanced features of an eLearning platform.
For more insights into the challenges and solutions faced by a growing learning enterprise, bookmark this article that answers the question "How Can I Scale My eLearning Business?"
Capital Expenditures (CapEx) Related to Self-Hosting
In addition to the LMS software solution, there is also the infrastructural needs to support this technology: hosting, system administration, hardware and software, security, support. Though having a self-hosted capex solution can provide guaranteed annual spending, it may pose future issues especially if any technological changes happen to the software or within the industry or environment. Any vendor contracts may be a factor and will depend on the duration which can cause excess spending and waste or hinder time on the administration's side, for any software improvements or updates. The more time taken for setup, the more resources and budget needed to support.

Businesses are Choosing Cloud-based LMS Over Self-hosted Solutions. A recent report from Gartner predicted a 17.5% growth in cloud spending in 2019, reflecting the quick adaptation of cloud technology has begun in earnest. With this comes new challenges as there is an increased need for cybersecurity and online proficiency.

An initial McKinsey Report predicted 800 million to disappear by 20302 however this change may allow an entirely new sector of jobs to emerge.

Many organizations are switching to Cloud hosting for a myriad of reasons. Cloud service involves having your organization LMS hosting managed by a 3rd party service online. The reasons for the increased migrations towards the cloud is the ability for limitless possibilities for expansion, with data that can be managed anywhere remotely across the world. The flexibility can allow for increased storage space and faster loading times that can contribute to overall user experience. which is one of the keys to a successful eLearning solution.

Cloud based software is treading upwards with companies using current platforms such as Amazon Web Services (AWS). A service, such as AWS, can support your needs with access to a multitude of services involving data protection, identity management, infrastructure protection and threat detection via continuous network monitoring.

If you still have privacy concerns regarding cloud services, ease your mind with a head-to-head comparison in this article examining eLearning Security: Does Cloud Hosting Measure Up?


2. Lack of Knowledge & Skills
27% of respondents said they don't know enough about how to get the most from their eLearning technology.
Unfortunately, it is more common for many companies to simply "slide" their operational administration staff in the role of LMS administration and course creator role in order to take advantage and transition to offering eLearning in their workplace. This results in staff that have little to no knowledge of where to begin and the best practices in delivering online training. It is clear that there is a disconnect between the course creator and the technology of the LMS itself.
According to our in-house experts, the bigger issue is that most of our clients feel that they lack proficiency in their LMS, as well as a lack of understanding in what learners really need. In the absence of product knowledge, an admin may invest in various tools for their LMS as can amount to little more than fancy features of "just in case" functionality that could potentially be used in the future. However, throwing money at structuring and designing an amazing course without full institutional support for learners who are slow to adapt, or simply not technology savvy is counter productive. This results in a waste of time, resources and budget.
Lack of confidence in the impact of a T&D program is usually the culprit of this issue. Because of no actual proof of the correlation between a company's expenditures and the goals of the company itself, leadership will not prioritize the value of the data needed for a productive solution. Without anyone truly monitoring the results it becomes difficult for the trainee to be accountable for their training which can eventually if not put into practice, be forgotten. Only to have the trainee result back to what they habitually know because there are no expectations put in place.
You want to get the most out of your LMS, so how do you bridge this gap? This Guide To Triaging Your L&D Budget Bleed should be a ton of help.
THE SOLUTION: Understanding the goals of your business so you can create better pathways for onboarding
Once you hire someone, you need to train that person. The cost of staff turnover adds up. Figures vary, but it can cost as much as $2,5003, depending on the position, to replace a frontline employee.
The solution to learner engagement is not connecting with the needs of the company first. In understanding what the company and business units need to perform (KPIs) you will get a better understanding of what the learner will need in order to perform their job better and more efficiently. Once this alignment is what the business needs and how the employee contributes to it, then the idea is that this motivates your learners because it helps them improve their performance, advance their career, and their sense of achievement.
The LMS component is just a means to the end. We need to make learning effective because technology on its own is useless unless properly employed. The driving force of your T&D curriculum should come from understanding how to apply the concepts of adult learning as a means to reach your business goals.
To help you do that, below we will identify the factors that affect adult learning and the questions to consider once both have been actualized.
Adult Learning theory: What's in it for me?
The drive to learn for adults is complex, usually involving their past experience or habits that affect how they retrieve new information. Adults are intrinsically motivated which poses a stark contrast from the motivation of a child which involves traditional modes of learning that deem less engaging and practical. Below is a representation of Malcolm Knowles' 5 assumptions that factor into adult learning that correlate to today's adult learning principles.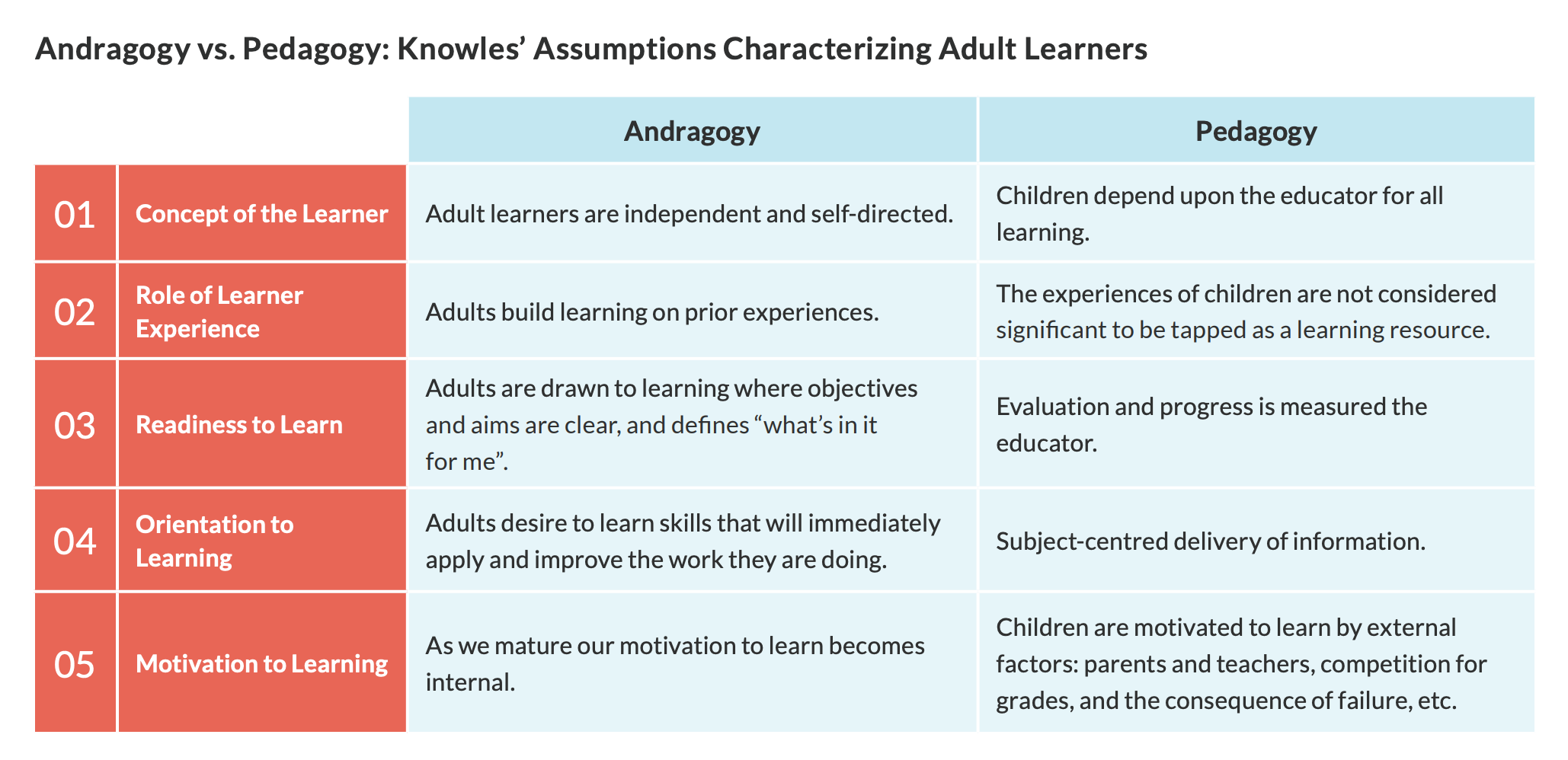 While adult learning principles are incredibly important, we don't have the space to get into details here. Good thing you're only 1 click away from unveiling The Andragogy Secret: How To Use Adult Learning Theory To Drive L&D Engagement Success.


Assess the LMS admin!
When considering your eLearning material, you should do an assessment of the individual(s) who will be managing their solution. Some important factors to keep in mind within the assessment are:
What are your organization's business goals?
Part of this should be course completion. What are the roles and responsibilities of the client? Would gamification appeal to your audience? Do your learners need certificates of completion?
Do you require analytics?
Will you need advanced grading, completion tracking, engagement tracking, and technical analytics for regulatory compliance or certification requirements?
What kind of courses do you want to provide?
This is most important, and will govern your curriculum.
Who is your audience?
What are their goals in regards to career? How will the learning you provide prepare your learners for the big picture career?
What format will be most appealing to your audience?
Does your audience prefer a social or non-social learning environment? Are your courses timed by month, day, hour?
Start with the "lean methodology" when developing your training initiatives, and if staying lean sounds like a diet concern instead of a business strategy, discover exactly Why You Should Be Running Your L&D Team Like A Startup in this free on-demand webinar!
What is practical for your industry?
Does your audience require a social or non-social learning environment to best meet any industry-specific requirements or practical limitations?
What is the online literacy of your learners?
This could be affected by their education or inclination to use digital mediums. Here you can gauge the most effective mode of delivery such as micro-learning, gamification, video?
Make sure to dig deep so you know how to structure and run your LMS and make better usage of its features and functionality. Understanding will allow you to know how to create the best environment for your learner.
Creating engaging content is hard and time consuming, but the payoff is always worth it:

"For a pro, it really takes a whole day (8 hours) to put together a quality one-hour lesson with out-of-class activities (homework, projects, etc). So it's really about time management." - Dr. Scott – Founder Easy Hard Science
Most importantly: ALWAYS get feedback. Be prepared for the neverending environmental changes because that's how you deliver the best training! Having a post training discussion between the manager and trainee can provide better insight into and a more in depth look into an individual's training experience. This ties back to the impact of your T&D program becoming accessible data for future software implementation.
"You get the employee engagement you deserve. If you don't engage with them, they won't engage with you… if you want them to commit to the cause, you must make an emotional connection with them… so take onboarding personally and make it personal" (George Bradt, Forbes4).
Prioritize finding a provider that specializes in both the development of eLearning technology and has expertise in determining the best ways to utilize that technology. Ideally, this education begins with the onboarding process and continues throughout the lifetime of your eLearning initiatives as technology improves and your organization grows.
Many LMS providers do offer initial onboarding for their systems, but depending on your provider additional support can be costly. Simply learning how to use your eLearning technology is not the same as understanding the best way to actually utilize it to benefit all your users. Finding a solution that offers a good ongoing support program can benefit you in the long run when it comes to adapting to any changes that happen within the environment.
It's never easy getting started, especially if it's your first shot at developing eLearning or remote training programs for training new learners. But you can get off to a running start this practicable eBooks guide to the best onboarding practices for achieving maximum ROI.


3. System Integration
27% of respondents said bringing all their eLearning systems together is a major challenge.
After your LMS administrator has been successfully onboarded one of the responsibilities they can have is managing LMS integrations. Poor training can affect one's knowledge on the full capabilities and integrations their solution can provide. The power of your LMS is only as good as the admin managing it.
Today, we are able to use data collected over time to foster a better understanding of the user so we can better implement the right technology for their success. In addition integrations are becoming an integral part of building an advanced overall robust solution providing more value and efficiency.
However, since technology doesn't always play nice with others, choosing the right integrations can pose a challenge, even for simple eLearning initiatives. Something as basic as making sure your courses are in a format that is compatible with your LMS can lead to some serious headaches.
Integrated systems can be anything from plugins for adding engagement elements to your courses, such as gamification apps, security and accessibility features, like single-sign-on functionality, or even analytical reporting for improving course effectiveness. (More on these below!)
When integrations don't work together, minor headaches can evolve into full-blown migraines if your eLearning has more complex elements such as eCommerce and Analytics systems, as Lambda's own technical partner support representatives can attest:
"When a client comes to customer support people come in with a widely optimistic vision. Most know what they want in general however they usually do not know where they need the integrations, how they need to implement it and when they need it to be implemented…"
It's easy, and common, for many organizations to overlook their integration needs and how those needs can have a major impact in regards to achieving their overall goals. Usually this ends up resulting in technical issues down the road.
Usually, integration problems manifest as additional manual labour for representatives such as project managers, IT managers admins and instructors. Converting content to compatible formats, scratching functionality that doesn't mesh with other systems, and creating additional hassles for users (such multiple logins) can cost you hours of labour and negatively impacts the user experience you are providing.
Common LMS Integration Challenges
There is no One-Size-Fits-All solution for integrations. Integrations have potential nuances depending on the LMS solution they are utilizing so the client has to be flexible. Integrating your eLearning "technology stack" always needs to be done on a case by case basis because every client's needs and challenges are unique based on their specific business goals. From the structure of a particular integration or missing codes or syntaxes, it's never really a "one way street."
Poorly implemented LMS integration will bring about its own set of challenges.
For example, data migration from one platform to another can result in unexpected compatibility issues with coding and language. This comes into play if you need to migrate plugins and updates play a factor: an update to your LMS may break the ability for certain plugins to integrate successfully and perform as they should.
Incompatible integrations can also be a major concern when migrating learning management systems. For example, even though Moodle and Totara Learn are both open source platforms, that doesn't mean that integrations that work for one will automatically work with the other.
Other challenges can arise from bandwidth and connectivity issues, especially when dealing with a self-hosted LMS that doesn't have the server distribution and technical support that many providers can deliver with true cloud hosting.
However once the integrations are all set up correctly they become fairly simple for customer support to manage, if any issues arise.
THE SOLUTION: A dedicated and experienced technical support and integration team
Understand the scope of features and technology that you require to meet all your eLearning needs and goals. Make sure that the systems you choose can be integrated to create an easy to use, all-in-one learning environment for your users.
This can be difficult to determine on your own, so here is a quick breakdown of the basic categories, uses, and examples of the most commonly requested LMS integrations:
Learner and Content Analytics Integrations
Learner and content integrations refer to anything to do with learner interaction, engagement, and encompasses everything you can provide to learners that will be used to enhance their learning experience and help with making your courses more effective. The data collected and resulting analytics, organizations need their own reporting system that will push data to their LMS.
Common Learner and Content Analytics Integrations Examples:
Zoom (video conferencing and online seminars)

Dropbox (file sharing)

Socialwall (learner interaction and engagement)

H5P (creating interactive video content)

LTI

LRS

SCORM

xAPI
eCommerce & Digital Marketing Integrations
eCommerce and Digital Marketing integrations can allow learners to manage their purchases, process their purchases, login to your site, receive enrollment notifications, etc. Digital Marketing integrations serve to build your audience and ease the transition from prospect to purchaser.
When eCommerce and digital marketing are integrated seamlessly with a Learning Management System, it helps create a seamless and satisfying user experience all the way from catalogue to classroom.
Common User Integrations:
Paypal

Moneris

Salesforce

Mailchimp

Want to learn more about the eCommerce side of the business of learning? Get a your crash course with this free eBook on Integrated Marketing Communications: What It Means & How To Do It Right.


Authentication Integrations
What matters to a lot to our clients and partners is the need for a secure sign on agent. Authentication in this context refers to the process of ensure that only users with the correct credentials can access content and data meant for them, usually as defined by the LMS administrator.
Common Authentication Integrations:
Okta Security Assertion Markup Language (SAML)

Google/GSuite,

Microsoft

Enrollment hierarchies
Make sure to consider your budget and the goals your eLearning needs to achieve so that you understand the full scope required when it comes to integrations for your LMS.
Don't underestimate the impact integrating eLearning into your business can have when it comes to overcoming the challenges your organization is currently facing. Take a few minutes to further understand Why eLearning will Benefit Your Business in this article from our L&D experts.
4. Measuring the ROI of eLearning
36% of respondents said measuring the return on investment of their eLearning is their biggest challenge.
Regardless of the industry, determining the impact and return on investment from their eLearning initiatives is a major challenge. While generating profit from eLearning is one of the top priorities, knowing how effective training and education programs are is equally essential.
Many organizations need to understand that their eLearning investment is meeting their learning and development goals, whether it's safety training certification, product knowledge on-boarding, or long-term skill retention.
Misconceptions & barriers to training evaluation
How do you really measure the effectiveness of your training and development? Many managers lack the knowledge to effectively gauge and evaluate their T&D and only perceive that any form of training is valuable. Therefore they invest with the assumption that people will be sufficiently trained through the program anyways, so tracking the exact numbers that go into their T&D can go by the wayside.
But with a lump sum of the money budgeted they should be willing to accept some losses right?
The problem is spending too much without knowing if it's really effective. Unfortunately through this, there's no definitive way to measure the impact the training has had on the learner resulting in satisfaction surveys at the end. High grades or satisfaction surveys cannot prove the validity of your training as every learning individual is different in regards to knowledge retention and learning ability.
What gives?
Finding a way to measure these outcomes becomes even more of a challenge when fiscal ROI is also taken into account. Determining how much revenue your eLearning generates, and how to increase that revenue, is a constant issue for organizations that need to justify their eLearning budget financially.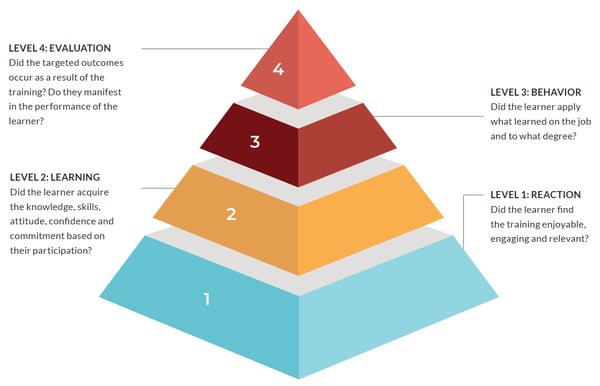 One of the industry standards for training evaluation is the Kirkpatrick Evaluation Model (refer to above diagram). The methodology represents the 4 levels of learning evaluation and is probably the most common representation you will see in regards to return on investment. Each level becomes more in depth as a L&D progresses going from a behaviour to performance related transition. However according to a repost done in 2016 by ATDm trends have shown that trainees do not make it past level 3 resulting in the remaining of the training happening on the job itself.
It is a common misconception that the Kirkpatrick model's primary function is to help enterprises in the improvement of their ROI (Return on Investment). Another confusion that is also frequently made is to mistake ROE (Return on Expectations) with a common meaning of ROE, 'Return on Equity', the profitability of a business in relation to the equity, or the measure of how well a company uses investments to generate earnings growth.
Contrary to what many people believe, the model isn't designed to measure the Return on Equity or the ROI. The fact is, the Kirkpatrick Model is designed to measure the ROE of any training and is the ultimate indicator of value in the Kirkpatrick Model.
ROE and ROI are different ways of calculating returns on business decisions. As a metric for L&D programs, ROE measures the benefits of training as it meets its objectives, typically based on changes in employee attitude and performance after completing a course. ROE valuation is based on determining the needs of the stakeholders and then deciding how those expectations are converted into actual outcomes.
The Kirkpatrick Evaluation model requires a strong partnership between managers, supervisors and L&D professionals. When this collaborative element is missing, misalignment of expectations is the result. According to the ATD report, Evaluating Learning: Getting to Measurements That Matter, states that while 80% of training professionals believe that evaluating training results is important to their organization, only 35% are confident that their training evaluation efforts meet organizational business goals.5
Establishing the ROE of training creates a tangible relationship between training and the resulting performance output of both the learners and the business unit or team striving towards strategic goals evidenced by the trends in their KPIs.
ROE vs ROI (Monetary vs Non-monetary)
ROE: "Return On Expectations" is the missing piece...
"Return on Expectations" is not to be mistaken with "Return on Equity", is represented in the level 3: Behavioural assessment and level 4: Evaluation. This step is crucial to achieving your monetary ROI represented within your Key Performance Indicators (KPIs). When measuring your ROE involves the initial assessment of your trainees or learners. Having your L&D manager understand their job roles through research conducted by identifying and addressing the needs and throughout each department within the organization.
This includes managers, sales, support, shareholders as each area has their own metrics of success. In addition to the company's needs comes the needs for the trainees or learners. It's imperative that the L&D manager structures their training based on a behavioural competency structure. The purpose of this competency structure combined with job position requirements can allow for a full robust L&D that can provide you the results you truly want. There is always a risk of "score transfer" , the ability to lose if skills learned is not applied, so you also want to be able to get your training relevant!
ROI: "Return On Investment" the business monetary results...
Don't misunderstand that ROI is still just as important as the ROE. ROI is usually governed by the organizations KPI's that are very tightly correlated with the business goals. As an L&D manager looks after the behavioural aspects of the training the CEOs and department heads look after the results! KPIs can hold a different measurement. For example for an ROE metric can be whether a construction worker can view a dangerous environment and act accordingly, while for ROI the metric can be the reduction safety injuries due to mismanagement.
"Measuring ROI on eLearning can be a challenge, but it can be shown by gathering feedback from students, providing tests to assess knowledge retention, and observing how behaviour such as productivity has changed as a result of the training. Of course, to get ROI a value must be placed on the behavioural gains to decide how much the training was worth. The biggest challenge is to accurately show the value of education since some gains may take more time to show and others are more subjective." - James Boatwright - CEO of CodeGalaxy
THE SOLUTION: Bridge the gap between the training needs and the business goals of the organization
Measuring both the quantitative and qualitative impact of training is always a challenge, however, it's one that modern technology is surprisingly well equipped to address.
The metrics of L&D and business connection to get your ROI is stated in the formula below:

This represents the total program benefits as the ROE of the training, minus training costs associated with employee training and divided by the training costs associated with employee training. This should give you the total dollar amount returned per dollar invested.
The ROI must therefore be calculated with the impact of the training on the organization. Vanity metrics, Level 1 and Level 2, are not valid measures of training impact. Alignment, meeting business expectations, knowledge retention, observable and measurable behavioural changes due to training, changes in employee and business performance should be the end goal of all ROI considerations.
Once you've set the stage to make sure your L&D initiatives align with the company goals, and that key stakeholders understand the importance of their role and commitment, demonstrating the effectiveness of your training programs stands a better chance of becoming meaningful and worthy of the attention of your company's senior executives. And, when metrics and KPIs are used to identify problems and make improvements to the learning experience, you'll be able to increase the value of training for both learners and the business.
Get leadership involved as their feedback is just as important as your trainees feedback so make sure you follow up!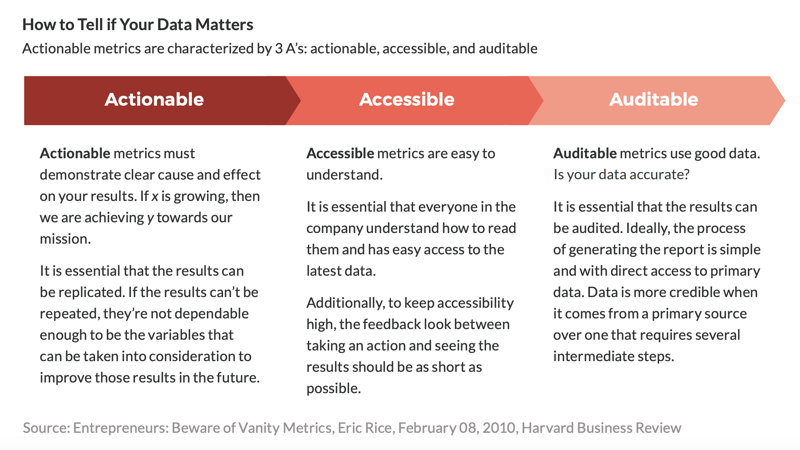 As measuring the impact of your ROI is developing there can be many benefits to running your L&D program such as:
Satisfaction & accountability from the executives
Continuously improves the L&D programs
Managerial support by meeting their KPIs so they comprehend the value out of their L&D
Increased business partnerships and contributions
Building client relationships which is a no brainer! Clients need to see that the L&D has value for their own trainees
After structuring your learning and bridging the gap you can begin to automate with analytical reporting technology can draw from the mountains of data collected by your eLearning technology, including LMS, eCommerce system, and any other integrated systems that learners interact with as part of the learning and training process.
Automatically collating this data and presenting it in intuitive reports is the best way to gain insights from how learners are using your eLearning, how effective lessons and course materials are, understanding the demand for specific courses or programs, and determining the costs and revenue generated from your eLearning overall.
NEED BETTER ROI? Grab your copy of our guide to Assessing The Return On Investment Of A Learning Management System.
Solving eLearning's ROI & Budget Challenges
Upon the identification of ROI assessment as the most common eLearning challenge, we reached out again to determine how this challenge affects budgetary decisions, and to identify the other major budgetary concerns organizations face with their eLearning.
From the responses, unsurprisingly, the most important budget challenge is determining the return on an organization's eLearning investment. In many cases, the eLearning ROI is the most important factor in budgeting for eLearning.
"However, a lot of my clients have budget or staff constraints with respect to this final element. If you don't have the budget for a full-time LMS admin, you will have to hand the work to an eLearning developer or Instructional designer...neither of which are crazy passionate about the important but tedious work of LMS administration…" - Erick Prospero - CEO at Ninja Tropic
While the value of eLearning can be evaluated in both monetary and non-monetary terms, one of the major benefits eLearning provides is the ability to be more cost-effective than traditional education and training methods. Despite this, eLearning is far more often a cost-centre than a revenue-generator for most organizations.
Need a new LMS and have no idea where to start calculating the costs? Our blog covering the Top 9 Factors to Consider When Calculating Your LMS Budget is a great place to start!
While generating profits is an essential goal for eLearning businesses, keeping costs as low as possible while delivering learning and business impact is always a key part of determining eLearning ROI. Fortunately, there are ways to address all these budgetary concerns.
THE SOLUTION: Knowing what your business goals to create an accurate LMS budget
There is an ideal solution that can solve all the most common eLearning challenges while also addressing the eLearning budgetary challenges listed above. In a market overcrowded with eLearning technology options, the following checklist will help significantly narrow down the field to only include options that have the resources needed to overcome these concerns and deliver your ideal eLearning environment.
Scalable LMS platform
Ability to measure and report on learning and business data
Full eCommerce, Analytics, and eLearning integration
All systems are xAPI conformant
Provides ongoing education & support services
Clear and risk-limiting pricing structure
Low costs for additional support
A scalable LMS will allow you to easily manage costs, include any desired features and functionality, and scale as your eLearning needs grow. Analytical reporting will enable you to determine both the quantitative and qualitative value of your eLearning for a clear measurement of the ROI from your budget. Adding eCommerce systems that integrate flawlessly with both the LMS and analytics technology provides the opportunity to understand exactly how to grow your eLearning revenues.
When these systems are fully integrated with each other it creates an easy and seamless user experience. Getting all three systems (LMS, eCommerce, and Analytics) from a single technology provider should guarantee that every aspect of your eLearning works well together. It is also an excellent way to keep down the costs of using multiple platforms, so long as the pricing structure is clear and doesn't have hidden supplementary fees for patching and upgrades.
If you are in the training business or association industry, you might wonder how to sell courses online effectively and increase your ROI? Here are the 5 factors to consider when selling courses online to get you started.
Check this article: Learning, eCommerce & Revenue: 5 Reasons To Monetize Your eLearning Today
Utilize a single eLearning technology provider that can offer a scalable LMS that is fully integrated with eCommerce and analytics systems.
Measuring the return on your eLearning investment is the most common challenge for eLearning in general, and for determining eLearning budgets. Having in-depth analytical reporting from all your learning data can solve this issue by determining course effectiveness, identifying skill gaps, and determining the revenue generated by eLearning initiatives.
However, the reason eLearning ROI is such an important challenge is because of what we use that information to determine: budget. eLearning is generally an expense for most organizations, which makes reducing costs by eliminating them, increasing incoming revenue, or both, the ideal course of action.
The best way to accomplish those goals and transform eLearning from a cost-centre into a revenue-generator is as follows: Utilize an single eLearning technology providers that can offer a scalable LMS that is fully integrated with eCommerce and analytics systems.
This way, all your systems will work well together. Even if problems do occur you'll only be dealing with a single support team that understands all the technology top to bottom, instead of several isolated teams that can only address issues with a specific part of your eLearning solution.
Ensuring your eLearning has all these aspects will allow you to provide the best eLearning experience with the features and functionality that creates an effective and cost-efficient, learning environment that solves all the most common eLearning challenges at once. Then you can continue to evaluate and grow the ROI of your eLearning investment, regardless of your industry or the goals you need your eLearning to achieve.
References
Training Industry. "Cloud Superiority: Start Growing It From Within." June 2019, https://trainingindustry.com/articles/it-and-technical-training/cloud-superiority-start-growing-it-from-within-spon-exitcertified/.
Industry 4.0: which technologies will mark the Fourth Industrial Revolution?, 2020-05-04, https://www.iberdrola.com/innovation/fourth-industrial-revolution
go2HR. "EMPLOYEE TRAINING IS WORTH THE INVESTMENT." unknown 2020, https://www.go2hr.ca/training-development/employee-training-is-worth-the-investment.
Forbes. "Want Your New Employees' Personal Commitment? Take Their Onboarding Personally." March 2014, https://www.forbes.com/sites/georgebradt/2014/03/19/want-your-new-employees-personal-commitment-take-their-onboarding-personally/.
Atd. "Evaluating Learning: Getting to Measurements That Matter." April 2016, https://www.td.org/research-reports/evaluating-learning.
Panopto. "Video-Based Learning Facts You Can Use to Make the Case for A Video Platform." August 2019, https://www.panopto.com/blog/5-facts-you-can-use-to-make-the-case-for-video-in-your-learning-development-organization/.
Security, Identity, and Compliance on AWS. https://aws.amazon.com/products/security/?nc=sn&loc=2
Training Industry. "5 Key Components of Successful and Practical Onboarding." April 2017, https://trainingindustry.com/articles/onboarding/5-key-components-of-successful-and-practical-onboarding/.
Training Industry. "What You Want Versus What You Need in an LMS." November 2019, https://trainingindustry.com/articles/learning-technologies/what-you-want-versus-what-you-need-in-an-lms/.
Training Mag. "Global Trends in L&D Analytics." February 2014, https://trainingmag.com/trgmag-article/global-trends-ld-analytics.
Training Industry. "Leveraging the Evolving Role of the LMS in the Modern Learning Ecosystem." March 2020, https://trainingindustry.com/articles/learning-technologies/leveraging-the-evolving-role-of-the-lms-in-the-modern-learning-ecosystem/.
ATD. "Cloud LMS or Hosted LMS: How Are They Different?" June 2017, https://www.td.org/insights/cloud-lms-or-hosted-lms-how-are-they-different.
Senat.me. "4th Industrial Revolution (4IR) Characteristics." January 2018, https://senat.me/en/4th-industrial-revolution-4ir-characteristics/.
Computer Weekly. "What will training look like in the workplace of the future?" April 2012, https://www.computerweekly.com/opinion/What-will-training-look-like-in-the-workplace-of-the-future
Are we ready for the Fourth Industrial Revolution? PwC Consumer Intelligence Series 4IR survey, 2019. https://www.pwc.com/us/en/services/consulting/library/consumer-intelligence-series/fourth-industrial-revolution.html
Brookings. "The Fourth Industrial Revolution and digitization will transform Africa into a global powerhouse." January 2020, https://www.brookings.edu/research/the-fourth-industrial-revolution-and-digitization-will-transform-africa-into-a-global-powerhouse/.
World Economic Forum. "4 myths about manufacturing in the Fourth Industrial Revolution." February 2019, https://www.weforum.org/agenda/2019/02/4-myths-about-the-fourth-industrial-revolution-and-how-they-are-holding-you-back/.
World Economic Forum. "The Next Economic Growth Engine Scaling Fourth Industrial Revolution Technologies in Production." January 2018, http://www3.weforum.org/docs/WEF_Technology_and_Innovation_The_Next_Economic_Growth_Engine.pdf.
The HR Observer. "What's the Difference Between Return on Expectations and Return on Investment?" October 2016, https://www.thehrobserver.com/whats-the-difference-between-return-on-expectations-and-return-on-investment/.
Motor Carrier Passenger Council of Canada. "The Kirkpatrick/Phillips Model for Evaluating Human Resource Development and Training." December 2009, https://www.thehrobserver.com/whats-the-difference-between-return-on-expectations-and-return-on-investment/.
eLearning Industry. "5 Ways To Measure The ROI Of Your Sales Training Program." March 2020, https://elearningindustry.com/ways-measure-sales-training-program-roi.
Clarity. "Your ROE is More Important Than ROI." April 2019, https://clarityconsultants.com/blog/roe-return-on-expectations-return-on-investment/.
10th Magnitude. "OpEx vs. CapEx: The Real Cloud Computing Cost Advantage." April 2019, https://www.10thmagnitude.com/opex-vs-capex-the-real-cloud-computing-cost-advantage/.
Additional Resources:
Originally published on October 7, 2019. Updated on April 30, 2021.