- 5 MIN READ -
Getting started in the world of eLearning? Or need to pitch an eLearning investment to those not in the know? This post explains what eLearning is, where it came from, and why it benefits businesses…
What is eLearning?
Google 'What is eLearning' and you'll find the following entry. "eLearning is learning conducted via electronic media, typically on the Internet."
However, a better way to think about eLearning is to think of the evolution of teaching—how content is developed and delivered to learners.
Once upon a time, educators relied on a combination of formal assessment and their own subjective evaluation to determine what their learners needed. It's a process that requires time to form personal relationships, a fair amount of teaching skill, and always an element of trial and error.
eLearning revolutionizes this dynamic, using learner data to develop an evidence-based picture of progress, engagement, and attainment. Educators are now able to develop content based on the exact needs of individual learners.
eLearning is not only about online content, however. The term also applies to the way content is delivered. Learning Management Systems (LMS) provide one online home for teaching, studying, and assessing.


Sure, but what is a Learning Management System exactly?" Check out this article for a quick 3-minute rundown explaining exactly What is LMS?

Modern LMS can also integrate, eCommerce and analytics technology—all the components of an eLearning business. Today educators have never been better placed to understand their learners, and design content to maximize learning outcomes.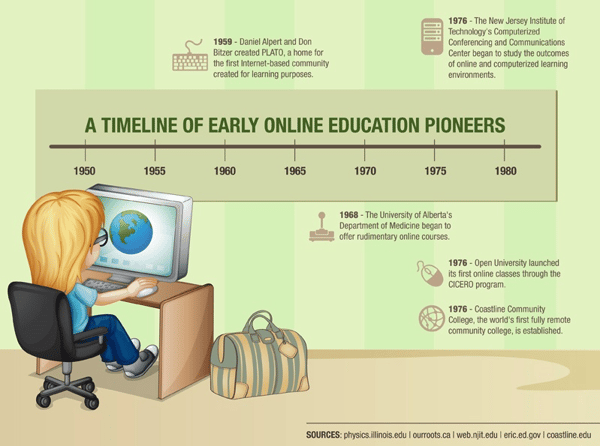 Source: learninglovers.org
A (Very) Short History of eLearning
The internet will tell you that eLearning was officially born in 1999, when Elliott Masie coined the term at his TechLearn Conference at Disneyworld. The truth is, however, that eLearning has been around in one form or another since the early 1960s when closed online systems were used to facilitate university classes. Platforms such as PLATO and CoSy delivered learning to small groups using early ancestors of the world wide web.
It is true to say that the late nineties and early 2000s were when eLearning became mainstream. MOOCs (Massively Open Online Courses) grew as internet technology helped to automate and improve preexisting methods. The introduction of Web 2.0 in the mid-2000s allowed users to interact with content rather than simply consume it. This, combined with the growth of mobile, which unchained users from their desktops, helped unleash the potential of eLearning as an educational approach.
Today's eLearning businesses have a wealth of technology solutions and eLearning strategies at their fingertips. It's now possible for organizations to onboard new hires, manage employee development, and sell online content, all using eLearning.
eLearning Business Benefits
With the latest developments in LMS integration, eLearning businesses are now seeing a serious increase in ROI. Much of this is thanks to the ability to define accurate business and learning goals using analytics. The use of eCommerce to monetize educational capital is also a major win for bottom lines.
For those involved in training, eLearning has opened up a variety of new teaching methods and strategies. Here are four of the most popular ways to use eLearning:


eLearning Training Strategies
1. Blended Learning
Blended learning combines traditional classroom methods with the latest eLearning technology. Most of the time, learners will still use physical classrooms, but some lesson elements will be delivered with an LMS or other online learning solution.
For a deeper look, check out: Why Blended Learning is Effective and to see the benefits in action take a look at this case study: Blended Learning in Healthcare: A Toolkit for a Blended Learning Approach in Clinical Training.
2. Collaborative Learning / Flipped Classroom
Two of the most popular eLearning training strategies are collaborative learning and flipped classrooms. Collaborative learning asks learners to share their ideas through digital social learning formats. A flipped classroom asks students to do the majority of their online studying independently, freeing class time for social inquiry and discussion.
For a deeper look, check out: Collaborative Learning vs Flipped Classroom.
3. Gamification
Game-based learning is about using online games to optimize the learning experience. For example, using a word game to teach grammar and vocabulary. Gamification is about integrating digital game elements into the classroom, turning learning itself into a game, where learners can level up, earn badges, or win battles.
For a deeper look, check out: How To Benefit From Game-Based Learning and Gamification in eLearning.
4. Microlearning
Microlearning builds on natural learning tendencies to support learners without making extra demands on their valuable time. The method delivers information in small, bite-sized portions, often referred to as 'nuggets.' One nugget = one learning concept, idea, or objective.
For a deeper look, check out: Microlearning: What, Why, How, Where, and When?
Want to keep learning how eLearning can benefit your business? Our eLearning Solution experts would love to help you create an even better way to learn! Contact us today!
Related Blog Posts: