LMS cost management: how to make cost-saving eLearning decisions
In this post, we will cover these questions:
Introduction: LMS Cost Management
Lambda Solutions surveyed over 475 eLearning professionals to find out which factors are most important when choosing an LMS, and which LMS elements contribute most to costs.
Respondents reported that the variety of eLearning features on offer was the primary factor organizations looked for when choosing an LMS.
The survey found that implementation costs comprised the largest proportion of all LMS-associated costs.
Using these findings, this white paper explores how organizations utilize Learning Management Systems from a cost savings perspective. Among the recommendations considered are:
How to decide what level of support services provides true value for money.
How to understand the differences between LMS hosting models, and know which provides the greatest ROI.
What cost-related decisions affect the security and privacy of LMS data, and how to combat risks.
The best way to approach LMS implementation, on other initial LMS questions.
What does it mean by cost-effective eLearning?
How do you get the most value from a Learning Management System (LMS)?
Top of the wish list for most organizations when installing or upgrading an LMS is increased efficiency. When it comes to saving on costs and time, knowing how to work with vendors, how to select a hosting model, and how to apply eLearning tools can result in major gains across departments. Without an understanding of these aspects, organizations risk various issues, from increased employee frustration and turnover, to overall disappointment at the reality of eLearning.1
To understand how organizations achieve a successful working relationship with their LMS, Lambda Solutions surveyed respondents on key factors they look for in choosing an LMS, as well as the major running costs they encounter. From the results of the survey, it's apparent that finding the right portfolio of user features, for the right implementation price, is crucial in setting organizations up for the future. But a whole variety of other elements contribute to cost-effective eLearning, from the training and hosting options available, to the ability to secure user and employee data.2
For each cost-saving area highlighted by the survey, this white paper details the most popular and effective solutions for maintaining cost-efficiency. After reading this document, you and your organization should be better equipped to make informed choices about what kind of LMS will help you extract the most value from your eLearning program, both for your users and your bottom line.
Finding the right portfolio of user features, for the right implementation price, is crucial in setting organizations up for the future.
What is the most important factor for your organization when choosing an LMS?
Before organizations can take advantage of a Learning Management System, L&D teams must decide which LMS meets organizational goals. A clear idea of the most important factors for your organization makes the task of selecting a vendor much simpler. When Lambda asked eLearning professionals what they look for in a Learning Management System, they answered as follows:
1. LMS features/capabilities
Top of the laundry list when choosing an LMS are eLearning features themselves. 55% of respondents reported that the quality or variety of tools available to educators was the most important criteria for their business.
Given Learning Management Systems are the home of the next generation of teaching and learning, this is not surprising.3 With the majority of today's classrooms using either a virtual or blended learning environment, the benefits of using an LMS are beyond doubt.4 Popular LMS features include remote learning and eCommerce integration, allowing organizations to streamline their sales through one full-service site.
But flexible and interactive learning features aren't just a win for the learning experience. Utilizing an LMS's full array of capabilities leads to cost-savings on an organization-wide basis.5 For example, while both traditional classroom and eLearning require payout for instructional design, remote learning tools mean eLearning content can be used by learners across locations, significantly reducing per-student learning fees.
In terms of logistics, LMS features also offer significant cost-savings over physical classrooms. When dealing with large enrollment numbers or multiple locations, support costs quickly mount. An LMS, on the other hand, delivers constraint-free training on a potentially unlimited scale.
2. Training and onboarding
Next on the list of most desirable factors when choosing an LMS is the quality of onboarding options for the technology itself. The benefits of having training systems that are easy for staff to learn to use are visible across sectors and increase the effectiveness of education and training programs by making them easier to use and create.
Microlearning is a popular feature of LMS onboarding that involves delivering training in 'chunks' or 'nuggets', each portion designed for a specific learning outcome.6 Using this format allows learners to build a body of information that matches their exact needs, cutting down on wasted time, and giving learners the freedom to manage their own pathway.
In the same vein, these same LMS training resources can provide valuable support for onboarding and new-hire orientation. Using an LMS to host mobile learning means employees can access regularly updated content from any online device. When nearly 70% of employees are more likely to stay with a company for over three years after a full onboarding experience, it pays to make training a continuing practice.7 At the same time, educators can use their LMS to collect data, feeding that information into Learner Analytics.
3. LMS costs
16% of respondents highlighted general LMS costs as relevant when selecting their LMS vendor. These can be sizeable, and many organizations end-up paying out for more services or coverage than they need.
At the most cost-effective end of the spectrum, open-source platforms offer an efficient combination of features versus running costs. Open-source systems are free at the point of use and create added value for organizations by allowing the development and scaling of eLearning over time, as a business grows. Read more about the differences between open-source and proprietary vendors in our section on Implementation Costs below.
4. Technical support
Respondents placed the availability of technical support in fourth place on the survey. 8% valued a vendor that's able to provide technical expertise and assistance, as well as advice on the evolution of their program.
Reducing LMS costs is all about creating a high-quality, efficient working environment. This means issues with functionality are not only frustrating, but a threat to business success.8 It's therefore important for organizations to find a technical support model that keeps up with issues as and when they arise.
Vendors who offer unlimited support as opposed to per ticket or hour models are proven winners in terms of client satisfaction. A 2019 survey of 420 Lambda Solutions customers found that unlimited and continuing support empowered eLearning success, with satisfaction rates of 99.3%.9
5. Security
Last on the survey, but still highlighted by respondents, is LMS security. At 3%, a number of eLearning professionals felt the security of their data was a major concern. When eLearning enrollments span into the hundreds of thousands, ensuring a safe working environment is a priority and challenge.10 Luckily, LMS security doesn't necessarily come at a premium. Cloud-based vendors offer numerous service levels, allowing users to select an appropriate level of security depending on the sensitivity of their data.11
As global reaching organizations, eLearning companies need to meet data security regulations across territories. An easy way of doing this is to invest in an LMS that's GDPR compliant. EU General Data Protection Regulations require organizations to secure explicit permission to collect and use an individual's data (name, email, account information, etc.)12 Abiding by these strict standards makes sure an LMS can compete in most markets. 2018 Moodle plugins and Totara Learn 11 updates ensures both of these platforms are GDPR ready.13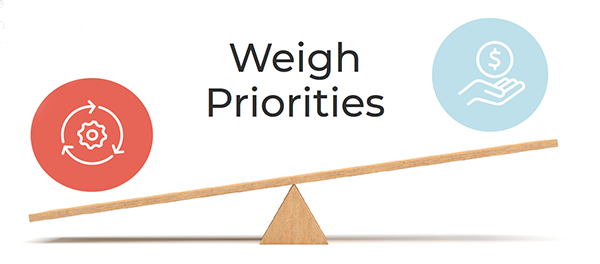 What is the largest cost associated with your LMS?
Knowing what LMS features meet business needs is important. But knowing how to allocate resources to those features is an equally challenging aspect of running and managing a cost-effective eLearning program within your LMS.
Here, efficiency is all about knowing where money is being spent, and whether that outlay is providing value for money. Intelligent use of LMS capabilities can mean the difference between an accurate investment of resources, and spending an L&D budget in the dark. When Lambda asked eLearning professionals where their largest LMS-associated costs where located, this is how they responded:
LMS Cost #1: Implementation
The most common cost by some margin, a budget-friendly LMS implementation was highlighted as a priority for eLearning professionals. When it comes to the costs involved in installing and setting up a Learning Management System, the biggest variable is often whether organizations opt for an open-source or proprietary vendor.
The choice between hosting content on an open-source or proprietary LMS has significant implications for future scaling. The defining feature of all proprietary LMS platforms is the hosting cost. A subscription is required for access, normally due alongside other maintenance fees. Open-source systems are freely distributed, run in-house, and maintained either by users themselves, or an external eLearning management team.14
The latest developments in LMS Integration also play into implementation and running costs, allowing users to combine tasks under a single platform.15
LMS Cost #2: Training
In terms of training costs, knowing how to leverage your LMS can make a substantial impact (see Training and Onboarding). The more quickly new hires are provided with the information they need to succeed, the more cost-efficient training becomes. Using an LMS to deliver training allows educators to use the latest technology and educational strategy, offering learners the freedom to manage their own learning pathway, accessible at the point of need.16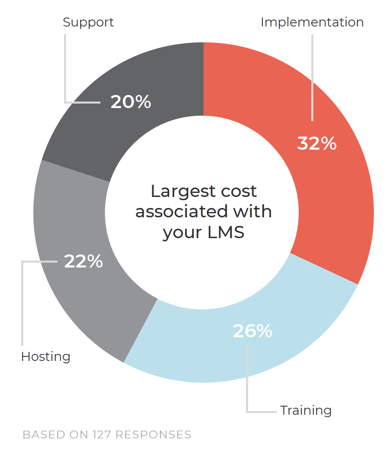 LMS Cost #3: Hosting and Support
22% of respondents cited LMS hosting as the largest cost regularly outlayed by their organization. With an overwhelming variety of hosting configurations on offer, it's no surprise that many feel the strain of maintaining LMS hardware. However, it is possible to make cost-savings in hosting, by making an informed choice between cloud hosting or self-hosting.
Self-hosting an LMS means taking care of the technical aspects of a system internally or through a third-party host. Depending on the extent of technical expertise required, this can make for a substantial initial investment, as installation, set up, customization, and staff training costs mount. Costs for launching through a cloud-hosted provider are likely to be significantly less, since your LMS will be ready to go and maintained by an external team.17 Of course, decisions made about the hosting and maintenance of your LMS will have a direct impact on support costs, which respondents ranked last in the survey, at 20%.
LMS Cost Management: Conclusion and Key Takeaways
How do I decide what level of support services provides true value for money?

What cost-related decisions affect the security of my LMS data?

Unless your organization includes an extensive IT team, LMS vendors that offer unlimited and ongoing support are proven less costly than per ticket or per hour formats.
Managed hosting solutions support the development of eLearning beyond technical fixes, providing man-hour savings, and giving IT and admin teams the freedom to work on other important projects.

Self-hosted LMS allow organizations to maintain absolute control over their data. However, this requires a significant investment in hardware and expertise.
Using a cloud-hosted platform lets organizations take advantage of external security, such as AWS encryption. While just as (if not more) secure than internal measures, costs are likely to be significantly less.

Which LMS hosting best provides greatest ROI for my organization?

How can my organization achieve a cost-effective LMS implementation?

Cloud-hosting platforms often allow users to choose from various packages, all featuring industry-leading technology. Lambda uses AWS to power its eLearning solutions, the world's most popular cloud platform.
Open-source LMS offer the greatest combination of cost-efficiency and control, whereas proprietary vendors combine hosting and maintenance.

Opting for an LMS Integration can help to avoid paying multiple vendors, uniting business under one powerful yet simple to use platform.
Achieving cost-efficiency with a Learning Management System is certainly possible, but requires focused effort in two key areas. First, knowing what configuration of platform and features is most appropriate to your organization. Second, knowing how to get the most out of that configuration once your LMS is up and running. Reach out to us and we can help your organization find that all-important balance between value for users and value for money.


References:
1. Pappas, 7 Reasons Why Your Organization Needs A Strong Corporate eLearning Culture.
2. Hjeltnes & Hansson, Cost-effectiveness and cost-efficiency in e-learning.
3. Lynch, What Will the LMS of the Future Look Like?
4. Kipp, Exploring the Future of the Learning Management System.
5. Morrison, Can You Afford Not To Have An LMS? How A Learning Management System Boosts ROI.
6. Lambda Solutions: Should You be Using Microlearning to Onboard New Staff?
7. Lambda Solutions: The Five W's of Employee Onboarding.
8. Lambda Solutions, What to Look for in Support Services for LMS and eLearning.
9. Lambda Solutions, Extreme Support Services.
10. Bandara et al., Cyber Security Concerns in eLearning Education.
11. Lambda Solutions, Security and Cloud Hosting.
12. Lambda Solutions, Mastering GDPR Compliance For Your eLearning Solution.
13. Lambda Solutions, Make Sure Your LMS Is GDPR Compliant By May 25, 2018.
14. Lambda Solutions, How do I Choose? open-source vs. Proprietary Learning Management Systems.
15. Lambda Solutions, LMS Integration to Cut Costs.
16. Lambda Solutions, The Real Costs of LMS Setup for Educators.
17. Lambda Solutions, eLearning Development Costs.