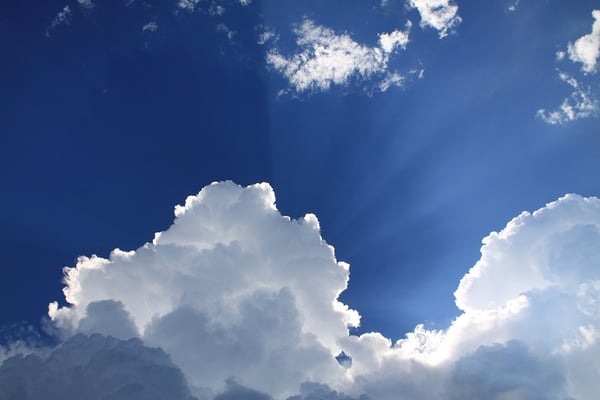 The cloud is used by 90 percent of all businesses in one way or another. Half of businesses either exclusively rely on cloud-based solutions or have adopted a cloud-first approach for their IT needs.
If you are looking into deploying an LMS for your corporate training needs, here is what you need to know about cloud-based solutions and self-hosting.
Cloud Hosting Versus Self-hosted LMS Solutions
Cloud technology leverages remote computing resources to provide you with the computing power and storage space you need for your data and business applications. LMSs can be installed on a remote server to create a performing eLearning solution.
A self-hosted solution means that the LMS will be installed on your own server. Users will have to access the training website that you created with Moodle or Totara Learn via your own network, and you will have to store your training material on your company's hardware.
Implementation and Scalability
A cloud-based environment means that a vendor can install the applications you need on a remote server. The result is a fast implementation process. It is easy to launch your training program right away, thanks to third-party libraries.
If you opt for a self-hosted solution, you might need to upgrade your server environment to be compatible with the LMS you have chosen. You will have to install the LMS application and perform some tests to make sure your network can deliver the eLearning content.
The cloud gives you an advantage when it comes to scalability. You can easily access more computing power or storage space to adapt to usage spikes or a growing user base. For example, Moodle and Totara Learn are compatible with the xAPI environment, which means you can roll out additional components compatible with this structure, such as Lambda Suite's Analytics feature.
A self-hosted solution means you will have to invest in additional hardware if you need more storage space or need to upgrade your network. There is a risk of experiencing downtime and other issues if your server or network can't keep up with your user base.
Costs and Security
The fee structure of a cloud-based solution lowers implementation costs since it is often based on usage. The low initial cost will give you enough time to figure out how to derive the most value from your LMS, develop training material that yields results, and find a way to get employees to engage with the new eLearning platform.
Because a self-hosted solution represents a significant investment of resources in terms of hardware and IT workload, there is less breathing room for getting results with the training program.
The cloud is also more advantageous in terms of security. Cloud providers can deliver secure hosting solutions as well as encrypted connections to keep your data and resources safe. A self-hosted solution means that the responsibility of delivering a secure connection and backing up your data falls directly on your organization.
It is difficult to achieve the same level of security in-house since cloud vendors manage systems with a much broader scale and thus make security one of their priorities.
User Experience, Analytics and Business Goals
An eLearning program has the potential to bridge skill gaps, improve engagement at work, and increase employee satisfaction and retention rates. In order to achieve these goals, your corporate training program needs to deliver a positive user experience. Loading time is a crucial component of user experience, especially if you use videos and interactive elements for your program.
It is easier to deliver a fast loading time with a cloud-based LMS since more resources are available when there is a spike in usage. A cloud solution also means that you can leverage additional computing power to analyze data and use that analysis to improve the program and deliver personalized learning recommendations.
Offering personalized recommendations based on performance or interest will help learners explore more content and stay engaged with the program. It could also boost their results and translate into better job performance.
Implementing an LMS analytics solution is costlier with the self-hosting approach, and the cost will go up as the size of your data set increases. Failing to take advantage of analytics means that you might invest in an eLearning program that isn't helping employees achieve their goals and might not notice that there are issues unless you collect feedback from users. Failing to offer self-directed learning paths or learning recommendations due to limited computing resources could result in a lower engagement rate with the training program.
A cloud-based approach makes sense for a majority of businesses due to fast implementation and low initial costs. Cloud hosting also means there is a potential for growth and improvement, thanks to, for example, Lambda's Analytics tool, and you will be more likely to achieve a good adoption rate by offering fast loading time and features such as personalized suggestions.