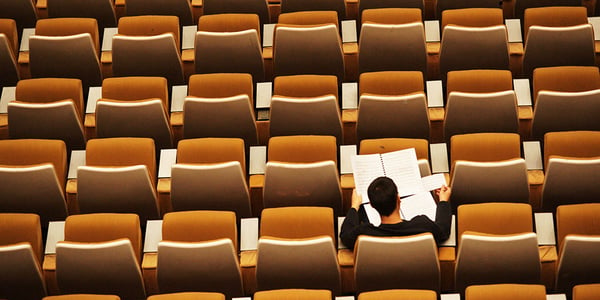 Moodle has more than 158 million registered users worldwide. The open source learning management system (LMS) is popular since organizations can download free source code and create an eLearning platform tailored to their needs and goals.
Cost is an important consideration with an LMS. Open-source solutions are cost-effective, but solutions such as Moodle have expenses linked to hosting, implementation, customization and developing eLearning content.
Compare the cost and benefits of the two class types and don't miss our on-demand webinar on:
Online and Traditional Education Costs
The costs vary widely between online and traditional education. In a traditional classroom, you have the costs of the instructor's salary or speaker's fee, and overhead expenses. Costs can include administrative fees, maintaining buildings, and marketing.
Massive Open Online Courses, webinars, and other types of online courses tend to be more affordable because overhead costs are much lower. Content can be created and distributed to several cohorts of users with small updates to keep the content relevant. Features that ordinarily would require an instructor, such as quizzes and performance reports, can be built into the LMS and automated.
Online classes vs traditional classes costs:
The average credit hour cost at a college is just under $600.
A typical college class is three credits and students need 120 credits for a four-year degree.
A module covering a specific programming skill costs under $40 per user on the eLearning platform GO1, which integrates with an LMS.
A more-comprehensive LMS program covering compliance, safety, customer service and other training topics for the hospitality industry costs under $2,000 per user on Go1.
Online Learning VS Face-to-face Learning Effectiveness
Learning in a face-to-face environment has undeniable benefits. Students can ask questions, collaborate and practice during classes, and there is the social aspect.
Studies found, however, that online learning has better retention rates. The University of Central Florida found that students who took between 40% and 60% of their classes online tended to graduate earlier than those with fewer or no online classes.
Online and Traditional Learning
In a perfect traditional classroom environment, students benefit from a sense of community and direct interaction with the instructor. Class sizes, however, often limit those benefits. Outcomes and information retention also vary according to how the course is structured and whether the instructor presents the material in an engaging manner.
Online learning gives students access to a much wider selection of courses. Learners can sign up for classes or short modules that target topics and skills that nearby schools may not teach. You can also integrate courses from top-rated institutions and industry experts into an LMS, something not available in a traditional environment because of cost, time or geography.
Microlearning is a powerful and effective method that takes advantage of all the benefits that an open source LMS like Moodle has to offer. Get everything you need to bring microlearning to your LMS in our webinar:

The lines between online and traditional learnings aren't clear-cut. Many traditional schools use technology classrooms, and online learning solutions are more interactive. The future of learning could be a hybrid in which learners navigate traditional and online classes into a personalized learning path.
To see exactly where eLearning is heading, and what powerful features you can utilize in an open source LMS, check out our webinar:

An open source LMS such as Moodle can be a powerful tool with the right course library and configuration. Lambda Solutions can help you create yours. Whether you need a new Learning Management System, are looking to optimize your LMS and eLearning programs with learning analytics, or need any other all-in-one eLearning solutions for selling training courses online, we have the expertise to help you reach your goals.


Contact us today. We'd love to help you create a better way to learn!