- 2 MIN READ -
If you are selling your courses online, then you've probably put some thought into pricing. As online education sales soar, eLearning businesses are becoming more and more creative in their pricing models.
A popular model for selling online learning is to sell the course content for one price and then offer an exam and/or a certificate for an additional price. This meets a lot of current professional development needs. Some learners require knowledge to apply to their current work but do not not need the certificate. Other learners might want to test their knowledge and receive a certificate to prove their learning to future employers.
This model also gives the first cohort of learners an opportunity to change their mind later and go for the full certificate program.
If you've been thinking about implementing this model, then we have just the feature for you! We've just released the ability to buy a single activity through Lambda Suite.
This is how it works:
Create an activity in your course

Use the Restrict Access feature and select Lambda Store




Sync to Lambda Store
This creates a stand-alone product as well as automatically adds an option to the original product in the store. This means that when you buy the original course, you can choose to buy the additional items at the time of purchase OR return to the Store later to purchase the add ons.
Here's what a customer will see in the Store: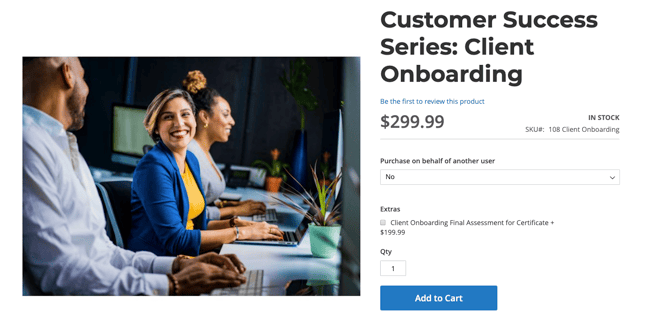 Here's what a learner might see in the course:

Other ideas for selling individual activities include:
Exam retakes
Course certificates
Additional study guides
On-demand webinar series
Instructor Led Training (ILT) sessions
For more on Lambda Suite, check out our exclusive webinar series:
Contact our knowledge staff to begin your eLearning success journey.