Once your organization has made a decision to a learning management system (LMS), another big decision lies ahead. Do you host it yourself or rely on a Moodle hosting services partner to guide you?
Many factors play into this decision. Keeping a large project like a LMS implementation in-house can be overwhelming, time restrictive, and, believe it or not, can end up being more costly than outsourcing to a LMS hosted provider.
Some important factors to keep in mind are:
The expertise of your organization's technical team;

The amount of training that you need;

How quickly you need the instance up and running, and;

The final price tag
4 Main Factors to Consider: LMS Hosting Services or Self Hosting?


1. Expertise: LMS Experience and Support
How much expertise does your technical team have with installing and maintaining the LMS?
With a hosted provider, you have access to experts in the field who deal exclusively with Moodle questions every day. They can recommend the best Moodle plugins, troubleshoot any issues, help ensure your site is compliant with regulations such as GDPR, and much more. These experts are up-to-date on emerging trends in the industry—allowing your organization to take advantage of cutting-edge technology and helping you put theory into practice on your site.
The best Moodle hosting providers provide unlimited support, so you have the option of contacting the experts as often as you'd like. They can walk you through something simple like Moodle how-to's or more complex queries such as infrastructure and integrations (and you'll never have to worry about running out of support hours!).
Moodle hosting providers also have experience keeping your site up to date with the latest and greatest versions of Moodle. Updating Moodle can be a challenge, and any mistakes can cause frustrating downtime to your end-users. Relying on the experts can often be your best bet.
2. Training: Moodle Administration
How will you learn how to administer Moodle and create engaging content without the proper training?
The best Moodle hosting providers hold your hand through the crucial steps of setup and configuration, ensuring that you set up your Moodle site correctly the first time!
Expert teams of Moodle hosting providers also provide both self-paced and face-to-face training sessions. You're always in capable hands with a Moodle hosting provider. Have you added new members to your administrative team? Get them quickly up to speed with training already created by your Moodle hosting provider, saving time and increasing efficiencies.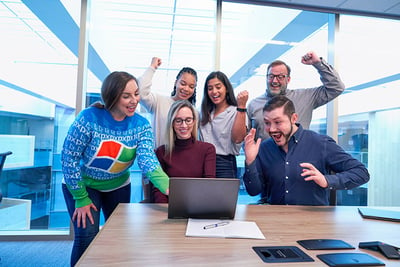 3. Timing: Launching the Site
How quickly do you need your Moodle installation up and running?
Both in-house teams and hosting providers can often get an instance online quickly, but getting the site 'launch ready' is a completely different story.
With the help of an experienced Moodle hosting provider, you'll have the tools, expertise, and confidence to launch to your learners more quickly!
4. Price: Moodle Hosting Services
What are you looking to spend to make sure your Moodle project is done correctly the first time?
At first glance, self-hosting may seem like the most cost effective solution, but that is not always the case. Take in factors such as infrastructure (for both your live site and potential staging site), an SSL certificate, data storage costs, and other hidden costs and other hidden costs. These can all add up!
Of course, the most costly factor for any organization is the time spent on the LMS. The cost to hire a full-time developer can take a big chunk out of your budget, plus all of the recruiting, hiring, onboarding, and ramp-up time associated with the hire. Moodle hosting providers are ready to go from Day 1, meaning you'll spend a lot less time and money getting your Moodle project off the ground!
Are you getting close to the decision-making stage? At Lambda Solutions, we are experts in LMS. Save time and get it done properly and efficiently.