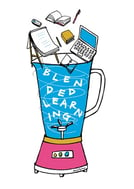 On October 29th, Lambda is hosting a webinar on the Top Moodle Plugins for Blended Learning Strategies. We will give you a quick glimpse into some of what will be covered in the webinar. Blended learning is an emerging approach to education that "blends" traditional teaching methods with technology and virtual learning environments. It can also involve using a learning management system (like Moodle or Totara) to deliver a diverse range of teaching methods and resources to offer more effective learning.
There are a few different reasons why blended learning is effective. It caters to different learning styles while simultaneously improving their performance. It includes visual, auditory, and written components to encompass all different kinds of learning styles. It also allows the delivery of information to be spread out over time, and through a variety of resources and mediums. Having so many different learning components helps keep learners on their toes, and highly engaged.
Blended learning allows students to learn at their own pace and their own ability level. By including a virtual environment, learning is not limited to a physical classroom. Learning can happen in long periods, in bits and pieces, from home, from a coffee shop, or during a lunch break, depending on what works for your schedule.
Blended learning allows increased flexibility, as it enables anytime anywhere learning. It eliminates the need to attend class, which allows a further geographical reach. This favours students who cannot attend class at set times every day or week. This can include learners with young children, full-tim jobs, physical disabilities, or who live in different cities.
Now you know why blended learning is effective, but how do you implement it into your learning strategy?There are standard ways of incorporating blended learning into learning environments, such as gamification, video conferences, podcasts, etc. If you have a learning management system (LMS), you also have the option of including plugins that can facilitate blended learning in your classroom.
To learn more about these plugins, how to utilize them to save time and money, how to increase learner engagement and participation while also increasing test scores, watch our webinar, Top Moodle Plugins for Blended Learning Strategies.