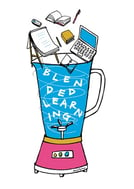 This post is updated on January 22, 2020, and the original post was published on October 27, 2015.

Blended learning—the educational approach that blends traditional teaching with eLearning technology.
Using digital tools to enhance the classroom is more popular than ever. But despite its popularity, it's still important to ask: "Is blended learning actually effective?"
This post looks at the evidence in favour of blended learning, blended learning's advantages and disadvantages, and how blended learning courses are being implemented across higher education and healthcare.


Is Blended Learning Effective?
Yes! Thanks to the popularity of blended learning, multiple studies have been completed to find out whether an augmented or virtual classroom really does beat the old-school methods (pun intended).
For example, research on medical students studying anatomy showed that switching to a blended learning course resulted in statistically significant increases in test scores. Even when students learning via the traditional classroom were given access to online resources, the class taking part in blended learning had higher performance.
One reason behind the success of such studies is that blended learning motivates students to use multiple learning styles. Research performed by the Institute of Education suggests that, when students are allowed to take part in both independent and mentored learning, they are more likely to form stronger mental connections, leading to increased retention.
Other studies indicate these benefits don't necessarily require an intensive blended learning course. According to educational professionals at IBM, even participating in a 15 or 30-minute online module prior to a face-to-face interaction can increase the outcome of a class.
All of which goes to show the potential of blended learning to increase learner outcomes. But with so many eLearning solutions on the market, knowing which products and activities fit together with learning goals can be difficult.
Blended Learning Techniques: Advantages (and Disadvantages)
Advantages

Disadvantages

Allows you to simultaneously cater to different learning styles and ability levels.
Utilizes visual, auditory and interactive content to enhance offline activities.
Supplement in-person lectures with online modules of secondary resources via your LMS.
Overcomes geographical and time constraints.
Deliver true self-paced learning.

Requires specific course development (Don't try and shoehorn Blended Learning into your preexisting learning plans).
Can require more 1-on-1 time, possibly remotely, to keep up learner motivation and support.
Requires a significant technology investment (hardware, software, and user onboarding/training).
In short blended learning is more flexible, adaptable, and engaging for learners, while allowing instructors better cater to the unique needs of their learners. All it requires is the right technology, and training, to do the job right.
Need the easiest way to bring Blended Learning to your eLearning programs? Our LMS Implementation experts have the solutions you're looking for!
Blended Learning Best Practices
There are several standard ways of creating blended classes.
1. Gamification
Popular approaches in a school environment include gamification—the adding of game-like elements to lessons.


2. Variable Face-Time
The balance of face-to-face interaction and eLearning can also shift to suit the needs of a class. Many teachers add extra face-time at the beginning of a course, moving towards online resources as learners become more independent.
3. Flipped Classroom
As these examples from the University of Waterloo show, blended learning in higher education often takes the form of a Flipped Classroom. In a flipped learning classroom, instructors prepare audio or video lectures for learners to watch at home, on their own time. Learners use their LMS to access source materials, then come to class for discussion and evaluation.

A Flipped Classroom. Source: washington.edu.
Changing how in-class time is understood lets learners self-pace and find their own relationship with course content. Read more about how blended learning and the flipped classroom intersect in this blog post: The Difference Between Blended Learning and Flipped Classrooms
Blended Learning for Healthcare
For healthcare environments, blended learning often adds value to the learning content itself. 3D animation models can more accurately simulate organ structures, or show disease progression over time. In medical practice, eLearning can facilitate decision trees to help understand the consequences of treatment strategies.
Blended learning also gives healthcare learners additional opportunities to communicate during the training process. Forums and discussion groups can be a good way for trainees to benchmark against other clinicians in their facility, system, or region. For managers, the user data supplied by eLearning tools such as an LMS paints a detailed picture of learner needs—something that can be difficult to assess in a highly competitive culture like healthcare.
In this white paper—Blended Learning in Healthcare: A Toolkit for a Blended Learning Approach in Clinical Training—Lambda Solutions takes a deep dive into how blended learning is applied in healthcare training and practice. Grab your copy today and find out how clinicians are using blended learning to support Code Blue training, risk factor identification, communication building, role-playing, and more.
Whether you're looking to implement a blended learning strategy with your Learning Management System, are looking to optimize your LMS and eLearning programs with learning analytics, or need any other eLearning solutions for businesses, we have the expertise to help you reach your goals!

Contact us today. We'd love to help you create a better way to learn!