No matter the product, service, or business goal, all teams benefit from regular and insightful analysis. But with the sheer number of analytical models on offer, and the wealth of data that today's LMS provide, making strategic choices can be a stressful process. When it comes to measuring success and targeting improvements, two types of analysis stand out as the most commonly run: a Training Needs Analysis (TNA), and a Performance Analysis (or PNA). But what are the specific benefits of each method, which is which, and how can they be used to assess the impact of an L&D program? Find out below.
Training Needs Analysis (TNA)
A Training Needs Analysis is the more tightly focused method of assessing your team's needs. TNA's set criteria for desired skill and knowledge levels, and then test current levels against those needs. Because every organization requires its own individual skillset, there is no one overall TNA model or cookie cutter method. Instead, each TNA is a bespoke solution to a particular set of wants.
There are, however, several commonalities to all Training Needs Analyses. Every TNA reveals needs which require addressing in some way. Often, this takes the form of a gap in current or past training, which suggests a future training pathway. But TNA's are also useful for highlighting other areas of business where training is unable to make an impact, such as motivation, resources, and internal processes. These two categories of outcome are classed as Training and Non-training needs.
How to conduct a Training Needs Analysis?
Although there is no one way to conduct a Training Needs Analysis, there are a few things that any organization will want to consider. The first what you actually want to achieve through a TNA; what are your desired outcomes? These might be formed around a value statement or philosophy, defining the core goals of your organization and how they relate to current activity. Management or senior staff may be most able to help define desired outcomes and fundamental business goals.
The next step involves gathering data according to whatever core competencies your business stipulates. This might be achieved through an online test, or by allowing supervisors to carry out performance evaluations. However, it's important to make sure that any appraisals and evaluations aren't already assuming the need for training, or that they over-concentrate on a summary rather than a meaningful evaluation of specific skills and abilities.
Once data is gathered, a TNA can be performed against the strategic criteria you've developed. You should be able to use this analysis to answer such questions as what resources are available, who requires resources, and who can serve as subject matter experts? To ensure that your Training Needs Analysis covers everything you need to know, it may be helpful to compile a training and development needs analysis checklist.
Finally, the results of your Training Needs Analysis can be used to inform management of skill gaps. These gaps are a representation of the difference between performance and potential within your organization (read our article on Why Your Organization Needs Skill Gap Analysis for more details), and are an effective way of asking questions about productivity within your team.
Performance Analysis (PNA)
While a Training Needs Analysis is a focused, effective approach to identifying core needs, it does have its limitations. TNA's can, in general, only reveal the areas where training is and isn't of value. In other words, conducting a TNA will only contribute to business solutions if the original issue is caused by a lack of knowledge and skills.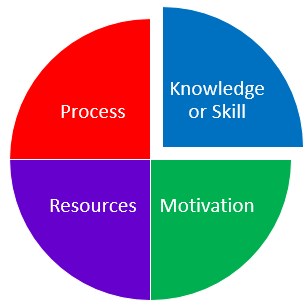 Image: 'Performance Needs Analysis' by Peak Performance Center
If you know your team's needs are likely to be wider than skill-based, you might want to consider a Performance or Performance Needs Analysis (PNA). This wider method takes an overview of all contributing factors in company performance, and can incorporate a Training Skills Analysis or Skills Gap Analysis to inform its results. Other factors included in a Performance Analysis might include a study of workflow, communication, resource availability, or staff wellbeing.
The better your available data, the more helpful and incisive you PNA is likely to be. For example, if you know exactly which part of a learning course, project, or assignment is the biggest time-suck, you can implement an efficient, targeted solution for that aspect of your workflow. KPI's and metrics are invaluable here for their ability to pinpoint specific areas of your organization. So just as many companies use KPIs to track their success, you should also be considering key metrics most useful for your Performance Analysis.
If you need better access to the data necessary for your Performance Analysis, analytics platforms such as Lambda Analytics offer a variety of metrics that don't just come in handy for improving the efficacy of eLearning experiences (check out one of our articles on the most beneficial learning metrics for eLearning and why you should track them.) You should also be using the full capabilities of your LMS to create the most effective data profile of your team's performance.
If you have any other questions or concerns regarding eLearning solutions, learning management systems, or learning analytics, we'd love to hear from you! Contact us today.
Other articles you might be interested in:
Disclaimer: This article was contributed by guest blogger Joe Hitchcock. Joe is a content writer from Vancouver BC, interested in culture, education and fiction. The views and opinions expressed belong to the guest blogger alone, and do not necessarily reflect the official policies or opinions of Lambda Solutions.