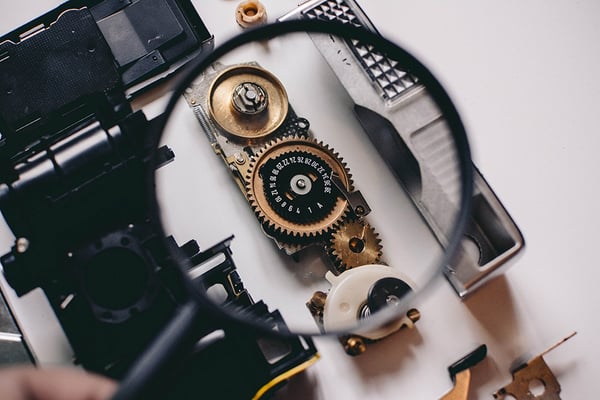 eLearning programs have huge potential when it comes to empowering employees with a sense of purpose and opening up new possibilities for personal and professional growth. However, when the corporate world usually measures success with numbers, how can you implement training evaluation and prove that your eLearning program is a success and that it generates a satisfying ROI? Here are some of the ways you can assess the impact of an L&D program and demonstrate its value.
Training Evaluation: Using The Kirkpatrick Model
The Kirkpatrick model uses four levels to evaluate an educational program:
Level 1 assesses the initial reaction to the program by evaluating how satisfied learners are.

Level 2 looks at how well students are learning. Test scores, course completion rates and feedback from supervisors are used.

Level 3 focuses on behaviour. It can include productivity and quality KPIs, focus groups and feedback from learners and their supervisors.

Level 4 is about finding tangible results for the training program. It looks at how the program impacts the business as a whole regarding quality, productivity, employee retention, morale, customer satisfaction and more.
Evaluating Employee Satisfaction in the Long-Term
From the Kirkpatrick model, level four should be the focus on assessing long-term satisfaction. A job satisfaction survey can help you evaluate the long-term value of an training program. Employees who don't receive adequate training and support are more likely to experience dissatisfaction with their job and result in low engagement.
You can also ask questions about morale in the job satisfaction survey and evaluate the employee retention rates. For instance, a low turnover rate is a sure sign that employees are satisfied with their job, so comparing the current retention rate with numbers before the eLearning program implementation will help measure the tangible impact of the program.
If your company deals with customers, then your assessment of satisfaction should include customers and how they feel about their interactions with your employees. For example, compare the average satisfaction rate of customers who interacted with employees who received training with the satisfaction rate of customers who interacted with a different group of employees.
Measuring Sales, Productivity and Quality
Productivity and quality KPIs should be measured and included in a comprehensive report that assesses the results of your eLearning program. These KPIs will be particularly useful when presented in the context of comparing productivity and quality performance among employees who completed an eLearning program and a control group who didn't have access to training.
Because other factors can impact productivity and quality KPIs, individual performance reviews can be added as part of the measurement, such as implementing monthly personal reviews for employees. These reviews could assess productivity for each employee, their strengths and weaknesses, and look at individual performance such as sales numbers, and any skill that is relevant to the tasks could be reviewed on these performance reports.
Assessing the Costs and ROI
Showing the ROI of an eLearning program is a great way to demonstrate to management the value of the program. You should start by assessing the total cost of the eLearning program, such as the cost of implementing an LMS, cost of hiring a trainer, the salary of course designers or HR professionals who worked on this project, and the time workers spent on training.
Quantifying the benefits of an eLearning program can be challenging. Monthly performance reviews can help you get a better idea of how training helps improve quality and productivity on an individual level. You can then calculate an average ROI for each employee who completed the eLearning program. You can also use LMS reporting features to track how well each learner performed in course activities completions, and compare these results with their monthly performance reviews to assess the long-term benefits of the program.
Other factors you can include in this analysis:
Assess the cost of employee turnover before implementing the eLearning program, and present this cost as a potential saving if the retention rate improves once employees have access to better training resources.

Collect feedback from different managers and employees and find out how the training program has helped them save time and work more efficiently in their department.
It isn't possible to prove the efficiency of an eLearning program with a single number. Instead, you can find many data points that reflect the tangible results of a program on quality, productivity, sales, morale, employee retention and more. Having access to detailed analytics for your training program will also be beneficial.
Lambda Solutions can help you find the right open source LMS solution for your needs, support you during implementation, and show you the detailed reporting and learning analytics to improve visibility over the results of your training program.