So, you're searching for the perfect online course platform to deliver profitable online learning or training course(s).
BUT, you're not exactly sure what you should be looking for.
We get it. It can certainly be a daunting task. With so many options and features to comb through, it's difficult to narrow it down to a single platform that can do it all.
This complete guide will highlight the exact features you should be seeking in an online course platform. These features will ensure your online course is firing on all cylinders and living up to its full potential.
This complete guide will highlight the exact features you should be seeking in an online course platform.
Now, you're probably a bit skeptical; and that's perfectly reasonable — after all, it is a bold claim to hold all of the secrets to choosing the perfect online course platform.
But for more than two decades, we've been industry experts in all things LMS, eCommerce, and Analytics. What's more, Lambda Suite has leaned on the features in this guide to deliver courses to over 2 million learners worldwide.
Now that's a lot of content.
So, let's dive in. Here are the features that will ensure your online course is firing on all cylinders and living up to its full potential.
In This Guide:
1. Supports the creation of the most impactful digital products
Why it's important
The absolute best online learning platforms will provide you with everything you need to upload, create, and deliver your course content.
Finding a platform that allows you to fully customize your course offerings ensures your content is presented with purpose — and remains aligned with your organizational and customer goals.
In order to create a successful online course that has the reach and longevity to positively impact hundreds — or thousands — of learners, you need an LMS (learning management system) that supports a variety of digital products. This will allow you to fully leverage the most powerful strategies in online education.
Your course will only be as good as your content, and if you're using a platform that restricts your delivery of this content, the end result could be a bland, under-delivering product that leaves your learners uninformed and unengaged.
What you should be looking for
The best online course platforms will give you ample customizability and allow you to implement a variety of eLearning strategies.
For example, you may want to create a Single Course — for individuals or groups — that features engaging, interactive content, covers a single subject, and offers a certificate upon completion of the course.
Conversely, maybe your content would be better presented across multiple courses. A Program option allows you to string together these courses and have your learners complete each in succession to meet your training objectives.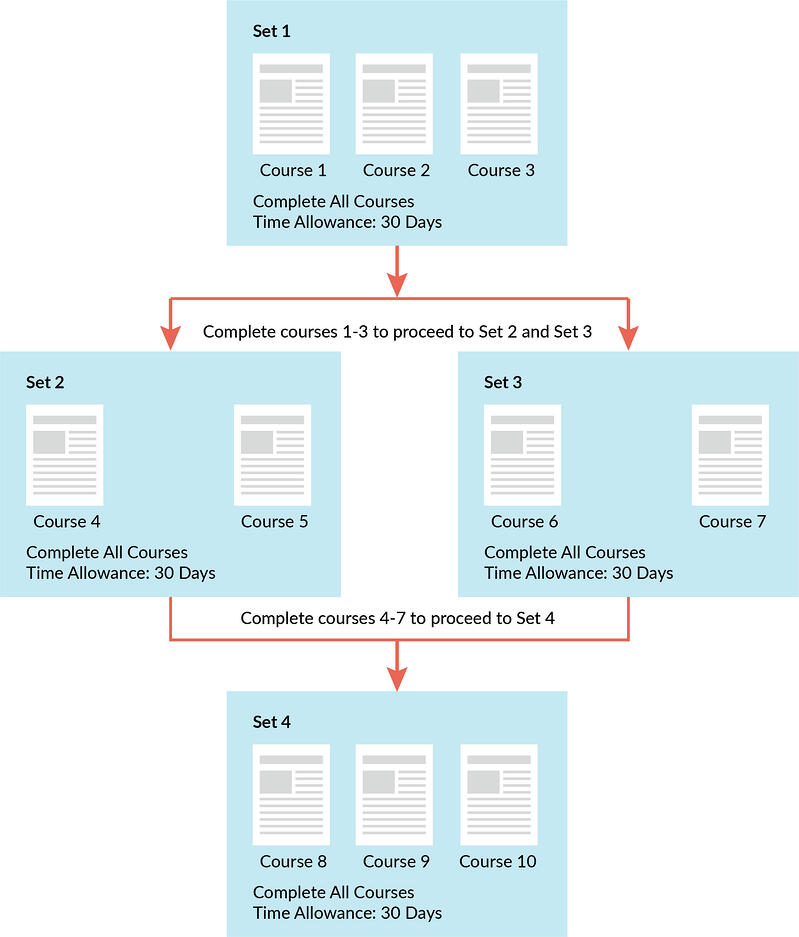 Lambda Suite's Program features makes it easy to auto enrol your learners while giving them clear direction.
An online learning platform should also support the full integration of an online conferencing tool, such as Zoom. This will ensure the smooth delivery of your blended learning courses.
Within your digital products resides the heart and soul of your course — your content.
When determining how to create and sell an online course, you're at the mercy of your LMS. It will dictate how exactly you deliver this content. Look for a platform that supports:
Gamification - the use of game elements, mechanics, and designs in your content
MicroLearning - easily-digestible, bite-sized mini-lessons
Adaptive Learning - this allows you to customize a learner's journey through your course based on their strengths, weaknesses, and overall course performance.
Having the flexibility to deliver your course content as you see fit is invaluable. Lambda Suite supports all of the above, and more! With H5P and SCORM supported content, you'll be creating enthralling, interactive content to all of your learners — near and far.
2. Boasts sophisticated eCommerce features
Why it's important
Any profitable online business requires a reliable, polished eCommerce platform that fuses together the purchasing and learning experience of its users.
Your unique customers have unique needs — and you want to be sure you're well-equipped to meet those demands.
Not unlike their learning styles, your customers' purchasing habits, preferred methods of payment, and digital literacy differ as well.
An online course platform needs to recognize this. Not only does it have to seamlessly integrate eCommerce and eLearning, it needs to deliver an unforgettable buying experience to each individual customer.
What you should be looking for
Your customers are your most valuable asset, so it stands to reason that your online course platform allows you to easily manage and nurture this relationship.
Choose a platform that allows you to make swift updates to customer accounts while also gaining invaluable insights on their behavior.
Whether you're planning on assigning customers to a Group or making another mass edit to your customer list, you're probably dreading the task.
Data entry — it has to be done. But it doesn't have to take up your entire Wednesday afternoon.
A Bulk Actions feature can save hours by eliminating the need to enter, edit, and delete each piece of data individually. The ability to quickly complete mass edits will give you more time to focus on more pressing business needs.
In addition to account management, a sophisticated platform will also provide an abundance of useful customer information such as:
Customer order history
Customer search history
A "Now Online" feature
This information sheds light on customer behavior and purchasing patterns, allowing you to make better, more informed, marketing decisions.
Choose a platform that offers Special Pricing and Product Bundles
We've already established that a one-size-fits-all eCommerce platform just won't do the trick — and the ability to set flexible prices, apply group-specific tax rates, and offer Bundled Products are non-negotiables.
There are so many variables when it comes to pricing your courses. You want to be able to run promotions, offer your long-term customers preferred rates, and reward those who meet a specified threshold in terms of overall spending.
An online learning platform should also allow you to set tax rules for your customers based on location, groups, and product type:

With Lambda Suite, you can set tax rules to reflect your customer demographic.
The ability to pre-package some of your courses should not be overlooked either. Customers love when you do the work for them by recommending complementary courses or offering Product Bundles.
When selling online training courses with an all-in-one solution like Lambda Suite, you reap the benefits of a platform that provides a seamless transition between eCommerce and eLearning.
Start selling your online courses on your very own branded eCommerce learning site today!
3. Allows you to market your courses effectively
Why it's important
Any online course platform you're considering needs to have features in place that allow you to market your course(s) with ease. You want to ensure that prospective buyers can find you; and when they do, you want them to convert.
Without fully-integrated eCommerce marketing features, customer acquisition will be exponentially more challenging, your conversion rates will suffer, and you'll fail to maximize your return on investment (ROI).
What you should be looking for
So, how do your customers find you?
Well, if you invest in any form of paid advertising, that's one way. You probably get some referrals as well.
But one of the most impactful, and cost effective ways to nab new customers is to optimize your product pages for search engines.
Search Engine Optimization (SEO)
You see, when someone searches for a course — one that you happen to offer — you want to ensure that your website is displayed in search results.
Your online course platform should allow you to optimize your site for Search Engine Optimization (SEO). More specifically, you need to be able to enter your meta title and meta description.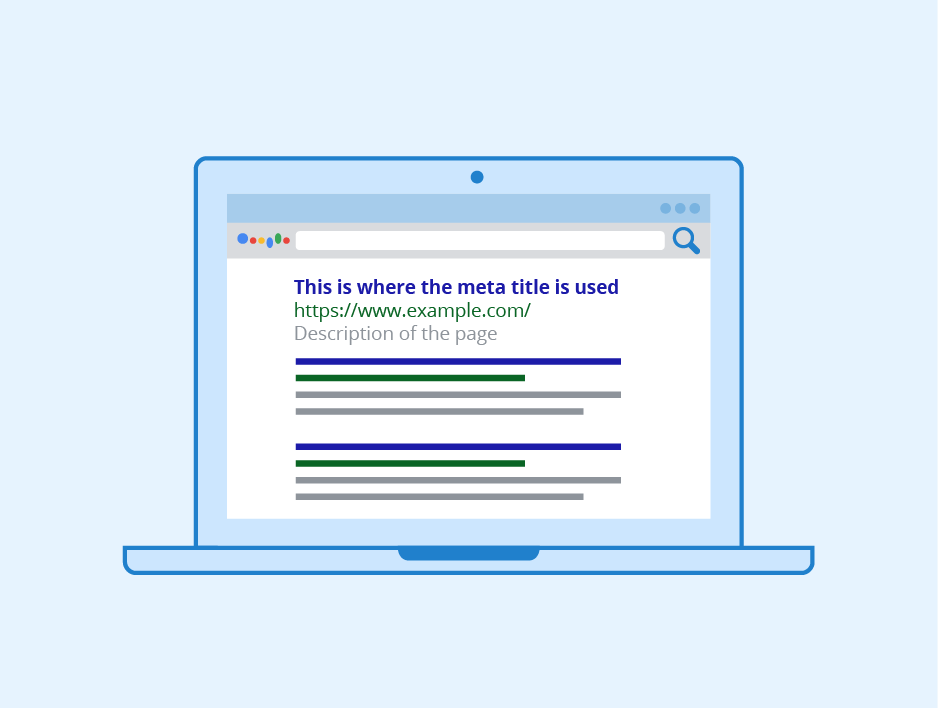 Your meta title is the title of your page — in this case, your course title.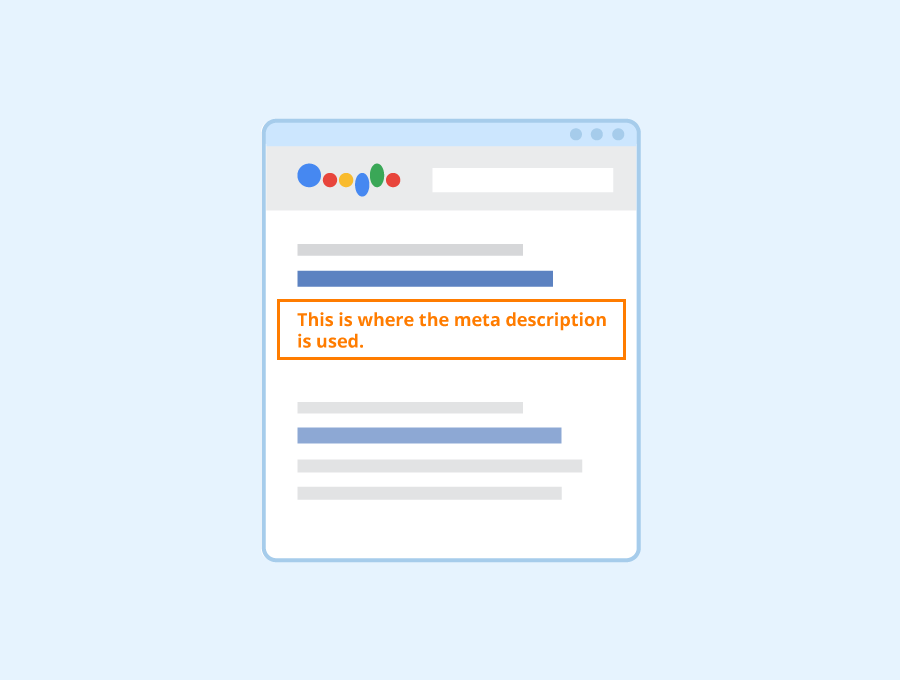 Your meta description briefly describes what your page is all about — in this case, it would describe what your course offers.
A meta title tells your customer exactly what to expect before clicking through to your page, so it's important to be truthful and accurate.
While a meta description does not directly impact SEO, search terms within the description are bolded when your page is shown. Additionally, a well-crafted description can encourage potential customers to click through to your product page.
In addition to meta titles and descriptions, Product Descriptions play a prominent role in SEO. Attractive, persuasive copywriting plays a key role in converting your customers, so be sure your chosen platform gives you the option to include descriptive text as a part of your digital storefront.
Email Marketing (with Mailchimp)
An online learning platform also needs to offer a fully-integrated email marketing platform, like Mailchimp.
Email marketing provides some of the highest returns on investment you'll see from any of your marketing efforts — a 42:1 ROI to be exact.
What's more, it's been known to be one of the less intrusive forms of advertising
An online course platform with fully integrated email marketing allows you to create email campaigns, follow up on their performances, and effortlessly manage all of your contacts.
Upselling & Cross-selling
The ability to offer your customers premium alternatives or complementary additions will allow you to get the most out of every purchase.
Upselling (on your product page) and cross-selling (while customers are viewing their shopping cart) helps you maximize your revenue while providing an enjoyable purchasing experience.
It's expensive to acquire new customers, In fact, it can cost five times more than retaining a current customer.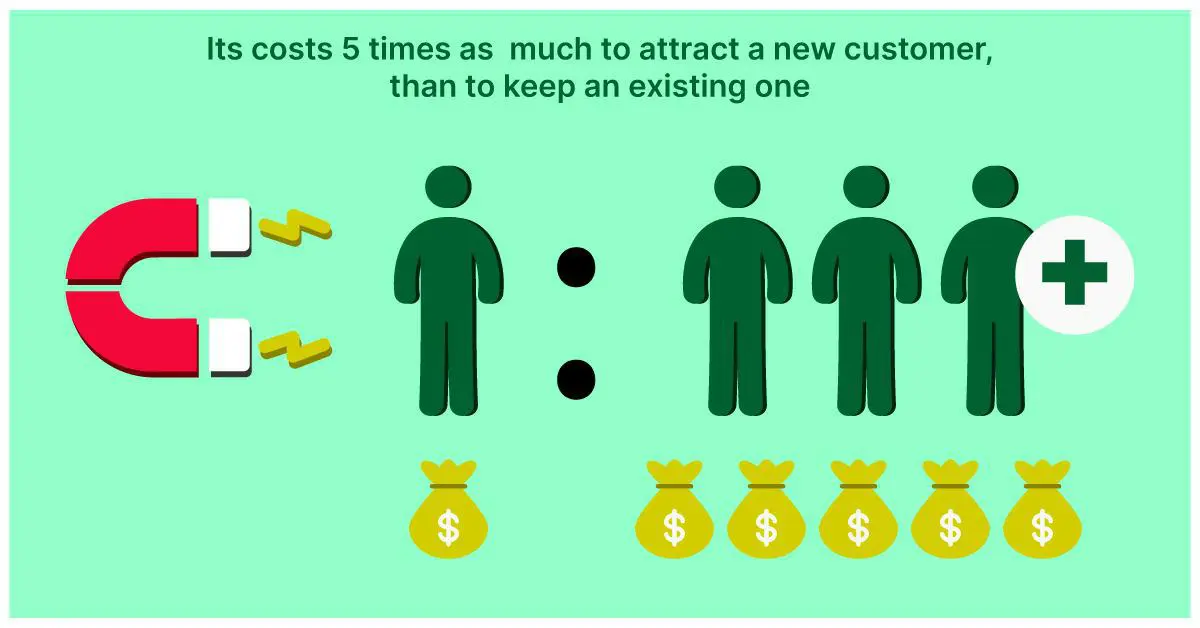 This isn't the most visually pleasing graphic, but something Lambda Solutions-themed would look nice here.

Source: https://www.voxco.com/blog/customer-lifetime-value/
Lambda Suite includes eCommerce marketing features like SEO, email marketing (with Mailchimp), upselling/cross-selling, and more.
4. Includes a full suite of integrations
Why it's important
Any online course platform you consider should be able to integrate with all of the other key business applications your company uses on a day-to-day basis.
Integrations come in many different forms. From eCommerce and CRM to single sign-on and API, information simply needs to be synchronized across all softwares for your business to operate efficiently.
When your LMS isn't synchronized with the rest of your business, you're missing out on a number of substantial benefits.
What you should be looking for
Time Savings
When you're working with an LMS that is fully-integrated with your other primary softwares, the time savings can be substantial. Say goodbye to the hours of data entry and cross-referencing. Information is shared across databases and can be easily referenced, updated, and deleted.
Key Insights
Analytics integration should be a non-negotiable for all online learning platforms. Insights about your learners' behaviour and your course(s) performance can give you the ammo you need to execute better business decisions.
Learner Experience
Features like SSO (Single Sign-On) integration allow users to access your entire ecosystem with one set of log-in credentials; an integrated eCommerce platform improves the buying experience and allows for immediate access to courses purchased from your online storefront.
Enhanced security
By integrating popular payment gateways like Authorize.net, PayPal, Stripe, Moneris, Square, and Braintree, customers can make purchases without leaving your website, and rest easy knowing their personal information is safe and secure. Other integrations allow for the safe transfer of learner information to your LMS from third party applications.

Flexible content offerings
Use virtual classrooms or leverage LTI (Learning Tools Interoperability) integration to connect users to external tools and activities.
As you can see, you're not realizing the full potential of your LMS if you're not using the most impactful integrations.
And if your online course platform doesn't support integrations, it's probably time to find a platform that does.
Lambda Suite comes pre-loaded with all of the most powerful integrations. Rather than purchase and develop these integrations individually, Lambda Solutions' support team can fully-customize your platform to maximize the effectiveness of your learning management system.
5. Reinforces Learner Engagement
Why it's important
Learner engagement is consistently labeled as the most challenging aspect of delivering an online course.
But it doesn't have to be.
There are a number of strategies you can use to boost engagement. Choosing an online course platform that promotes learner engagement — by offering all of the tools you need to improve it — is the first step at turning this obstacle into a defining feature of your course(s).
Many eLearning and training courses take a one-size-fits-all, cookie cutter approach, and this is simply not sustainable when looking to scale your business.
Here's why:
Everyone learns differently - without identifying your learners' strengths and weaknesses, how can you expect to train them effectively?
Not everyone is starting from scratch - some learners have previously-acquired skills/knowledge. Starting them off alongside others who need to start with the very basics is a good way to lose their interest quickly.
What you should be looking for
By using an online course platform that allows you to individualize courses and programs, you can keep your learners engaged by:
Teaching them to their individual strengths
Allowing them to dictate the pace of their course(s)
Modifying their level of difficulty

Also, be sure to confirm your chosen platform boasts a powerful LMS that can support interactive content. Engaged learners are active learners, and the more involved they can be in their learning/training, the more effective you can expect your courses to be.
Lambda Suite supports gamified, interactive content, and boasts an analytics and reporting feature to ensure you're always on top of your content game and keeping your learners engaged.
6. Supports Certifications
Why it's important
Offering a certification can have a significant impact on both learner engagement and the marketability of your course(s)
When learners have clear objectives and understand the purpose of their training, they perform better. Add in a reward in the form of a certificate, and it's no surprise certifications are highly sought after by trainers and learners alike.
For your business, certifications can enhance public perception of your course and position you as an industry expert. This can allow you to:
Place a premium on your course(s) - a certification has value and your customers will be more than willing to pay a premium for this
Extend your reach to new customers - as you gain notoriety for your certifications, you'll attract more customers
Give you an edge over your competition - certifications are a great way to separate your courses from the similar offerings your competitors have created.
What you should be looking for
You'll want your online course platform to offer a flexible and highly customizable certification feature.
Look for a platform that allows you to create your own learning paths for each certification. In addition to this, the ability to quickly manage enrolments and the recertification process will be invaluable. Consider:
Creating your certification:

This should be a breeze. Your online course platform should allow you to add any course to your certification.



Expiring certifications and Recertification windows:

This could get incredibly tricky to track if your platform doesn't fully support certifications. Sophisticated settings should give you a number of options when it comes to how and when learners can stay up to date with their certifications.



Ease of communication with learners:

From an automated notification to update a learner on their certification progress to a quick reminder of an upcoming deadline, the importance of communication cannot be ignored.



How to assign learners to a certification:

Lambda Suite allows you to add learners by group, audience, or position in an organization. Learners can be added individually as well. For mass enrolments, this will be a big time saver.



Custom branded certificates:

You want your certificates to be professional, unique, and truly reflect your brand. A customer certificate builder is a no brainer for any platform offering certifications.
To learn more about the power of certificates and how your online learning can take advantage of it, read our latest blog: Lambda Suite: Why Your Business Needs Custom Certificates
7. Incorporates built-in reporting and analytics
Why it's important
A robust analytics platform allows you to gather, analyze, and report the most impactful learning data to your primary stakeholders.
Analytics provide a better understanding of:
Overall course performance
How your learners engage with your courses and perform on knowledge checks
ROI and how your courses are impacting overall employee performance
What you should be looking for
Your online course platform should boast a reporting and analytics tool that can, at minimum, tell you which of your courses are the most popular, and identify the activities that your learners seem to gravitate to.
This allows you to identify trends, optimize your courses, and ensure your learners are getting the most out of their online training.
If you're seeing learners consistently struggle with a particular quiz or exam, it may be time to re-evaluate the content leading up to said knowledge check.
A well-built analytics platform can also specify the time your learners spend on an activity, the resources they interact with, and the number of attempts they require to pass a quiz or test.
While test scores and other insights are useful when tinkering with the delivery of your course content, the ultimate feedback your learners can give use is their on-the-job performance.
When comparing employee productivity to training results, you'll be able to pinpoint the most effective content and improve course components that aren't translating to improved post-training performance.
The key to an effective reporting and analytics tool lies in its ease-of-use. Be sure to go for an online course platform that features an analytics and reporting tool that's flexible, intuitive, and aggregates all of your business' key data.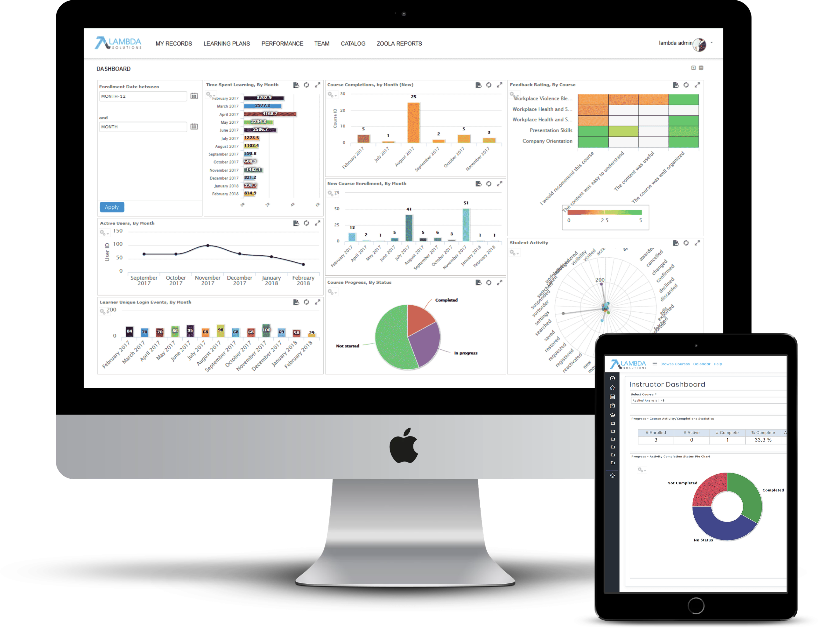 For example, Lambda Suite's built-in analytics platform features:
a drag-and-drop interface
over 30 out-of-the-box dashboards, reports, and charts
Customized reports
The automated delivery of reports to your stakeholders
eCommerce reporting
8. The "Suite" Solution: Why Lambda Suite Fits the Bill
Lambda Suite is an online learning platform that provides efficient and scalable means to run and grow your business. Sell your courses anywhere — and to anyone.
Lambda Suite is your learning management system, eCommerce platform, and reporting and analytics tool. This all-in-one platform boasts a complete set of dynamic features required to optimize the delivery and effectiveness of your online courses.
With Lambda Suite, you can:
Create and deliver the most impactful content
Offer your customers a premium buying experience
Leverage the powers of SEO and email marketing
Optimize your LMS with the most powerful integrations available
Deliver the most engaging courses to your learners
Provide certifications upon completion of your courses
Make better business decisions with built-in analytics

To learn more about Lambda Suite and what it can do for your business, book a demo or contact Lambda Solutions best-in-class support team.
Need an All-In-One eLearning Business Solution for Selling Your Training Courses?
Discover how the Lambda Suite offers the easiest, most efficient way to sell, market and scale your eLearning business.