Seamless integration.
Sounds great, doesn't it?
It's a term you've heard hundreds — if not thousands — of times in your search for your next learning management system. It's something every developer strives for and something every instructional designer and training manager yearns for.
When doing even a surface-level analysis of potential LMS platforms, integrations should always be at the forefront of the discussion. Choosing an LMS that lacks the flexibility to seamlessly integrate with your other business software will leave you always wanting more. You want to maximize your online course platform's potential, don't you?
But which LMS integrations are available? What can these integrations do to streamline your business operations and improve your courses?
These are questions you need answers to — and this article will aim to provide those answers.
Why Are LMS Integrations Important?
LMS integrations give you the ability to fully synchronize your learning management system with all of the other business applications your company uses to operate its business.
Simply put, if your LMS does not integrate with your CRM, Analytics, eCommerce, and other platforms, you're missing out on an infinite number of opportunities to improve business operations and streamline processes.
With LMS integrations, valuable data is shared across these platforms. You gain insights on customer and employee behaviour, the effectiveness of your training courses and marketing efforts, and save hours and hours on administrative tasks.
The bottom line? When used appropriately, LMS integrations will save you time and help drive better business decisions.
Let's explore how 7 LMS integrations can benefit your eLearning or training business.
LMS Integrations
1. API Integration
An API (Application Programming Interface) allows you to connect third-party applications to your LMS with the purpose of sharing and synchronizing information.
Chances are, you've interacted with an API hundreds of times. Netflix uses APIs to distribute content; Travel booking websites use APIs to offer the best deals to consumers; APIs are also used by financial institutes to process payments, authenticate account information, and more.
If you've connected Google Analytics to your LMS — you've already used API integration yourself!
Third party applications, like Analytics, provide you with a numerical key that can be entered in your LMS. This gives developers permission to interact with your data while offering you the ability to leverage their software.
Benefits of API integration:
Time Savings: data can be pulled from LMS to third-party applications — and vice-versa — eliminating the need to manually create, update, and delete information.
Easy reporting: when third-party applications are integrated with API, in-depth reports are auto-generated.
Automated actions: enroll an employee in a training course based on recent performance,
2. CRM Integration
Your Customer Relationship Management (CRM) system is the heart of your business. It stores valuable information about customer behaviour, how they've been communicated with, and identifies opportunities for future business growth.
Unsurprisingly, the importance of integrating your LMS with a CRM cannot be overstated.
Accounting for nearly 20% of CRM global market share, Salesforce is the go-to option for most LMS platforms, including Lambda Suite. With Salesforce integration, massive amounts of data become significantly more accessible.
Benefits of CRM-LMS integration with Salesforce:
Synchronized accounts: when customer accounts are created in your LMS, all contact information can be instantly transferred to your Salesforce CRM.
Track orders: order information is available in Salesforce as soon as your customers make a purchase.
The entire customer relationship — in one place: view customer contact information, purchasing habits, and records of all interactions with your support team.
3. eCommerce Integration
eCommerce API integration is absolutely essential if your company is dealing with high volumes of learners — or looking to take a step in that direction.
Without eCommerce integration, the process of selling and delivering your courses will be a colossal challenge.
Benefits of eCommerce integration include:
Email Marketing: integrating with a platform like MailChimp allows you to manage contacts, create sophisticated marketing campaigns, and glean insights from your overall marketing efforts
Flexible Pricing and Tax Rules: set a different price and tax rules for individual or specific groups of customers based on purchasing volume, location, and more.
Automate and Simplify Tasks: streamline account creation, course enrolment, and course completion.
Customer-friendly Interface: You have about

7 seconds

to grab your customers' attention. A well-designed and easy-to-navigate store can enrich the user experience and increase the likelihood a visit to your website results in a sale.
Secured Payments: Your customers will appreciate the convenience of completing transactions without having to leave your website. Stripe, Moneris, PayPal, Braintree, and other payment processors can be integrated into your LMS.





Be sure to choose an eCommerce platform that can handle all of your sophisticated business needs. An all-in-one online course platform like Lambda Suite offers all of the above benefits and more.
4. Single Sign-On (SSO) Integration
Have you ever been prompted to log into an online account with your Facebook or gmail credentials?
If so, you've experienced the wonders of single-sign-on (SSO) integration and authentication.
As a user, it's incredibly convenient. So much so, you probably don't think twice anytime you're asked to use one account to access another completely unrelated website.
In your LMS, however, SSO support not only benefits you, but your customers and all members of your organization. It provides streamlined access to CRM, online training, analytics, video conferencing and more.
Consider single sign-on the master key that opens every virtual door in your organization.
Benefits of Single Sign-On Integration:
One username, one password: employees and learners enjoy a streamlined workflow across all digital properties.
Safety first: When users recycle the same passwords over multiple platforms, security breaches are far more likely to occur. SSO technology mitigates this risk.
IT departments rejoice: IT teams can expect to field fewer calls from disgruntled employees who've been "locked out" of their accounts.
Learning management systems like Lambda Suite offer a simplified solution with the use of SSO - OAuth for authentication purposes.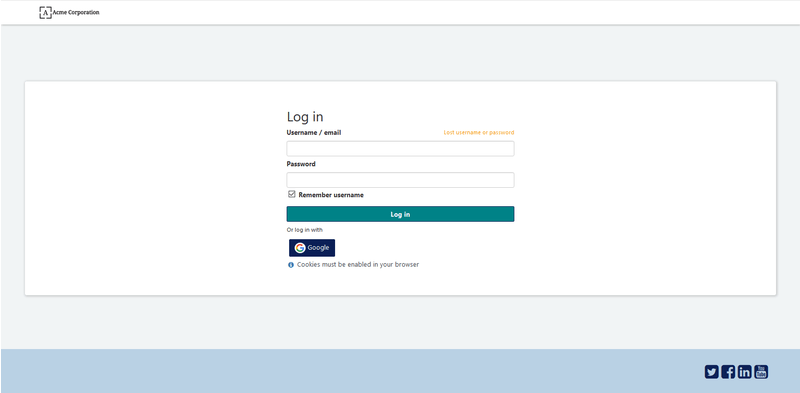 5. Analytics Integration
LMS analytics are indispensable. Whether your LMS has its own built-in reporting tools or you're gaining insights from Google Analytics, your data needs to be gathered early and often.
Leveraging learning analytics can have a profound effect on the efficacy of your courses.
Some benefits of Analytics integration include:
Course evaluation: your analytics show you how learners are performing, how much time they're spending on specific activities, what they're getting hung up on, and much more
Key insights via custom reports: data gathered can lead to a better understanding of your learners behaviour and indicate how they may perform in the future.
eCommerce analytics: pull order reports and revenues to identify both popular and underperforming courses. Easily measure ROI for each course, track business goals, and drive key decisions.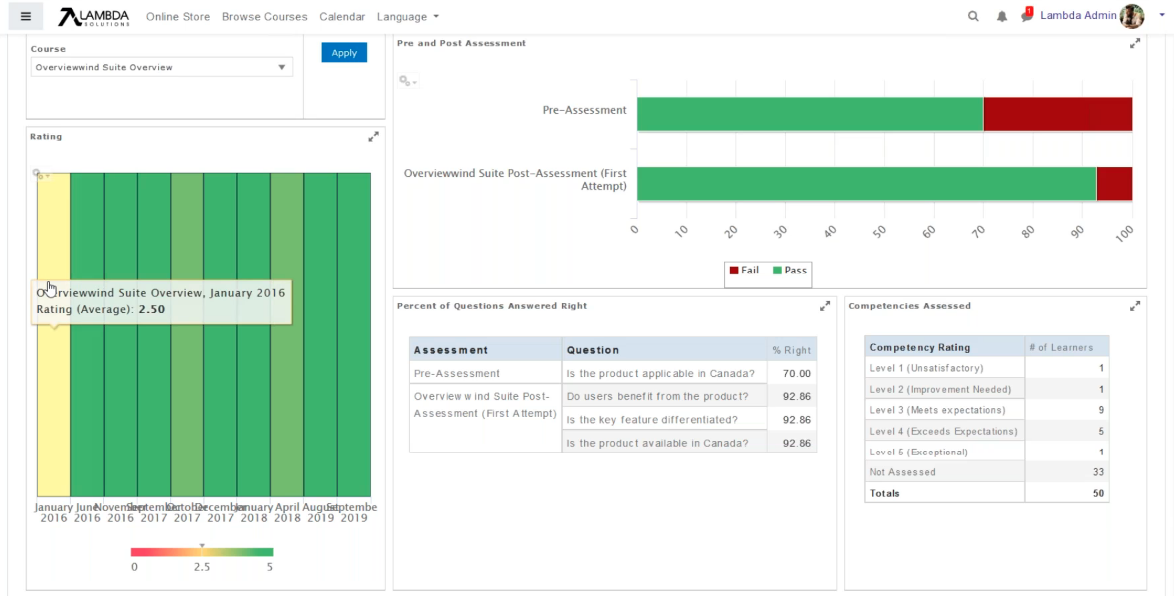 Dashboard reporting in Lambda Analytics.


6. Virtual Classroom Integration
With more and more employees working and training from home, virtual classrooms have become a great way to offer face-to-face support to team members and keep employee morale high.
For blended training courses, you'll need an LMS that allows you to integrate sophisticated video conferencing software, such as Zoom, to ensure employee performance doesn't suffer during this new age of remote
Virtual Classroom integration benefits:
Offer live or pre-recorded training: Webinars not only increase engagement and educate your audience — they're cost effective as well.
ILT (Instructor-led Training): this is a great way to deliver real-time time training and receive immediate feedback from your learners
Communication between learners: course-takers can share ideas, pose questions, and offer tips via various messaging tools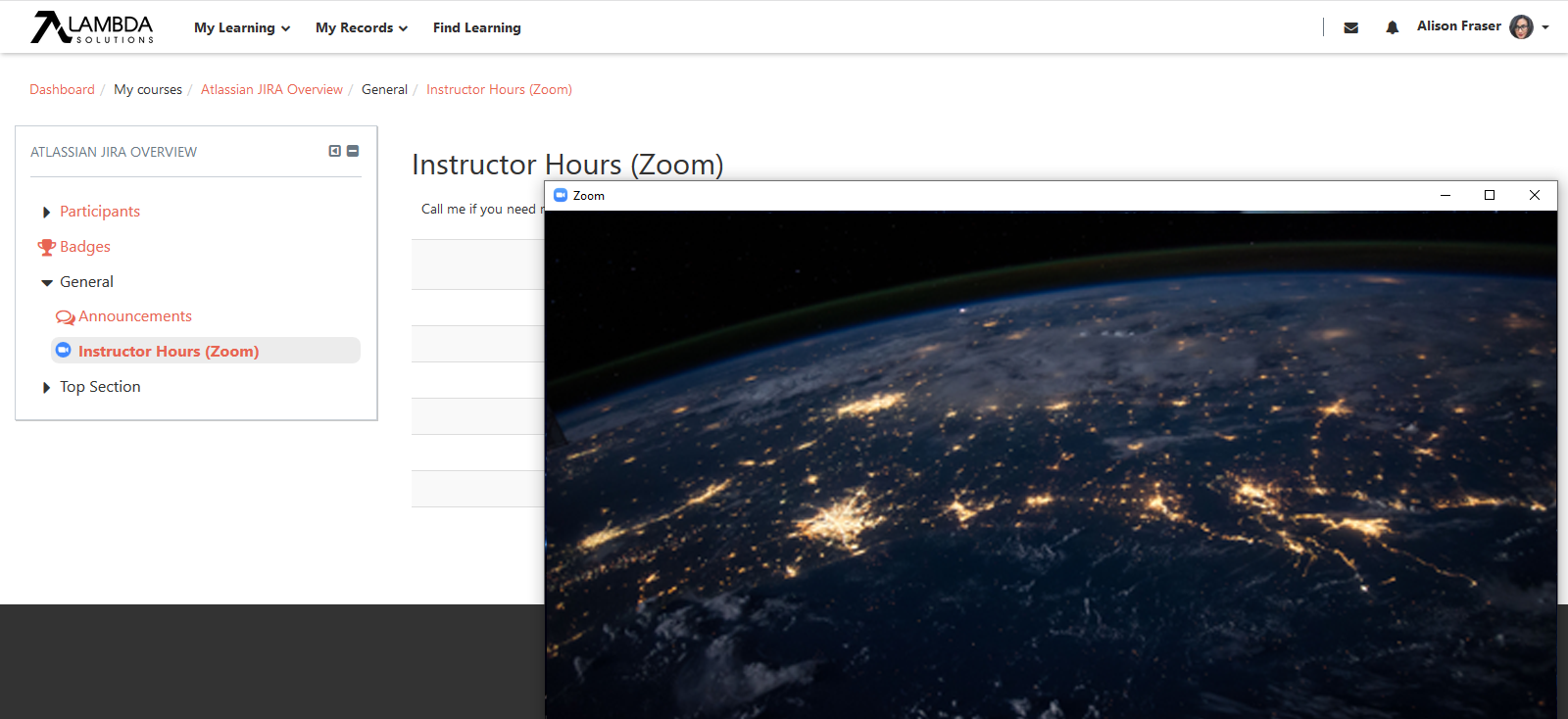 Zoom can be easily integrated to Lambda Suite.


7. LTI Integration
Have you ever come across an online resource and thought, "Gee, this would be a perfect addition to our training course on xyz. If only there were a way to add this directly to my LMS…"?
Well...there is! It's called LTI integration.
So, what is LTI?
LTI, or Learning Tools Interoperability. is a standard protocol developed by the IMS Global Learning Consortium. When this standard is used to create an application, it can be integrated with any LMS that also supports LTI.
When an LMS uses LTI integration, it can connect its learners to a wide variety of content, activities, and external tools found on other LTI compliant websites.
Benefits of LTI integrations include:
Seamless transition: LTI allows you to redirect your learners to a course activity hosted on another website — without requiring a separate log-in.
User experience: When instructors and learners view an external tool as a part of a course, they are unlikely to even notice that it's running outside of LMS.
Secure exchange of information: when learners complete activities hosted elsewhere, results and grades are sent directly to your LMS

Conclusion
Key benefits:
Seamless transitions between your LMS and externally hosted learning resources
Simple, real-time analytics and reporting
Customer information synchronized across your organization
eCommerce and LMS working in tandem to to optimize purchasing experience
You see, LMS integration can yield incredible results — making life easier for you and your learners in the process. These integrations allow your online course platform to pack a more powerful punch and truly maximize its potential.
If you're looking to find a fully-integrated, all-in-one online course platform, look no further than Lambda Suite. Lambda Solutions' top notch support team will ensure your LMS is optimized and customizable so you get all of the benefits of the most impactful integrations without the hassle and expense of purchasing and developing them individually.
Related Articles: