A professionally designed certificate can go a long way — and not just for those who receive them.
Certifications are valued by training managers and employees alike. And for good reason! Certified employees are knowledgeable and capable employees. But your business can reap some major benefits as well.
As an online course provider, the inclusion of professional, branded certificates can do wonders for your bottom line and brand appeal. That's why Lambda Suite features an option to build and brand your very own custom certificates.
In this Article:
What are Certificates?
Certificates are issued to your learners upon their completion of a course or program. These certificates can represent the validation of specific knowledge and skills gained or simply reward your learners for making it to the end of their training.
Regardless of the courses your certificates are paired with, they can serve as a powerful feature of your online course business.
Why use Certificates?
When you attach a certificate of completion to your course(s), you're adding much more than confirmation of a job well done.
That's right! The use of certifications isn't just a formality — there are some serious benefits!
Here are some of the ways your online course business can prosper from the inclusion of certificates:
Added Value
Certificates can boost the perceived value of your courses and position you as an industry thought leader. A certified program can legitimize your content in the eyes of your audience.
Your customers realize a personalized certificate can beef up their resume or LinkedIn profile. It may even be the ticket to a promotion or highly sought after position elsewhere.
Therefore, you can expect customers to pay more for a certificate. Whether you're charging a premium for a certified course or offering the certificate as an optional upsell at the end of a program, course certificates will improve your bottom line.
Motivated Learners
For the extrinsically motivated learner, the promise of a certification can provide that extra push to get them across the finish line.
And the inverse is true as well. In fact, studies have shown that course completion rates drop by nearly 50% when certificates are taken out of the equation.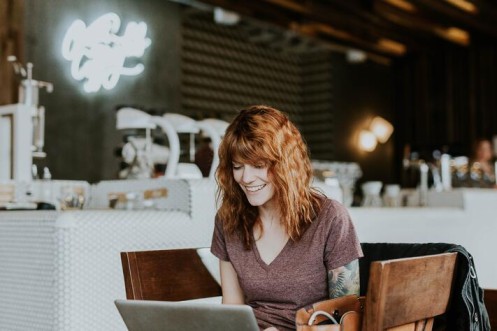 You don't want your learners to simply go through the motions when completing your course. The addition of a certificate can keep course takers engaged and ensure they take extra care when working through course activities and knowledge checks.
Certificates give learners tangible proof of their accomplishments and something to hang their hat on for a job well done.
Brand Awareness
With Lambda Suite, you're able to create your own branded eLearning certificates. This means that every time a course graduate flashes their certification, your brand and logo get a bit of free exposure.
The more certifications you issue, the further your reach. In time, your business will benefit from the power of social proof and see an uptick in organic traffic headed to your website.
Overall, certifications are a great way to boost your authority in your industry and separate yourself from your competitors.
How Certificates work in Lambda Suite
Lambda Suite, the all-in-one online course platform, gives you an incredible amount of flexibility when creating certification courses, certificates, and custom reports in your LMS.
How to Create a New Certification:
Setting up your Certification

Creating a new certification in Lambda Suite could not be easier.
After selecting the course category, simply enter the name of your certification and select the dates you'd like the certification to be available your customers (if applicable).
Next, add a short description of your certification and choose which of your audiences are able to view the certification.
Finally, upload the primary image for your certification, and save your changes.
There! You've just created your first certification (seriously, it's that easy).
But there's lots more to do before your certification is live and ready for your learners.
Adding content to your Certification
Of course! What's a certification without content?
Content can be added by choosing a set — or sets — of courses to add to an Original Certification Path. This is the learning path your learners will follow to earn their certificate.
In Lambda Suite, you're able to choose the number of courses that will need to be completed to move on to the next set, and the minimum time required for the learner to complete each set of courses. You can also specify the order in which learners complete the course sets, or if they can tackle more than one set simultaneously.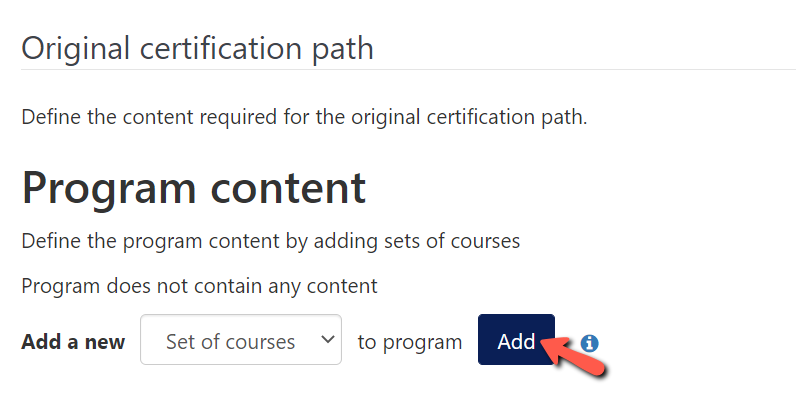 Recertification paths can also be created for those who need to update their credentials. These learning paths can mimic original paths or be updated with a fresh set of courses.
Automated messages to your learners
In order to keep your learners engaged and on track to complete their certifications, it's a good idea to send over some friendly reminders.
Lambda Suite allows you to choose from a variety of message types — all designed to represent specific milestones your learners will reach on their way to becoming certified.
Some messages include:
Enrolment - this message is sent to a learner when they've been assigned to a certification
Course set due - sent a specified amount of time before course set is to be completed
Course set completed - sent when a course set has been completed
Program due - sent a specified amount of time before certification is to be completed
Program completed - sent when a certification has been completed
Recertification window open/due to close - sent to notify learners that they're entering or about to miss the recertification period
Once you've set your subject line and filled in the text, your messages will be scheduled and sent to all learners assigned to a certification.

Prepare for Recertification
When will your certification expire?
How will you determine recertification dates?
How long is the recertification window?
Lambda Suite allows you to answer all of these questions via a series of drop down menus — like this one: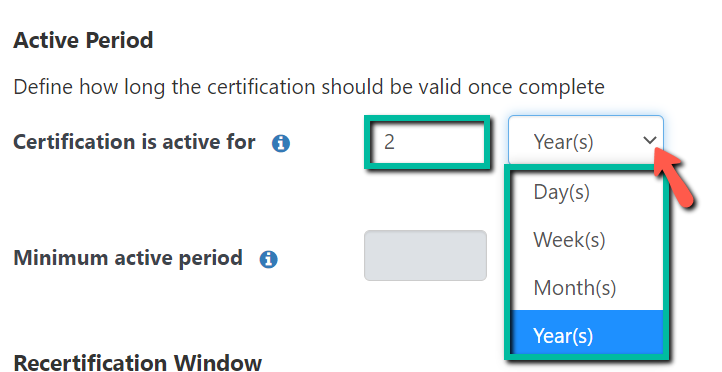 These settings take the guesswork out of tracking the status of your learners' certifications. The dates you select will determine when your learners received their email reminders to re-certify.
Just set it — and forget it.
Assign Learners to Certification
Your learners can be assigned to a certified course in a number of ways. With Lambda Suite, you can add learners;
Individually
By organization
By position
By audience

Once your learners have been assigned to a certification, they'll be granted access to the course(s).
Certificate of Completion Templates
While Lambda Suite gives you the option of creating a basic, bare bones certificate in just minutes, taking the time to use one of the certificate of achievement templates provided will leave your certificate looking extra dapper.
In order to create a professional, branded certificate of completion, you'll first have to head on over to your Custom Certificate Settings.
From there, select Manage Templates.
Then, Create template.
Once you've named your template and set your dimensions, you can add images, set the course name, and even choose your font, font size, and colors.
Yes, you can get pretty granular when creating your eLearning certificates!
Lambda Suite's certificate builder is also very intuitive. Any element on your certificate can be repositioned by simply dragging and dropping.
When you've finally achieved that modern certificate design that perfectly reflects your brand, you can go ahead and add it to your course.
If you want to know more about how to make a certificate with Lambda Suite's Custom Certificate module, check out our in-depth guide here.
Tracking Certificates Issued
Beyond creating and customizing and adding your training completion certificate to your course, you probably want to keep tabs on the number of certifications that are being issued each day, week, month, quarter, and year.
Lambda Suite's Certificates Issued Summary and Certificates Issued Summary (custom) reports were designed to allow you to do just that.
Each report includes:
user names and IDs
the name of the course they've completed
The name of the certificate they've been issued
The date the certificate was issued
A link to view and download the certificate

With Certificates Issued Summary reports, you'll be able to track learner progress and view a record of their achievements.
Additionally, your learners will be able to conveniently view and download each of their certifications from one location.
Certificates Issued Summary reports are just another example of Lambda Suite's award-winning analytics tool in action.
Conclusion
Course certificates may seem like a neat way to recognize your learners' accomplishments and/or skills, but there's much to them than meets the eye.
Certificates can help establish your brand as an industry leader, while motivating your learners to dig deep and put forth their best efforts to achieve amazing results. What's more, they can also allow you to place a premium on your course offerings.
With Lambda Suite, you're given all of the tools you need to fully leverage the power of certificates. From certification courses and custom certificate achievement templates to tailored analytics and reporting tools, Lambda Suite allows you to dictate how and when you certify your learners.
To learn more about Lambda Suite's Certifications and how you can work them into your online courses, contact us or book a demo.
Need an All-In-One eLearning Business Solution for Selling Your Training Courses?
Discover how the Lambda Suite offers the easiest, most efficient way to sell, market and scale your eLearning business.