In evaluating the effectiveness of your Learning management system (LMS), generating useful and quantifiable information from your LMS is paramount. Measuring training outcomes and obtaining reports that yield the right kind of information is also essential.
With Lambda Suite, an online learning platform that provides efficient and scalable means to run and grow a business of learning anywhere and to any one, you'll have the ability to collect, measure, analyze and report on all areas related to your eLearning activities through Lambda Suite's analytics built-in feature. It also has the power to efficiently synthesize that data from a variety of sources and generate readable and customized analytics reports that provide useful information to help you assess your eLearning program and allow you to make changes and improvements to your training program in order to deliver excellence for your learners.


What Can Learning Analytics Tell You?
Running analytics on LMS can assist in telling the story of your organization's training program and its important learning activities by:
Finding out what part of your courses matters the most and the least to learners as well as what engages them. (The best ways to find this out is by analyzing feedback responses and participation in various parts of courses.)
Determining how well they are working for learners and aspects of the course such as finding the right learning materials to meet course objectives. (Some ways to accomplish this is through gaging students' test scores, how fast they are able to finish modules, or the number of times certain resources are or aren't accessed.)
Identifying what's missing and how to fill in those gaps. (To find out this information, you can measure the number of times they ask for help on certain lessons and finding out how well learners answer exam questions on each topic.)
From a business perspective, analytics can also provide an indication of:
Your Return on Investment (ROI) on your training program with respect to learner achievements. (Comparisons between course enrollments and successful completion along with enhanced job performance or productivity can validate ROI.)
The potent analytics feature, which is an integral part of Lambda Suite, can be utilized in order to gather and synthesize data from your LMS and subsequently enable you to produce reports with information that sheds light on these and other areas of interest with regards to your training program.


How Do Analytics Assess eLearning Outcomes?
Before embarking on the assessment of data from reports generated through analytics, it is essential to define measurable outcomes on learners' performances and ultimately their success in the form of training KPIs (key performance indicators).
Establishing Training KPIs
KPIs are metrics that measure whether objectives specific to your business are being met. With your eLearning training program, determining what matters the most for your organization in terms of outcomes for your learners/employees in relation to learning activities and courses is important in the evaluation process. A set of training KPIs unique to your training program can be established from filters in an analytics platform and set the standards for your training program. The following examples show how KPIs can be categorized:
Measurements examining learner interests and engagement
Group work
Participation and discussions with peers and instructors
Overall learner satisfaction levels
Student satisfaction percentages
Measurements giving an indication of daily activities
Login activity
Rates of enrollment
Time spent learning
Course and activity completion
Measurements showing the effectiveness of learning activities
Pass/fail rates
Progress and completion of courses/activities
Test/quiz scores and other assessments
Improved skills to enhance job performance
Once training metrics are in place, Lambda Suite's analytics feature permits you to select and determine how to crunch the appropriate data to generate and present the information you desire in a comprehensible and usable format.
Utilize an intuitive drag-and-drop report designer or out-of-the-box templates in Lambda Suite to quickly create the reports and dashboards you need to drive clarity into your learners' performance and training effectiveness.


Generating the Best Kind of Analytics Reporting
With Lambda Suite's powerful built-in analytics platform, you'll have available at your fingertips complete access to all your business and learning data that encompasses custom fields and tables. Also at your disposal is data from Salesforce.com, xAPI (LRS), or from any other JDBC compliant data. To round out the sources of accessible information, Big Data can be analyzed through cloud-based architecture. The learning analytics tool will ultimately be able to access data across multiple sites and incorporate it into one report or dashboard, according to your needs. To facilitate this process, you will have at your disposal a variety of features:
A drag and drop designer to create your own reports and dashboards

A library of more than 30 out-of-the-box reports and dashboards

More than 30 chart styles to effectively visualize your summary data

A robust reporting functionality to customize your own reports

The ability to format your reports to conditionally highlight data that requires attention

Built-in functions to perform mathematical and statistical analysis
The best learning analytics platforms not only will allow you to quickly and easily generate reports with less manipulation, but also increase your ability to share the data within your organization and business network. These added functions available through Lambda Suite's analytics tool helps you achieve these goals by:
Creating calendar-based schedules to automate the delivery of reports to your stakeholders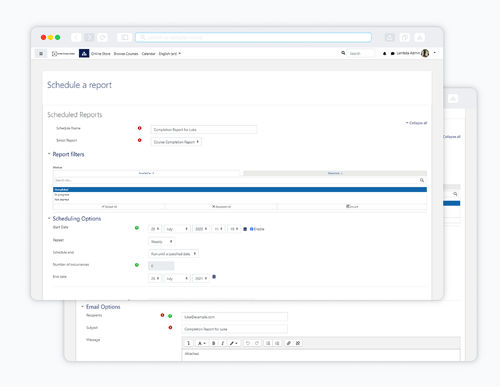 Emailing reports when selected events occur in your LMS
Exporting your data to popular formats including Excel, PDF, CSV and more
Viewing embedded reports and dashboards directly in the LMS.
As an extra benefit, Lambda Suite also has eCommerce reporting capabilities which provides Store Admins order, invoices (receipts), customer, and site search terms reports out-of-the-box.


Presenting the Data Simply and Precisely to the Right Audience
A superior analytics platform targets your audiences, produces reports with information that is relevant to the members of each of these groups, and makes certain that they see the right data through application of extensive data visibility rules.
For trainers and instructional designers, relevant reports on eLearning include:
Grade Reports
Quiz and Quiz Question Reports
Assignment Rubric Grading Reports
Feedback Reports
Course and Activity Completion Reports
For business managers, administrators, HR, and other stakeholders, important eLearning aspects would be found in:
Time Spent Learning Reports
Competency Reports
Employee Retention Reports
Productivity Reports
To make the most out of your analytics reports, combining them with other relevant information to create an engaging dashboard facilitates the visualization of your report data and enhances your ability to perform comparisons and evaluations on various facets of your eLearning training program.
Presenting statistical data in the form of charts and tables along with specific sets of data in a variety of customized formats are all within the capabilities of Lambda Suite's LMS.


How Can Learning Analytics Data Improve Training Programs?
Learning analytics can reveal the effectiveness and shortcomings in your training program. For learners who fall short of meeting the expectations of the standards established by training KPIs, analytics data can facilitate the implementation of measures that can guide trainers to better empower this group to succeed in achieving course objectives. Some specific areas where training programs can make use of the data supplied by analytics reports and indicate if they hit the mark in achieving course objectives include:
Demonstrating the impact of your training programs through learner successes in the form of increased productivity, efficiency, and expanded capabilities in job performance (essentially showing a ROI)
Improving design and development of your training programs in order to help learners/ employees to master and fill in the gaps in their skill set and knowledge
Searching out better materials and identifying relevant and interesting topic areas to enhance learner engagement
Saving time through automated and scheduled delivery of reports and dashboards
Optimizing the sales and delivery of your eLearning courses with complete and secure access to your data.
Spending more time evaluating the data and looking at the big picture of your training program


How Will Data Be Kept Safe?

Lambda Solutions takes data security seriously and is at top-of-mind. Your information always stays private and secure. Maintaining best-practice privacy protocols and continually striving to exceed security industry-standards is accomplished in the following ways:
24/7/365 monitoring is available for your production environment
Lambda is compliant with ISO 27001 security standards to ensure day-to-day system operations are logged, monitored, and retained. System access is controlled with Identity Federation and access control is managed with a "Least Privilege" practice.
Lambda complies with GDPR, and Personal Information Protection and Electronic Documents Act ("PIPEDA") and the BC Personal Information Protection Act ("PIPA").
Lambda performs regular penetration and vulnerability testing, thread modelling, code reviews, and adheres to the highest security protocols defined in ISO 27001.
All electronic communication is encrypted and authenticated using a strong protocol (TLS), key exchange, and cipher which provides protection of data in transit.
As an additional security measure, user application access is controlled with a combination of site roles and permissions, along with enforcing the strength of passwords.


Conclusion
Consolidating and accessing all your business and learning data into a single LMS is the best possible solution for any organization that utilizes eLearning training programs. Lambda Suite offers this capability through its powerful analytics tool built into its all-in-one online learning platform.
In filtering data through Lambda's analytics platform, your organization is provided with assistance to establish KPIs that hone in on the performance of your learners and the ability to generate data that reveals the effectiveness of all aspects of your training program in comparison to your training metrics. In turn this helps in implementing continuous quality improvements to your training program and for your learners.
The extensive easy-to-use options available through Lambda Solutions' LMS makes it a breeze to share and disseminate analytics data in the form of customizable reports and dashboards with instructors, colleagues, customers and stakeholders.
Lambda Solutions has been generating over 1 million reports per year, including 32,000 course administrator reports.
Related Articles: