Choosing an online course platform for your eLearning course(s) can be a long and overwhelming process. With so many options to choose from, how can you make sure you're getting the platform that can best handle all of your needs? Lambda Suite is an all-in-one eLearning and eCommerce solution that allows you to create and sell your online courses. Here's a glimpse into the multitude of digital product offerings available with Lambda Suite.
According to a study by the Brandon Hall Group, eLearning can reduce employee training time by 40-60% when compared to traditional classroom setting.
That's some serious time savings!
But when it comes to creating and delivering your digital products, there's a lot to consider.
You not only have to decide the types of products you want to offer, but the method in which you deliver them to your customers. As your organization has its own specific needs, it's important that your online learning platform supports a plethora of options.
Lambda Suite allows you to customize your digital product offerings so your eLearning aligns with your organizational goals and the learning needs of your customers.
In this article:
Digital Products You Can Sell with Lambda Suite
Whether you're looking to offer a simple product or have already constructed an elaborate learning program, Lambda Suite will be able to guide you through the creation and upload process.
Here are some of the most commonly used digital products that are supported by Lambda Suite:
Single Courses
Single courses allow you to provide useful, engaging content to your customers -- one subject at a time.
In Lambda Suite, you're free to add a number of resources and activities to an individual course -- from downloadable resources to complex interactive learning activities. Courses can offer blended instructor-led learning or be entirely autonomous.
The activities and resources you add to your course should reflect the level of engagement you want to have with your learners. Don't forget, It's important to make sure everything has a purpose.
Additionally, a certificate of completion may be issued upon the completion of a Single Course. Certifications can boost the perceived value of your course and the credibility of your employees. They also give learners a sense of accomplishment and something to hang their hats on.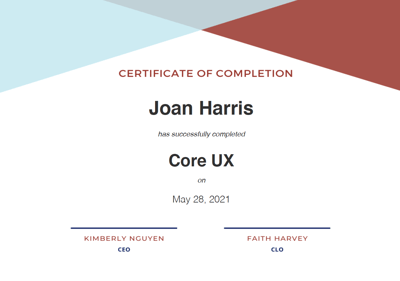 In Lambda Suite, you can customize the certificate to your own branding, fonts and colours.
Benefits:
Configuration - courses can be taken by individuals or groups -- either way, you'll find the format that works best for your learners.
Activities - administer assignments and polls, track learner progress, and include knowledge checks like quizzes and exams.
Time-saving - your course will take some time to create, but once it's completed the onus is on your learners to take ownership of their education and work through your program.
Programs
Programs are groups of courses that learners complete in succession in order to master a specific subject.
That's right! Not every course needs to be its own standalone entity.
Programs allow you to individualize a learner's journey throughout their training -- ensuring every stop along the way serves a purpose.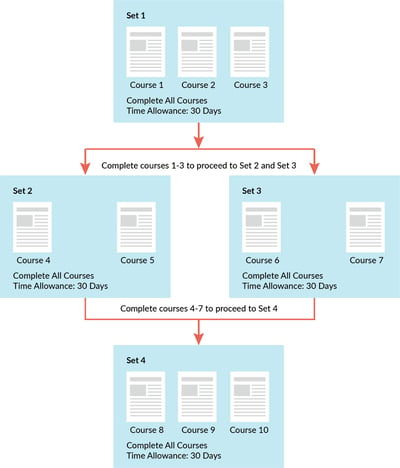 Benefits:
Structure - Programs allow you to group courses together and place them in an order that makes sense for your organization and/or the individual learner.
Automation - when eligible, learners are enrolled in the courses within a Program automatically. This eliminates the need for administrators to manually enrol each student into a course individually.
Clear direction - with the progressive nature of Programs, students know exactly what needs to be done and when they need to accomplish it.



Seminars
If you're looking for a blended learning solution, look no further than seminars -- or 'web seminars/webinars'.
Lambda Suite's Seminar feature combines traditional instructor led training (ILT) with remote training. Learners can join live seminars -- where they're free to ask questions and partake in polls and open-ended discussion -- or watch a pre-recorded video.



Benefits:
Repurposed Content - fresh content doesn't always mean brand new content. Why start from scratch when you can turn your seminar into a blog or a FAQ section
Recorded Seminars - seminars can be recorded once, and used over and over again -- until the content is no longer evergreen and needs an update.
Establish Authority - seminars set out to answer key questions and concerns. When you provide insightful and valuable responses in a seminar, this reflects positively on your organization and can drive traffic to your website.


[BLOG] Learn more about Increase the Effectiveness of Your Blended Training Using Online Seminars & Analytics Reporting

Downloadable Product
Digital downloads include electronic software, ebooks, videos, and much more.
These are simple, downloadable products that your customers have immediate access to. This can be a great way to package some of your smaller courses.


Benefits:
No Logistics - your customers have access and ownership of these products immediately. No inventory or shipping involved.
Reusability - downloadable products can be created once and sold indefinitely -- with no additional effort or cost.
Generate Leads - provide up-front value with a free, downloadable ebook to establish authority and collect contact information from potential buyers.
How to Deliver Your Digital Products
Now that you've identified the products you'd like to sell, it's time to determine the best ways to deliver content to your customers.
Learners need engaging material that will motivate them to get the most out of their training. With gamification, microlearning, and adaptive learning, you'll have all of the tools needed to provide easily-digestible course content that's sure to keep your learners' attention from start to finish.



Gamification
Have you ever wondered how people can spend hours and hours playing mobile games?
Swiping, tapping, leveling up, gaining rewards... it's a never-ending quest that has gamers constantly coming back for more. The dopamine rush that gamers experience when successfully completing a level or achieving a goal makes them want to push harder and aim higher.
Well, gamification takes those same principles and applies them to work or educational based activities.
Gamification is the application of game designs, elements, and mechanics to a non-game environment -- and the gamification market has been experiencing exponential growth.
In fact, this market is projected to reach more than $32 billion by 2025 (from $4.91 billion in 2016).
Gamification can be implemented in Lambda Suite by having learners move from one level to the next and/or collect badges.
By using gamified elements such as challenges, leaderboards, and progress bars, you can keep learners engaged, entertained and motivated.



Microlearning
Let's be honest, as much as you'd love to offer full training courses to your employees, they're often limited in the time they can dedicate to training.
For this reason, microlearning has become a go-to tool for L&D professionals.
Microlearning breaks down content into small, bite-sized portions or learning units. This way, learners are fed the information they need quickly -- and are able to squeeze in a module or two between meetings or other assignments.
Microlearning benefits those looking for a quick solution to an unexpected issue. This can be found in the form of a FAQ section, video tutorial, or organized menu of focused topics.
When used correctly -- and contributing to significant competency and skills over time -- microlearning can be a fantastically efficient way to deliver your content.
[BLOG] More questions on microlearning? Read this article to find out the what, why. how, where and when!



Adaptive Learning
Regardless of age, skill level, or experience, every learner has unique, individual needs. This means different strengths and different weaknesses.
Some learners thrive when presented with lots of visual information -- while others may feel overwhelmed and have no idea what to focus on.
Similarly, many people enjoy learning via audiobooks and podcasts -- but some learners may have central processing issues that prevent them from retaining most of what they hear.
Adaptive learning addresses these skill gaps. It tracks students' performances and modifies the pace and delivery of their programs.
For example, students who learn at a faster rate can quickly skip ahead to more complex topics, while those who require more assistance can be given visual prompts and multiple attempts to pass quizzes and exams.



Lambda Suite Supported Content
Lambda Suite supports the creation and use of both H5P and SCORM packages.
In fact, H5P and SCORM are fully integrated into the Lambda Suite platform.
H5P
H5P -- short for HTML 5 package -- is a feature that makes it incredibly easy to create interactive content and video on your LMS.
What's more, you can create over 40 different types of resources and activities with H5P
(If you've decided to implement microlearning and/or adaptive learning in your courses, you'll likely use H5P to create interactive content to individualize your learners' experiences.)
With H5P, you can take almost any piece of content and add a layer of interactivity. From multiple choice and drag-and-drop questions to presentations and interactive videos, options are aplenty.
With interactive videos, for example, you're able to upload or link to a video you're hosting elsewhere; add interactions -- such as multiple choice questions -- to your video, and adjust behavioural settings to control how learners watch your video.
It all starts with a single click here: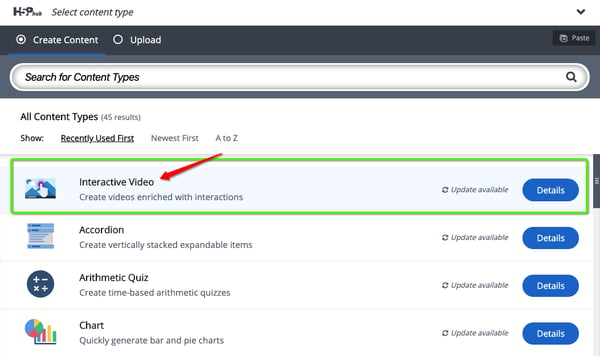 SCORM
SCORM is an acronym for Shareable Content Object Reference Model.
SCORM is a set of technical standards used to ensure your content can be seamlessly integrated into a SCORM compliant LMS, such as Lambda Suite.
Just as you can play any DVD in any DVD player, you can "play" any SCORM package on any SCORM compliant LMS or authoring tool.
Lambda Suite supports SCORM 1.2. Simply upload your SCORM files -- compressed as zip files -- to your LMS and deliver these files to your learners as online course material.

Like H5P, SCORM activities can be used to add feature-rich content to your online courses.
Learners can take quizzes and exams while you can control how items are graded, the number of attempts allowed, and when tests may be attempted.
You can also decide to allow learners to manually mark a section as completed or enter a minimum grade they need to achieve in order to pass a quiz or exam.
Quick Tips
Consider offering an eBook or another piece of downloadable content to your customers for free. They'll not only appreciate the value but view you as an authoritative figure in your industry -- and look to your other digital offerings in the future!
Gamification can make your courses more enjoyable and motivate learners to complete their training promptly.
Add interactive content to your course to promote an active learning experience for your learners.
Use microlearning to offer easily accessible, bite-sized learning units to those who need answers fast.
Use assessments and Individualize course content to meet the unique learning needs of your students.
Conclusion
With Lambda Suite, you have full control of the digital products you want to create and deliver to your customers. From gamified programs and certificate up-sells to microlearning courses and interactive video, the customization opportunities are endless.
To find out if Lambda Suite is the all-in-one online learning platform for you, book a demo or contact us here.

Related Articles: