The Strategic Partnership between Lambda Solutions and Amazon Web Services will make Lambda's Learning and Talent Management Solutions the only true cloud-based offering in North America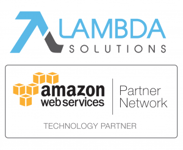 Lambda Solutions is thrilled to announce their recent partnership with Amazon Web Services (AWS) to offer future and existing clients with true cloud-based learning and talent management. Amazon Web Services is the leading cloud-computing hosting service provider worldwide, and provides IT infrastructure for some of the largest software companies in the world.
Shevy Levy, CEO at Lambda Solutions comments, "We are very excited about our partnership with Amazon Web Services as we are now the only firm in North America to provide true learning and talent management solutions in Amazon's cloud. Future and existing clients will now benefit from greater data and network security, instant disaster recovery, flexibility and efficiency at absolutely no added cost!"
Together, Lambda Solutions and Amazon Web Services have combined the power of the cloud with the top open-source learning and talent management systems, Moodle and Totara—to deliver the highest performing solution available both in software responsiveness and reliability.
Specifically—systems, applications and data will be delivered over the internet from the 'cloud' so that clients benefit from on demand access to highly available cloud storage, high performance computing and durable database technology. This differs from traditional storage and performance-bound managed hosting where systems are not scalable and over usage fees are costly. Additional benefits include:
Maximum network and data security due to industry leading compliance standards
More reliable and responsive software that automatically scales as your business grows
Ability to ensure continuous site access even in the face of natural disasters
Automated processes so that fail-over from unhealthy systems automatically reroutes traffic to healthy systems
For more information on how your organization will benefit from North America's only true cloud-based learning and talent management solution, contact a Lambda Solutions Learning & Talent Management expert today: +1.877.700.1118.
About Lambda Solutions:
Founded in 2002, Lambda Solutions provides learning and talent management solutions based on an cloud-computing and open source technology platform. Lambda Solutions works with both institutional and corporate clients to help them achieve better learning outcomes and increase the value of their human capital. More than half a million people learn every day on Lambda's managed hosting platforms. Focused on healthcare, education and corporate training, Lambda Solutions provides systems integration, customization, training and support to enterprise-class customers, including Children's Hospital of Los Angeles, Alberta Blue Cross, and Canada Health. Lambda Solutions is a Moodle certified services partner and a Totara Platinum partner. The company has offices in the United States, Canada and Europe. For more information, visit http://www.lambdasolutions.net.