Lambda is going to Quebec, for the 5th Canada Moodle Moot!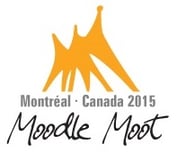 Lambda Solutions will be attending the Canada Moodle Moot in Montreal at the end of the month. Moodle Moot is a conference designed for Moodle decision makers from individual organizations to learn about recent Moodle news, product updates, and innovation. Lambda Solutions is attending to present on the leading cloud hosting technology and reporting solution for Moodle.
"We are excited to share our knowledge, expertise and new developments at the 5th Canada Moodle Moot," said Stewart Rogers, Director of Product Management. "We have spent the last year developing Lambda Analytika™ for Moodle Reporting and broadening our knowledge base. We look forward to presenting our insight at the conference."

The three streams of the conference this year are How it Works (out-of-the-box tools and their functionality), Making it work (how organizations use Moodle to solve challenges, and New Ways of Working (new and different ways of using Moodle). Various thought leaders in the eLearning industry will be presenting on hot Moodle topics, trends, and products pertaining to these three streams. Three of Lambda's team members will be delivering presentations throughout the conference. Here is our schedule:
Thursday October 22, 10 AM: Choosing the Right Plugins for Moodle - Director of Learning Solutions, Ben Young
Thursday October 22, 3:20 PM: Delivering eLearning in the Cloud - Research and Development Manager, Mariya Pak
Wednesday October 21, 3:20 PM: Advanced Reporting in Moodle with Lambda Analytika - Director of Product Development, Stewart Rogers
If you're planning on being at Moodle Moot, stop by one of our presentations and say hello!
Conference Details:
October 21-23
Université de Montréal
Montreal, Quebec
About Lambda Solutions
Founded in 2002, Lambda Solutions provides learning and talent management solutions based on an open technology platform. Lambda Solutions works with both institutional and corporate clients to help them achieve better learning outcomes and increase the value of their human capital. More than half a million people learn every day on their managed hosting platforms. Focused on healthcare, education and corporate training, Lambda Solutions provides systems integration, customization, training and support to enterprise-class customers, including Children's Hospital of Los Angeles, Alberta Blue Cross, and Canada Health. Lambda Solutions is a Moodle certified services partner and a Totara Platinum partner. The company has offices in the United States and Canada. For more information, visit www.lambdasolutions.net.
About Moodle Moot
Canada MoodleMoot attracts workplace based trainers, teachers and instructors who use Moodle for training through to high level policy and decision makers such as: technology coordinators, curriculum developers, and administrators. Delegates are from all facets of education, small and large business and industry, as well as from the non profit sector and government. In fact, delegates are sponsored by their organizations to take back information so that decisions can be made for future purchases and initiatives. We expect representation from all provinces and territories throughout Canada. The typical delegate works primarily online, owns one or more computers, and owns at least one wireless hand held device. The conference has been run every two years in the west since 2005. Apx. 400 people attend online and/or onsite and we expect a similar turn out in Montreal 2015.