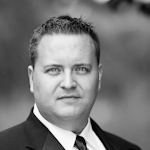 Vancouver, Canada – April 1, 2014 – Lambda Solutions, a leader in open learning and talent management systems, today announced the appointment of Brent Harvey to the role of vice president, sales and marketing. Harvey, a technology sales veteran, will drive sales and marketing initiatives globally as demand for learning and talent management platforms continues to skyrocket.
"We are delighted to welcome Brent. With his extensive sales leadership experience in the software industry including both direct and channel sales, combined with his solid commercial acumen and marketing expertise, he will successfully support our rapid expansion plans, with innovative sales and marketing solutions," said Shevy Levy, CEO at Lambda Solutions.
A seasoned sales professional, Brent brings over 20 years of sales and leadership experience in the high-tech industry to Lambda Solutions. Prior to Lambda, Brent led a sales organization at industry leading security software provider, Sophos, for 11 years where he oversaw wins in key accounts including Google, Facebook and Stanford University. With experience in both channel and direct sales, Brent has worked at other high growth companies, including Precise Software (acquired by Symantec) and Crystal Decisions (acquired by SAP). He is passionate about bringing together the talent and culture that results in a leading sales and marketing organization.
"I'm extremely excited to join an organization that continues to experience hypergrowth in the eLearning and training technology sector," said Brent Harvey, adding "Lambda Solutions being awarded the Ready to Rocket award 2 years in a row is a prime example of their success."
Brent is a graduate of the British Columbia Institute of Technology with a focus on technical sales and marketing.
About Lambda Solutions
Founded in 2002, Lambda Solutions provides learning and talent management solutions based on an open technology platform. Lambda Solutions works with both institutional and corporate clients to help them achieve better learning outcomes and increase the value of their human capital. More than half a million people learn every day on their managed hosting platforms. Focused on healthcare, education and government, Lambda Solutions provides systems integration, customization, training and support to enterprise-class customers, including Four Seasons Hotels, CGI, Rutgers University, and the Canadian International Development Agency. Lambda Solutions is a Moodle certified services partner and a Totara platinum partner. The company has offices in the United States and Canada.
For more information, visit www.lambdasolutions.net