Online learning and training has increased since the outbreak of COVID-19 as many businesses and organizations seek out a better alternative to traditional classroom training. But some online seminars through LMS or online learning platforms do not have an easy and effective way to track your return on investment (ROI) and the outcomes of the virtual training on learners.
Instead, it may require a lot of data-entry and extra time to determine the effectiveness of online seminars. And not all companies can allocate resources to these endeavours. But with Lambda Suite, the all-in-one eLearning solution for delivering, analyzing and selling your training courses, you can now determine the effectiveness of your online training through one of the powerful features of Lambda Suite--Lambda Analytics.





What is an Online Seminar?
Web seminars (also known as webinars) are online training sessions where learners participate via their computers. They can be live seminars, for instance, like a Zoom meeting, or they can be pre-recorded so that the learners can watch these seminars when they have free time.
Note: It is important to note that pre-recorded seminars do not have the same impact as live seminars where everyone contributes to the discussion and learning. In this case, a pre-recorded seminar becomes an asynchronous learning resource. They are most beneficial as touching points for group discussion or examples of case studies in action.
These various forms of seminars replicate group presentations, training classes, and online meetings without losing the face-to-face experience's immediacy and interactivity. Instead, it provides a way for companies to train their employees (or if you are a training company, it is another way to train your clients) while still keeping them engaged throughout the learning process.
The organizer invites a list of attendees to listen to or watch an online presentation led by one or more presenters. Each individual can make comments, discuss their point of view, and learn from the experience as if they were holding an in-person class.
Attendees can also share their desktop screens to demonstrate certain portions of their presentation and can create pre-and post-testing to measure how much learners have retained. Other webinar features include file transfers which allow documents to be downloaded before, during or after the online presentation.
Online webinar programs also allow for audio control (like muting attendees) and whiteboards which are shared virtual workspaces where learners can draw, annotate and edit as if it was an actual whiteboard. The best thing is that you can also have instant messaging capabilities so learners can ask questions to the presenters without disrupting the webinar.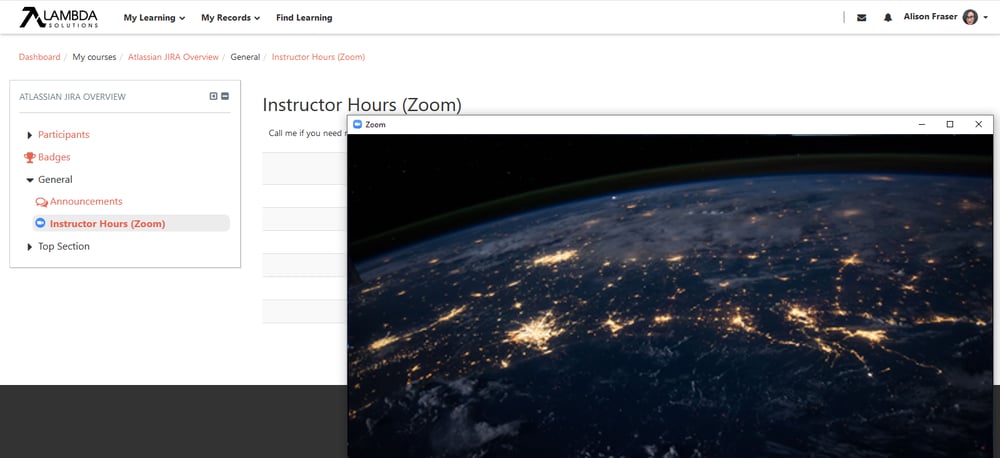 Zoom conferencing tool can be easily integrated to Lambda Suite for your online seminars, and presenters has the control to audio and visuals.
What are the Benefits of Online Seminars?
Seminars have been proven to increase retention and have a host of other benefits. In a Harvard Business School study, 96% of learners said the online course led to personal betterment. 91% said it improved their professional life, while 90% claimed the online training boosted their confidence and made them a better leader. These are just a few of the benefits virtual training has.
[On-demand Webinar] For an excellent example of an effective webinar, check out Watch And Learn: Best Practices For Using Video In eLearning

Other Benefits of Online Seminars Include:
Enriching Online Presence and Content

The use of webinars can also help your company enrich their online content. This enrichment can be achieved by recording content for further courses, as you can use pre-recorded content year after year for future reference. These recordings can also be converted into blog posts, Q&A articles, which will improve your organization's online content and presence.
Establishes Authority
If you choose to make your webinars available for your company's audience, you can enrich your content and establish authority by providing them with insightful and valuable information. Suppose the webinars are targeted towards your audience and address their questions and concerns. In that case, they will eventually come to see your company as an authority in your field and will come for more information if the need arises.
Global Reach
Your business's brand can reach a global audience through the effective use of online seminars. In the past, companies would have to send representatives to reach out to international businesses. But now, with webinars and video conferencing, companies can facilitate one-on-one exchanges with other companies without wasting resources on unnecessary travel.
Improves Engagement
Web conferences or seminars are some of the most effective digital marketing tools a business can use. Webinars take active participation and allow participants to address questions throughout the workshop in real-time. This learner engagement is crucial to a successful webinar and will help your learners to succeed.
Enhances Your Business's Brand
A lot of a business's resources go towards building your companies' brand. Therefore, using it within your webinar for virtual training is essential to impact your learner. Using your branding within online seminars is called "white labelling." By doing this, you are more likely to stick out in the minds of your trainees and webinar attendees.
Build Trust and Stronger Relationships
You will also build trust or brand loyalty through face-to-face online presentations. You can demonstrate your business's expertise and interact with your target audience. This interaction will also cause you to build stronger, lasting business relationships and help you better understand your audience.
High-Quality Sales Leads
Hosting online webinars for potential customers is a great way to generate leads. By creating a registration form that they need to fill before viewing the webinar, you will gain contact information and enhance engagement with your audience. By keeping the information in your webinars relevant and informative, you will essentially be answering your potential leads questions. Providing helpful advice will allow you to gain access to a new audience. Get them to participate in a Q&A session, polls, and questionnaires. This will help you to interact with your potential clients by creating a discussion.
Cost Efficiency
Online or eLearning training seminars are also a better choice for your business as online learning does not cost as much as in-person courses. You can use very few tools such as a solid internet connection, computer, webcam, headset and a webinar app. With only needing just a few tools, this will help drive profitability for your business.
Use Industry Experts to Leverage Your Brand
By allowing guest industry experts to play a role in your online seminars, you are furthering the perception of your brand, basically demonstrating your authority in your business's industry. Having guest presenters also allows for networking and more links to your website (which improves search engine optimization). By leveraging this as an asset, more people will depend on your company as your industry's go-to authority.


What Defines the Effectiveness of an Online Seminar/Webinar?
First off, you have to define your expected outcomes and what you expect your learners to take away from the webinar. Is it high test scores? Or an improvement in on-the-job skills? Does your company have the right tools to measure outcomes?
Typical assessments used in determining the effectiveness of seminars include Key Performance Indicators (KPIs), testing, group work and evaluations, discussions and more. With Lambda Suite, you can easily track your learner's progress.


What You Need to Determine the Effectiveness of Your Online Seminars
To create effective seminars, your company first needs to acquire, for example:
An LMS or online learning platform for training providers

Reporting software or functionality like Lambda Analytics

A video conferencing tool like Zoom

When it comes to reporting functionality like Lambda Suite has, it is this that will help you determine your ROI and the success of your learners throughout the seminars and prove the impact of your trainee's learning.



What Makes Lambda Analytics a Great Feature?
Secure Data Access
Lambda Analytics provides you with complete and secure access to your data through thorough reports, interactive dashboards, embedded reports and automated delivery. You have total control over your data which includes fields and tables specific to your company's needs. You can also experiment with your data, knowing that it will not tamper with your database's contents.
Customizable Design
You can also create a custom report and dashboard. With easy-to-use drag-and-drop design tools, you can visualize your data and determine where your company needs to improve and where you are succeeding. You can choose from a selection of over 30 report and dashboard templates that you can run immediately or customize further.
Presentation
Lambda Analytics has all your presentation needs covered with reports and dashboards you can embed directly into Lambda Suite. Next, we will cover the basics of how Learning Analytics creates reports for presentations for your business's stakeholders.
The Basics of Reporting
Reports are finalized versions of Ad Hoc views intended for presentation and analysis (ad hoc views are tables, charts, and crosstabs that allow you to view the data visually). Users can interact with the data and export the final results. These final results provide definite and finalized configurations of your data's fields, filters, and visualizations.
There are two different types of reports that can be run through Lambda Analytics. The first is an out-of-the-box report, and the second is a custom report. The out-of-the-box reports can be run immediately from the Public Artifacts in the Repository. In contrast, a custom report is created from an Ad Hoc view and lies within the Private Artifacts in the Repository.
Once a copy of an Ad Hoc view has been saved as a report, the new document has a set inclusion of fields. All analysis and exploration of the data are then focused on applying input controls to display specific data forms.
Reports have interactive filters and input control tools to help sort, run and update the necessary fields and measure data. When you run a report, it is opened in the Report Viewer, from which you can personalize and refine your data through inclusion and formatting. You can then export reports for presentation outside of Lambda Analytics or whatever learning management system your company is currently using.


Identifying Your Reporting Needs
With Lambda Analytics, the reporting possibilities are endless. Thus, it is essential to have a clear and concise reporting objective before you begin. In narrowing down your Report, you and your team will need to ask yourselves:
Who: Who is your audience? Who will be viewing your Report? Are they eLearning users, or are they business executives? Do they prefer visual and straightforward reports, or do they appreciate an in-depth analysis with tons of data?
What: What kind of information does the audience need to see? What type of action will they be taking? What is the purpose of our reporting? Will we be using it to track compliance? Find ways to improve our eLearning system?
When: What period will you be drawing your data from? Are there any dates to exclude? How frequent will your reporting be?
Where: Where will your audience be viewing your Report?
How Much, Many, or Often: What is the scope of your Report?
Using our Out-of-the-Box Ad Hoc views, reports, and dashboards, you can create intuitive reports that visualize a wealth of database information. You can also adjust and edit these out-of-the-box files to further customize your reports.


Reporting on the Seminar Activity
Lambda's out-of-the-box Seminar Expanded Report will help you share the results of your Seminar activities so that you can plan future events.
Trainers and administrators often want to see reports on their live training events to better plan for future events. Here are some common requests we get:
As an Administrator, I want to see a report of the most and least attended sessions this term so that I can plan and organize sessions and instructors for the following term.

As a Trainer, I want to see all the live training sessions I have coming up so that I can plan my calendar.

As a Trainer, I want to see how many people have signed up for my upcoming sessions so that I can plan my session accordingly.
Our out-of-the-box Seminar Expanded Report answers these needs. Now we will explain what seminar expanded reports are and how to modify them.

Seminar Expanded Report
Our Seminar Expanded Report provides the kinds of details instructors and administrators need to review and plan upcoming events. The report shows the following details:
Student name

Course

Seminar name

Room

Asset

Start and Finish Time

Student sign-up status

You can use the filters to narrow down the scope of your view. For example, here I've filtered the Report for all wait-listed events:
Filter: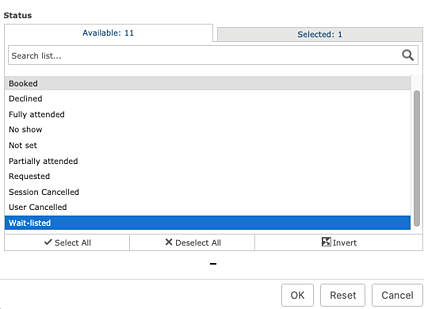 Report:


Modifying the Seminar Expanded Report
An Administrator can go into the Ad Hoc View repository and find the Seminar Expanded Ad Hoc View. Here you can add, delete, or move columns and filters.
Adding Filters
One change you might make is to add a Course filter. To do this, right-click on the Course field and select Create Filter:
Your new filter will then appear on the right-hand Filters panel, where you can select the type of filter: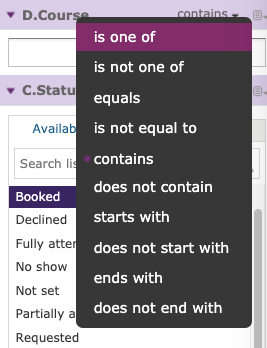 We often use "is one of" to select one or multiple courses to view simultaneously.
Alternatively, using "equals" narrows your view to one course at a time.

Don't forget to Save!
Once you've finished modifying your Report, you can either save the Ad Hoc View that you are working on or Save and Create Report: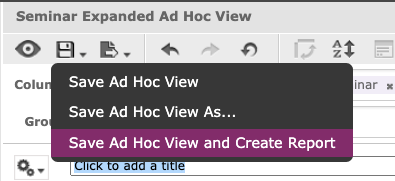 [eBook download] To learn more about the Seminar activity and reporting, check out the eBook The Essential Guide to Learning Analytics in the Age of Big Data.

References