- 2 MIN READ -
If you are looking for ways to increase engagement in your courses, H5P may be your answer. H5P is a third-party plugin available for Moodle that allows you to build over 40 different types of resources and games.
One of the benefits of using H5P is that you can build the content directly into Moodle, which means you also have the ability to edit it whenever you need.
H5P's most popular activities are the Interactive Video, Course Presentation, and Branching Scenario. What all of these activities have in common is the ability to add interactivity to your content.
Interactivity is an essential component of successful eLearning as it has been proven to improve attention and activate long-term memory.
For example, rather than providing a simple PPT to read, which is a passive experience for the learner, you can add different interactive question types and summaries to a presentation so that the learner engages directly with the material and can check their understanding along the way.
Here's a drag-and-drop exercise added to a slide. Instead of just having a paragraph to read, you can ask the learner to participate in creating the content.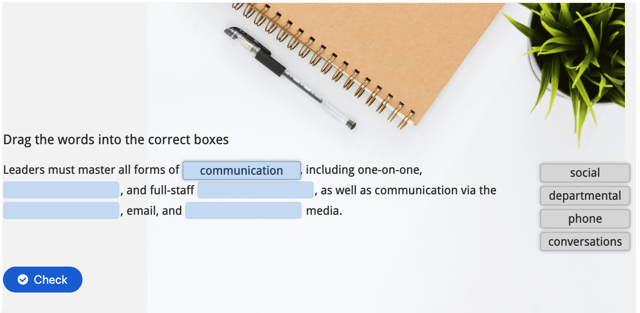 Here's another slide with a true/false question type that has been answered: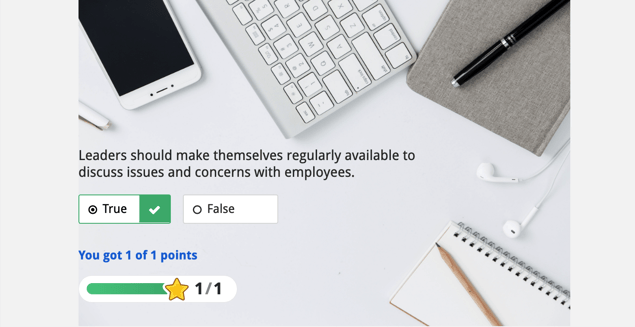 The H5P question types allow learners to check their answers immediately, and as a content creator, you can decide whether or not you will allow the learner to move forward if they got the answer wrong. You can even send them back to the original slide to review material.
Adding a few questions into your learning resources can turn a passive experience into an active one, increasing learner engagement and learning efficacy.
To learn more about H5P and interactive videos, check out our Lambda Lab: Build & Track Blockbuster Interactive Video in Moodle and Totara Learn.
Contact our knowledge staff to begin your eLearning success journey.