Original published on January 30, 2019. Updated on February 4, 2020.
Our picks for this year's major technology trends in education are informed by a mixture of market analysis and what our in-house experts have been seeing. In the new decade, educational technology continues to evolve towards greater use of data (and Big Data) for everything from analytics and adaptive learning, to gamification and curated content.


Trends in Educational Technology #1: Big Data and Analytics
Two decades into the new millennium, our digital footprints are growing rapidly. With the average day producing around 2.5 quintillion bytes of data (that's up to 1.7MB of data created per second for every person on earth), the untapped potential of Big Data remains huge.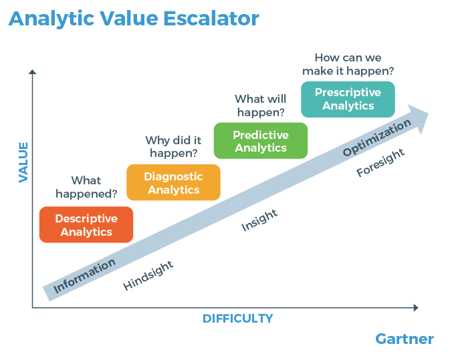 By 2020, Learner Analytics has reached the stage where it can predict performance and inform future L&D (tbmcg.com).

Today's analytics software is concerned with collecting, aggregating, analyzing, categorizing, and learning from all that information, to produce insights into learning that look forward as well as backwards. As a result, there's no doubt that data-driven reporting will continue to be a major technological trend in education for years to come.
Learn more about how and why analytics is being used in education in The Essential Guide to Learning Analytics in the Age of Big Data.
Academic organizations are reaching the point where they can make data-led recommendations on training content and practices. 2020 will likely see more companies joining the predictive analytics wave, applying Big Data in the creation of policy.

To see How To Utilize Data To Improve Operational and Learning Effectiveness, watch this on-demand webinar from our Learning Analytics experts!

By running algorithms on previous performance results and Key Performance Indicators (KIPs), predictive analytics highlights where to allocate resources, change workflows, or target employee training.
Reporting software such as Lambda Analytics is the best solution for bringing analytical reporting into your organization, because it provides ready-to-launch reports which can be automated and delivered to stakeholders, or embedded directly into an LMS for learners, instructors and administrators.


Trends in Educational Technology #2: Gamification
In 2020, digital games are firmly in the mainstream—both in work and at home. Apps that use games to boost participation, productivity, or fitness are regularly among the most-downloaded, and most teachers are familiar with the use of game-like environments in the classroom.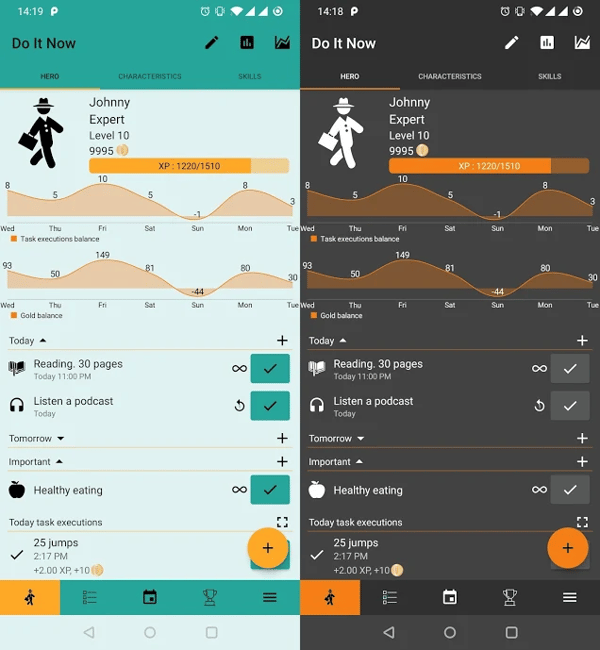 'Do It Now', a task scheduling and planning app that incorporates the features of a Role-Playing Game (RPG) (Do It Now: RPG To Do List. Habit Tracker. Calendar).

Gamification lets instructors harness the instinctively rewarding and absorbing qualities of games, and put them to use in learning. Using points, leaderboards, progress bars, levels, and other formats normally found in a video or board game can retain a sense of momentum, encouraging learners to engage and commit to content.


Watch our webinar on How to Reduce Disengagement with Gamification and discover the tools you need to easily increase learner engagement!
As a teaching and course-design approach, gamification is differentiated from game-based learning, which is the straightforward application of games within the learning environment. Gamification may appear game-like, but it might also consist of a more subtle integration of game mechanics into training.
Gamification is a good case study for the majority of 2020s technology trends—it uses a data-driven mechanism to make the learning experience more fun and more engaging; it encourages learners to actively interact with lesson materials, and it works!
Fifteen studies involving a total of 10,499 participants looked at the success of gamification across a number of educational contexts. Twelve out of fifteen studies found gamification was significantly effective in increasing engagement in online learning.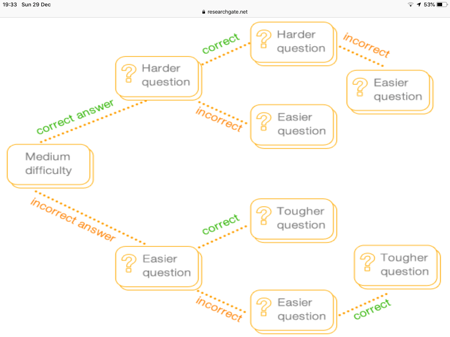 Adaptive learning assessment pathways (Kakish, 2018).
Trends in Educational Technology #3: Adaptive Learning
If learner analytics improves course design, and gamification enhances content, then adaptive learning is the technology trend that allows learners to get the most from other items in this list.
Learning is adaptive when content adjusts to the way a user is behaving. A regular, non-adaptive training course will follow a linear, predetermined schedule, which is the same for each person taking the course. This requires learners to 'self-curate' content—skipping things they find too difficult, supplementing their learning with outside resources when they need extra time, and simply waiting to move on from content they already understand.



Check out this in-depth rundown on how Adaptive Learning creates personal learning pathways and increases learner engagement in this on-demand webinar covering

Why Your Learners Need Adaptive Learning

.

Adaptive learning software, on the other hand, observes learner performance and makes reactive decisions about the way a course appears to a student. For example, if an adaptive program observes a learner struggling with a particular set of questions, it might lower the difficulty of future assessments, or provide additional resources depending on the program's configuration.
According to this post on the workings of adaptive learning software, changes to content are based on the outcomes of two questions:
Whether learner goals are a subset of the content. If so, content is restricted and shaped to meet those goals.
Whether prior knowledge affects user engagement. If so, the course will skip material that's too easy or challenging, developing a pathway of content at the appropriate level.
Things start to get really interesting when an adaptive program listens to more than just assessment results. A non-linear adaptive course can also look at module subject and topic, what users have looked at previously, and how they've engaged, to build a highly personalized pathway of appropriate content.



And, like gamification, 2020 is the year when the benefits of adaptive learning are beyond doubt. A recent study on the effectiveness of adaptive learning using learners on full-time, full-term eLearning courses found that classes showed a significant improvement in grade distributions, pass/fail rate, and increases in the efficiency of instructor time and effort. So while it might pay to be skeptical of some trends and fads in educational technology, adaptive learning has proved its worth.
Trends in Educational Technology #4: MicroLearning
The interesting thing about microlearning is that it supports many of the benefits found in other education technology trends—it's efficient, learner-focused, and based on the idea that every user will have slightly different needs.
When concepts are made bitesize, retention and diversity are promoted (Image: Vecteezy).

Microlearning involves isolating training concepts and delivering them in bite-sized portions. Some microlearning strategies are designed in a freely interconnected web, where users can consume content however they wish, while others work along an intended pathway. But whatever the strategy, the idea is to get learners working in a just-in-time format.

Using microlearning as part of a workplace training or onboarding program is a great way of reducing workload while curating content (see below). L&D teams can create generally applicable content that works for all departments and team-members, before users use microlearning to filter down to more specific or technical content, depending on need.
In 2020, Microlearning will continue to develop as an on-demand service—particularly as a smartphone-friendly eLearning strategy. When people are checking their devices every twelve minutes on average, it makes sense for L&D teams to design eLearning so that it appears where people look the most.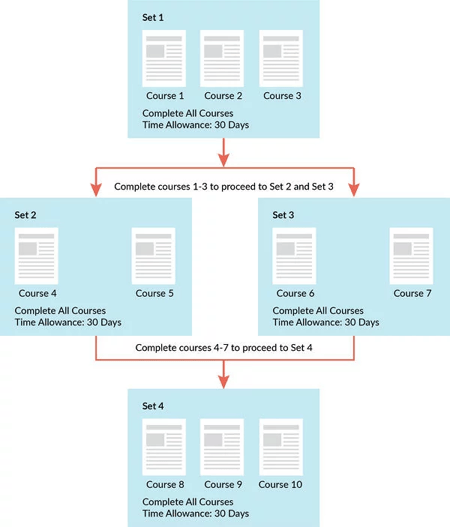 Learner data and adaptation come together in Totara Learn LMS Learning Plans
Trends in Educational Technology #5: Content Curation
Both adaptive learning and microlearning are forms of content curation—even gamification allows users to play an active role in determining the content they see. But content curation goes a lot further than teaching formats and strategies.
Learning plans are content curation tools found within Learning Management Systems. They are intended to make it easier for learners and instructors to collaborate on setting up personalized learning—individual pathways for training employees, departments, or specific roles within your organization.


As the next decade progresses, it seems clear that educational technology will continue to provide ways for instructors to create unique and highly relevant learning experiences. Users can expect to be presented with content that reflects their learning needs, drawn from their own performance history.
It's true that personalized learning has in the past raised questions about consistency and objective standards when it's implemented on a wider scale. However, given the success of content curation in recent years, it seems the question for future educational technology will not be whether to personalize learning, but how to use data and analytics to create the most effective personalized learning experiences ever.
Need to keep your education or training programs up to pace with the ever-evolving world of eLearning? Whether you're looking for a new Learning Management System, need to optimize your LMS and eLearning programs with a learning analytics solutions, or require any other eLearning solutions, we have the expertise to help you reach your goals!

Contact us today. We'd love to help you create a better way to learn in 2020!