Adult education programs are designed to meet needs that are specific to adult learners—needs for which eLearning provides an effective solution. Here's why and how:
An eLearning Definition
Google says that eLearning is 'learning conducted via electronic media, typically on the Internet.' (Oxford definition).


While that's a pretty vague explanation, it does imply that eLearning consists of two main elements.
eLearning content, and
An online system through which eLearning is delivered.

To optimize eLearning hosting and delivery, most instructors turn to a Learning Management system.


Learning Management Systems (LMS)
A Learning Management System (LMS) is a Software-as-a-Service (SaaS) platform designed to provide a space for teaching, learning, assessing, and everything in-between.
Course admins and designers use an LMS to create and host entire courses, from enrollment to assessment.
Instructors use LMSs to upload and teach activities, as well as track and report on learner progress.
Learners use LMSs as a hub for their training—studying, interacting with peers, and gaining certification.
Learning suites like Lambda Suite can also help organizations in designing interactive and engaging courses for the learners. The suite provides LMS feature along with commerce features and analytics features. In short, the learning suite can keep learning business on the right track without wasting time and resources.
And while we're at it, why don't we define adult learning
Adult education—andragogy—encompasses the field of research on, and instructional approaches that serve, the specific ways that adults learn.
Through this, andragogy implies that adults can be defined as a distinct group of learners, with a distinct set of learning needs.
This is as opposed to other groups of learners, like children in primary and secondary education (pedagogy), which respond to theories of childhood learning.
Andragogy
Andragogical theories are far-reaching and diverse. Take developmental task theory, for example, which argues that for every identifiable age range there is a common set of learning tasks, with inform learners beyond a specific course objective. These 'tasks' arise from factors such as biology, psychology, and social circumstances (Schroots, 2007).
Middle-aged learners, for example, might be influenced by the need to acquire new technical skills for the changing workplace. Older learners, meanwhile, may be informed by a need to adjust to a retirement lifestyle.
Whatever the theory behind adult learning, a running thread is the belief that adults, as a group, have a generally identifiable set of needs—which can be met by instructors and course designers in specific ways.
Malcolm Knowles and adult learning theory
Malcolm Knowles (relation to Beyoncé unconfirmed) completed a series of pioneering work in the 1960s and 70s, which laid the groundwork for distinguishing adult learning from childhood learning.
His book, The Adult Learner (now in its eighth edition) includes a number of learner needs and preferences that should be provided for in any self-respecting adult education. They can be paraphrased as:


Need for Knowledge. Adult learners like to know why they should complete an activity or take a course.
Motivation. Adult learners are internally rather than externally motivated. In other words, while adults will take courses for certification, they learn best when personally connected to their learning.
Willingness (What's in it for me?). Adults are interested in the relevance of potential learning outcomes. They want to know what's in it for them.
Previous experience. Adult learners possess extensive and diverse experiences, which deeply inform their learning. As a result, they value opportunities to share their perspective.
Self-Direction. Perhaps obviously, adult learning is more self-directed and independent—they value opportunities to take control.
Learning by doing. Adult education should be at least partly practical. Adults appreciate being able to align learning with workplace tasks. (Experiential Learning Theory states that adult learning is all about making practical sense of learning experiences.)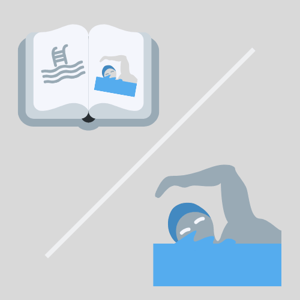 Theory vs practice—including both in a course is optimal! (Source: Lambda Solutions).
So, what makes adult education and Online Learning a good fit?
While that might seem like an extensive list of learner needs, it just so happens that eLearning provides a bunch of neat solutions for each of Knowles' adult learning principles.
Take these LMS features and strategies, for example. Consider this a non-exhaustive list of the ways in which eLearning can help you to design and run an adult education program.
Adult Learning Need #1 - Need for knowledge
Solution: just-in-time learning
When as many as 70% of staff use Google to supplement their training during the workday, it's obvious that adults want reactive, instantly accessible learning. eLearning meets this need through microlearning features.
Even if adult learners are not au fait with terms like microlearning or point of need, it's likely they'll already be organically using these concepts. Searching how-to videos on YouTube or googling quick hacks are great examples of how matching content to learner need results in efficient, useful training.
Microlearning simply formalizes this process by providing learners with a searchable web of short, useful content. The best microlearning content is under six minutes, focused on a single concept, and specific to a role or objective.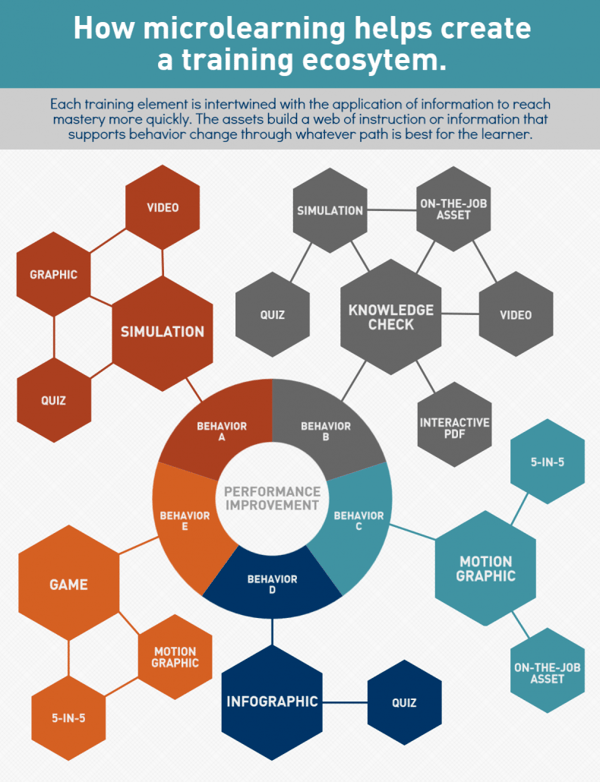 How Microlearning helps create a just-in-time content ecosystem (Source: elearninginfographics.com).
Adult Learning Need #2 - Motivation
Solution: Learner analytics
The great thing about intrinsically motivated students is that they respond well to engagement-boosting changes in course design.
Using an analytics-ready LMS like Lambda Learn, it's possible to build a detailed picture of learner data, which can then be used to make the most beneficial changes to a course's content.
Looking at key metrics such as total time spent learning, time spent on an activity, learner progress, assessment breakdowns, and qualitative feedback, all help show which courses are engaging learners, and which could use an instructional-design rethink.
Over time, this kind of engagement reporting reveals valuable patterns about how learners interact within your program, forming the foundation of your next course design session.
Adult Learning Need #3 - Willingness (what's in it for me?)
Solution: Transferable skills
A secondary benefit of using eLearning to run adult education programs is the technical skills learners pick up as a byproduct of interacting with an LMS. While Learning Management Systems are carefully designed for accessibility, they still require learners to use basic IT skills, which can be useful in the wider workplace.
The process of learning independently (see Need #5) also teaches a variety of transferable skills. These include the ability to adapt to workplace changes, an understanding of what affects your concentration, and improved mental resilience.
Adult Learning Need #4 - Previous experience
Solution: A social learning environment
Adult learning with an LMS promotes a social learning environment—an inclusive place to share skills. Through social and accessibility features like customizable user profiles, discussion forms, and group activities, learners are encouraged to be generous with their knowledge and experience.
The ability to post to forums and respond to questions from peers also encourages proactive engagement. Because eLearning prioritizes self-direction, learners are free to shape their own LMS experience, taking discussions wherever learner cohorts need them to go.
Adult Learning Need #5 - Self-direction
Solution: Independent learning
eLearning is a good option for building self-direction into adult education programs because it accommodates a large range of lifestyles. No matter how remote your location, or how busy your schedule, the online, on-demand nature of eLearning means it's always ready when you are.
Adaptive LMS features support independent learning by selecting content according to learner inputs. Branching lesson pathways keep content super relevant, while activity locking bars access to certain parts of a course until others have been mastered.


Adult Learning Need #6 - Learning by doing
Solution: Active learning
As Knowles recognizes, adults like to learn by doing. The educational theory term for this kind of learning is active learning. Active learning refers to any kind of learning where the learner is critically or physically involved (and not a passive actor).
There are plenty of ways to use eLearning to build interactivity into the content. It may simply be a case of allowing learners to interact with on-screen elements through clicking, swiping, zooming, etc. It could mean basic animations and training videos, multiple-choice quizzes, or choose-your-own-story style content.
Alternatively, fully interactive activities like scenario and simulation training give learners the chance to test-out real-life actions without real consequences.
Get everything you need to
Educate your learners
with courses and programs specifically tailored for adult learning—accessible anywhere the internet can reach!
Learning strategies for motivating employee engagement
The digital nature of eLearning also provides many solutions for delivering adult education that is engaging, motivating, and most importantly, sticks for the long term.
Here are a few of the best ways to quickly and easily motivate mastery with your eLearning:
1. Deliver Choices
Provide your learners with options so they can learn through the best methods for their individual learning style. Always consider When, Where, and How your eLearning content will be consumed and Who your audience of learners really are when designing to maximize employee engagement.


2. Make it Applicable
To make sure that lessons are internalized and actually, truly comprehended, provide practical applications that apply the lesson/theory to real-life situations. This can be done by:
Having a clear goal of what your lesson needs to achieve
Provide a support structure that helps support the learning transfer from theory to practice. This can be done with peer-review sessions, post-lesson tutorials, and one-on-one mentoring, forums and chatrooms.


3. Make Your eLearning Continuously Available
Avoid the mistake of locking your learners out once a course or program has been complete. Many organizations make the mistake of not allowing learners to access their course materials after enrolling and completing a program.
Making your eLearning accessible even after a course or certification is complete (and making sure the learners are aware they can go back to brush up) is one of the easiest ways to provide an environment of continuous learning.


4. Surveys & Questionnaires (Before, During, and After)
Yes, satisfaction surveys are nothing new, but the real value for designing motivating courses comes from not only what you ask in your surveys, but also when you ask. Questionnaires have value for course designers and instructors, and the answers given can provide insights into the learning experience throughout the timeline of any given course.
For example, ask your learners:
What do you want to learn from this course (at the beginning)
What has been the biggest challenges so far (during)
What are their 3 biggest takeaways (when they're done)


Not only does this provide insights for adjusting your courses it also helps cement those goals and insights in the mind of your learners, making it easier for them to stay engaged and motivated to truly understand and retain what they've learned.


5. Improve Your Insights
An LMS creates and collects data on literally everything your learners do. The ability to utilize Learning Analytics to improve courses and learning outcomes is one of the biggest advantages eLearning brings to the table.
Utilize analytics reporting to gain a much deeper understanding of learners and the effectiveness of your overall learning strategy to provide more engaging and motivating eLearning.
Next steps for your eLearning & adult education strategies:
When it comes to implementing and improving your adult education courses with eLearning, a process is highly recommended to keep your efforts focused and efficient. One of the best ways is this 6-step process: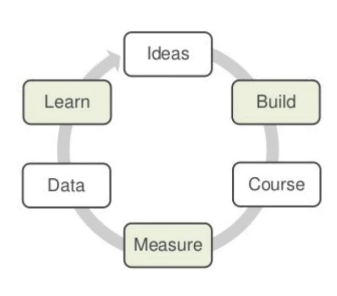 Source: Lambda Solutions
1. Take stock of where you are now
Evaluate what you have (if anything) and determine any obvious shortfalls or areas for improvement within your courses. Consider conducting a skill gap analysis if necessary.
2. Pick one aspect to improve
You don't want to try and change everything all at once, otherwise it's impossible to tell which aspect is actually having an effect. Pick one thing to improve and focus on that.


3. Set a reasonable timeframe
Don't be hasty! You need to let enough learners take your course so that the insights drawn from their learning data is statistically significant.


4. Measure
Know how you're going to assess the success or failure of your "improvements".
For example:
Adding interactive videos? Focus on watch-time.
Trying to fill a skill-gap with new content? Check problematic test or assignment results to determine if you've successfully filled that gap.


5. Learn
Look at the data you've collected and draw some conclusions! Implement those conclusions (if they allowed you to better meet your goals) and then just wash, rinse, and repeat.

Today remote training, and at least a partial reliance on eLearning, is fast becoming the norm for traditional educators and learning and development professionals alike. In a professional, corporate setting - where ROI is crucial - getting the best results from your training programs and courses is a major priority.
Bringing the principles of andragogy and adult education theories to your courses is essential for meeting the goals your eLearning programs need to achieve. For a deeper dive on andragogy and adult education theories check out this article.
If you're looking for more expert advice and how-to content on adult education, andragogy, and fostering employee engagement with your courses and training programs, here's what our eLearning experts have put together for you: