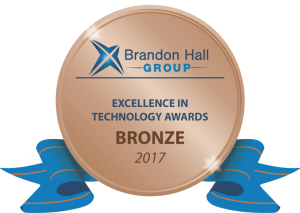 Lambda Solutions' LMS Reporting Solution Zoola Analytics Recognized by the Brandon Hall Group in the Category Best Advance in Learning Management Measurement/Business Impact Tools
January 10, 2018 [Vancouver, BC] Lambda Solutions, a leading provider of Learning Management Systems (LMS) technology and services, announced today that their Learning Management Reporting Solution, Zoola Analytics, won bronze in the 2017 Brandon Hall Group Excellence in Technology Awards. The category, under which Zoola Analytics was recognized, is Best Advance in Learning Management Measurement/Business Impact Tools. This marks the second year in a row where Zoola has been awarded by the Brandon Hall group awards.
Zoola Analytics provides complete and secure access to all of an organization's learning data and allows users to quickly and easily create actionable reports and executive dashboards. Zoola Analytics uniquely provides reporting and analytics capabilities for Moodle, Totara and xAPI learning data and enables organizations to realize the outcomes of the business of learning.
Brandon Hall Group is the leading independent research and analyst firm for Human Capital Management. The Excellence Awards recognize the best organizations that have successfully deployed programs, strategies, modalities, processes, systems, and tools that have achieved measurable results. Now entering its 24th year, the Brandon Hall Group Excellence Awards is the most prestigious awards program in the industry.
"We are really excited to receive this award from Brandon Hall,"said Stewart Rogers, VP of Products for Zoola Analytics and Lambda Solutions. "The Zoola Team worked really hard to advance our solution and this is recognition that we are providing a valuable solution for Learning and Development professionals. Our Customers are demonstrating that they can apply Learning Analytics to understand the engagement and effectiveness of their courses and use that insight to maximize the impact of learning has on their Organization."
About Zoola Analytics Powered by Lambda Solutions:
Zoola Analytics powered by Lambda Solutions, is the market-leading reporting and analytics solution for Moodle, Totara Learn, and xAPI learning technologies. Zoola provides secure access to all of your LMS data and empowers users to quickly and easily create actionable reports and customizable dashboards. Gain real insights from your learning data in minutes, instead of days and have the latest information at your fingertips. Zoola is backed by Lambda Solutions' decades of expertise in the Learning Management space. Our complete solution includes a full range of training and services to give you the support you need now and in the future. For more information: lambdasolutions.net/products/lmsreporting.
###
Media Contact:
Heidi King | Director of Marketing
Zoola Analytics | Lambda Solutions
(604)398-3396 | heidi.king@lambdasolutions.net