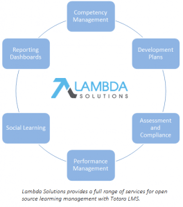 Lambda Solutions today announced the availability of performance management tools in the latest edition of the Totara Learning Management System (LMS). Lambda provides fully managed hosting for Totara 2.5, which now includes a Performance Managementmodule. The module allows companies to carry out employee performance appraisals and facilitate ongoing feedback between employees, co-workers and managers – all based on individual performance goals. Managers and human resource professionals can tune individual performance proactively – easily generating reports from assessments to track performance-related pay – and provide insight into placing the right person in the right job.
"Based on the open source Moodle LMS, Totara provides strong training and learner management for our corporate customers. Now, it completes the circle by providing fully integrated performance management capabilities," said Shevy Levy, CEO of Lambda Solutions. "Version 2.5 makes Totara a complete solution for companies looking for the cost and flexibility advantages of open source systems with the same HR capabilities as many of the more cumbersome proprietary systems."
Totara 2.5 Performance Management Features
Goal Setting
Many performance management solutions fail when it comes to aligning the system with the corporate goals and objectives. Totara addresses this challenge with a flexible tiered approach. Managers and employees can set personal goals. Managers can also set company goals so everyone can see how their personal achievements connect directly with corporate outcomes.
Assessment Builder
Managers can generate assessment checklists and questions, assign them to selected groups or individuals, and set completion dates and auto-send reminders. Administrators can see at a glance how assessments are progressing at any time.
360-Degree Feedback
The new 360-degree feedback tool helps managers ask a wider group of participants for feedback thereby ensuring more holistic input on performance.
Reporting
Progress tracking allows administrators to see how online assessments are proceeding, so they can intervene in a timely fashion. Performance metrics allow administrators to review appraisal results in a polished, easily searchable interface.
Other New Features
Totara 2.5 introduces a whole range of new functionality as well as enhancements to existing features.
• Responsive theme allows Totara site to scale and adjust to any device desktop, mobile or tablet.
• Certifications – create time-limited programs and re-certification paths
• Audience visibility – make courses and programs visible to specific audiences only
• Course catalog improvements
• Course completion import tool – upload legacy completion data into Totara
• Manager delegation – assign a temporary manager to learners
• Report builder PDF exports
• Instant course and program completion
About Lambda Solutions
Founded in 2002, Lambda Solutions provides a full range of services for the leading, open source Moodle and Totara Learning Management Systems. Lambda works with both institutional and corporate clients to help them achieve better learning outcomes and increase the value of their human capital. More than half a million people learn everyday on our managed hosting platforms. Focused on healthcare, education and government, we provide systems integration, customization, training and support to enterprise-class customers, including Four Seasons Hotels, CGI, Rutgers University, and the Canadian International Development Agency. Lambda is a Moodle certified services partner and a Totara gold partner. The company has offices in Canada and the United States.
Contact:
Farshid Zavosh, Marketing Manager
farshid.zavosh@lambdasolutions.net
1-604-719-6282