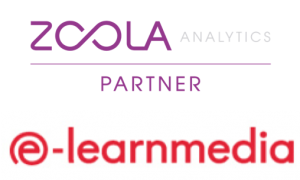 Lambda Solutions Welcomes e-learnmedia to its International Zoola Analytics™ Partnership Program to Serve Customers in Central Europe
April 24, 2018 [Vancouver, BC] Lambda Solutions welcomes e-learnmedia to its Zoola Analytics™ Partnership Program. The partnership provides a powerful add-on for e-learnmedia's client base—enabling companies to securely tap into the wealth of data in their learning management systems and have complete access to advanced reporting and dashboard analytics.
"We are thrilled to welcome e-learnmedia to the Zoola Analytics partner family to serve companies in the Central European region," says Shevy Levy, CEO of Lambda Solutions. "Particularly in light of the General Data Protection Regulation (GDPR) becoming law across the EU this spring, e-learnmedia is well positioned to offer its customers an extra layer of data security, in addition to helping them attain their business goals with advanced reporting from their LMS systems."
Part of e-learnmedia's corporate mission is to help companies achieve their business goals with the support of digital learning technologies. "Thanks to the Zoola Analytics solution, we are able to expand our expertise by providing our clients with the ability to collect, evaluate and analyze the data in their Totara Learn system and compare it with pre-set KPIs to stay on track. This helps us put our mission into practice," says Juraj Gabrhel, Co-Founder & CEO, e-learnmedia.
e-learnmedia is excited to be able to enhance its portfolio of digital learning solutions with a state-of-the-art cloud-based technology that is becoming increasingly popular in market sectors in Europe. In addition, Zoola Analytics provides a way to meet the GDPR which will hold companies strictly accountable to new data protection laws that impose steep fines for non-compliance.
Continued Gabrhel: "The security of our customers' data is crucial and in the realm of cloud services, is absolutely critical. Zoola Analytics meets all legal and safety requirements where data is concerned."
About Zoola Analytics (Powered by Lambda Solutions)
Zoola Analytics™ is the market-leading solution built to extend and enhance the reporting and analytics capabilities of Moodle, Totara Learn and xAPI learning systems. We're different because we're data driven. Our cloud-based technology provides secure access to all LMS data and empowers users to slice and dice data quickly, and create actionable reports and customized dashboards on the fly. Zoola Analytics is backed by Lambda Solutions' decades of expertise in the Learning Management space. Visit www.zoola.io.
e-learnmedia, s.r.o. is a premier provider of technology supported learning & development solutions based in Slovakia, combining software and services to meet training needs of modern learner. Through team experience and passion for digital learning and development, e-learnmedia helps its clients to meet their business goals. Visit www.e-learnmedia.sk/en.
###
Media Contact for Zoola Analytics and Lambda Solutions:
Cora Lam |Marketing Manager
1.604.398.3396| cora.lam@lambdasolutions.net
Media Contact for e-learnmedia, s.r.o.:
Katarína Žilková| Event & Marketing Coordinator
+421 2 32 60 40 11|zilkova@e-learnmedia.sk