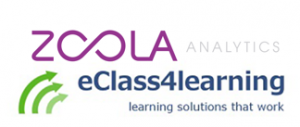 January 23, 2018 [Vancouver, BC] Zoola Analytics, the multi award-winning Learning Analytics and reporting solution by Lambda Solutions and eClass4learning, a progressive LMS Provider, are pleased to announce their strategic partnership. The partnership will allow the availability of Zoola Analytics for eClass4learning's clients to enhance the reporting capabilities of eClass4learning's Moodle and Totara Learn LMSs users.
"The flexibility that Zoola Analytics offers is unparalleled to anything else in the market," said Tammy Frame, CEO of eClass4learning."The drag and drop options, the ease of creating reports and the beautiful dashboards will help our clients immensely. By bundling Zoola Analytics into our LMS offering, we now have a compelling edge that make eClass4learning's solution more complete and appealing."
"We are excited to partner with eClass4learning because they really understand the power of reporting and analytics." says Ilana Binenbaum, Partner Channel Manager for Zoola Analytics. "As the analytics of data evolves, Zoola Analytics provides the measurements that allow training and learning directors to examine how effective their training is at achieving their organization's strategic goals. "
eClass4learning is based in Port Washington, Wisconsin and is the first partner for Zoola Analytics in the United States.
About Zoola Analytics (Powered by Lambda Solutions):
Zoola Analytics powered by Lambda Solutions, is the market-leading reporting and analytics solution for Moodle, Totara Learn, and xAPI learning technologies. Zoola provides secure access to all of your LMS data and empowers users to quickly and easily create actionable reports and customizable dashboards. Gain real insights from your learning data in minutes, instead of days and have the latest information at your fingertips. Zoola is backed by Lambda Solutions' decades of expertise in the Learning Management space. Our complete solution includes a full range of training and services to give you the support you need now and in the future. For more information: lambdasolutions.net/products/lmsreporting.
About eClass4learning:
eClass4learning efficiently and affordably provides online learning technology solutions for non-profits, associations, government organizations and small businesses and corporations. We maximize efficiency by collaborating with the most knowledgeable subject matter experts (you and your staff) to determine full solutions to your online learning challenges. eClass4learning helps you expand your reach and improve your outcomes. URL: www.eclass4learning.com
###

Media Contact for Zoola Analytics and Lambda Solutions:
Heidi King |Director of Marketing
(604)398-3396| heidi.king@lambdasolutions.net