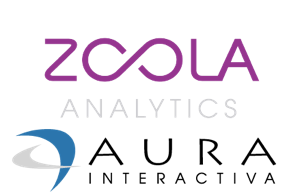 December 14, 2017 [Vancouver, BC] Zoola Analytics, by Lambda Solutions, is thrilled to announce their strategic partnership with Aura Interactiva. Zoola Analytics is the leading reporting and analytics plugin for open-source LMS solutions Moodle and Totara Learn and xAPI learning technologies. Aura Interactiva is the developer of SHIFT, an award-winning Learning Management System.
Aura Interactiva chose to partner with Zoola Analytics to be able to enhance their current LMS solution, enabling them to provide their customers with reporting capabilities that previously were not available.
"Aura Interactive is dedicated to revolutionizing the eLearning industry." said José Miguez Contrera, Managing Director at Aura Interactiva."We identified Zoola Analytics as a game-changing technology for learners. Including Zoola in our solution sets us apart even further from the competition."
"Online learning is a fast growing market in Latin America," says Shevy Levy, CEO of Lambda Solutions. "We have developed a strong relationship with Aura Interactiva and have a deep respect for the advancements they have made in eLearning technology and to their dedication to excellence. Zoola Analytics perfectly complements the high standards that Aura Interactiva has already established."
Aura Interactiva is the largest Totara partner in Costa Rica and the first Latin-American based partner for Lambda Solutions, creator of Zoola Analytics.
About Zoola Analytics Powered by Lambda Solutions:
Zoola Analytics powered by Lambda Solutions, is the market-leading reporting and analytics solution for Moodle, Totara Learn, and xAPI learning technologies. Zoola provides secure access to all of your LMS data and empowers users to quickly and easily create actionable reports and customizable dashboards. Gain real insights from your learning data in minutes, instead of days and have the latest information at your fingertips. Zoola is backed by Lambda Solutions' decades of expertise in the Learning Management space. Our complete solution includes a full range of training and services to give you the support you need now and in the future. For more information: lambdasolutions.net/products/lmsreporting.
About Aura Interactiva:
Aura Interactiva is a company focused on the design, development, and implementation of virtual training solutions (eLearning and Mobile Learning). Since 1996 we have worked with over 500 organizations worldwide, with operations in countries like Canada, Spain, Mexico, Chile, Panama, Peru, and Costa Rica.For more information: https://www.shiftelearning.com/aura-interactiva.

Media Contact for Zoola Analytics and Lambda Solutions:
Heidi King |Director of Marketing
(604)398-3396| heidi.king@lambdasolutions.net