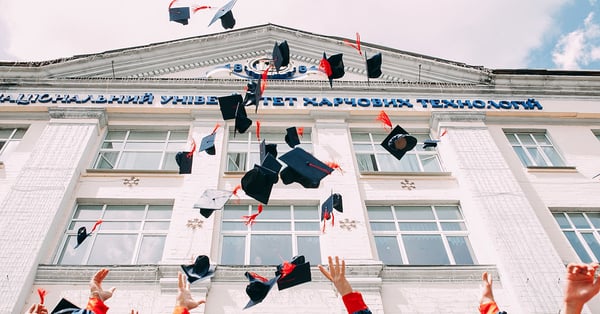 - 4 MIN READ -
Pedagogical norms and the general practices of educators and institutions are constantly changing, and this is no less true within the niche of higher education than it is within the education industry at large. To help you prepare for how the learning landscape of higher education will change during the coming years, here are some dominant future trends in higher education that you need to keep your eye on.
Our on-demand webinar on the 10 Trends That Will Bring Your L&D Into 2019, presented by Limestone Learning's Managing Partner and Instructional Designer, Paula Yunker, dives even deeper into the emerging eLearning solutions that will help you meet your learning and development goals!
1. Institutions will ramp up fundraising efforts
In 2018, the University of Michigan ran a record-breaking $5 billion fundraising campaign, and Harvard University took home the mantle for the largest capital campaign ever ran by raising $9.8 billion. With state and government funding consistently depleting, institutions will need to continue running these types of large-scale campaigns in order to remain operational and competitive.
However, institutions can't expect donations such as the $100 million the University of Wisconsin-Madison landed from Foxconn without expecting some strings attached. Most of these donations come with the assumption that the institution will invest more money in the subjects that major donors specialize in.
This could prove to be unfortunate for the humanities disciplines that lack association with the Silicon Valley tech money computer science programs at so many institutions are receiving right now.
2. Colleges will focus more on making graduates valuable employees
Employers have been complaining for a while now that recent college graduates are entering the workforce unprepared to handle the jobs they've supposedly been groomed for during their studies, and colleges are taking note.
Over the next years, expect more and more higher learning institutions to invest significant amounts of time in developing courses (watch our on-demand webinar on How to Create Engaging and Effective eLearning) centred around the practical application of employable skills, as well as company and federal internship programs that students can involve themselves in for academic credit.
As a caveat to this point, it should also be noted that businesses will still have to do a majority of the training required for young professionals to succeed, as many jobs in the current market are simply too specialized to be covered in a balanced curriculum. Keeping employees compliant and competent is a challenge that all organizations will continue to face in a digital world that is constantly changing.


3. Alternative education strategies will become more popular
Alternative education options that range from various certifications to online courses and universities will likely pick up steam in the future. The credibility of online education and certification programs is steadily growing, which represents a unique opportunity for learners who don't feel that college is the right choice to land a job in the profession they want.
Organizations such as Sandler Training are already achieving great success providing progression training programs that meet the needs of learners which traditional colleges and universities overlook.


4. eLearning will lead the charge in interactive education
More and more professors are incorporating LMS's such as Moodle or Totara Learn into their classrooms in order to house course material and student interactions in one easily manageable location. As a result, eLearning and the cutting-edge components of it such as VR and AR are likely to become staples of higher education in the coming years.
The unique environment of eLearning programs allows for diverse and disruptive educational tactics to easily be implemented, benefiting learners by creating a far more effective educational environment than traditional classrooms and seminars provide. This is achieved by utilizing interactive content, allowing for the gamification of learning, and providing content that fits into today's busy, mobile, digital world.
If your institution is searching for a way to create streamlined, effective eLearning experiences utilizing an LMS such as Moodle or Totara Learn, don't hesitate to reach out to our team here at Lambda Solutions!
We specialize in working with educators to make invaluable eLearning experiences come to life. Contact us to find out more about what we can do for you.

Looking for more tactics to improve your eLearning programs? Here are more resources: