Part of wanting to schedule a report is the automation of having the system send out reports for you at desired intervals. Since Zoola Analytics is specifically designed for learning analytics, we know that courses often have a start and end date, so it's important that the scheduling feature can accommodate these constraints.
Enhanced Zoola Block Scheduler
Say you have a 12-week long course and you'd like to share a progress report on activity completion with the facilitator every Monday morning while the course runs. You can set up the date of the first report to be sent (the Monday after the course starts), get the report to run weekly, and set the occurrences to 12.
In other words, if you set your report schedule to repeat (daily, weekly or monthly), you can now choose an end either after a set number of runs or on a specific date.
This means you can set up your schedule in advance and let the system do the work for you!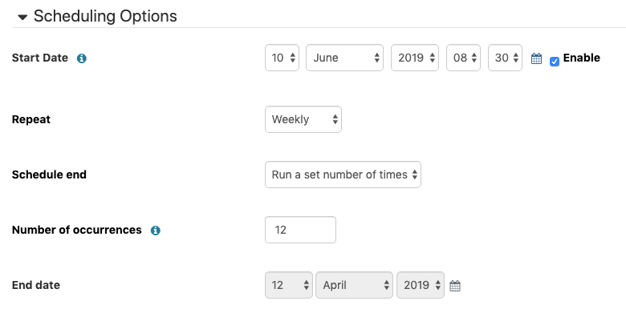 Technology Updates
As of May 31, 2019:
Zoola will no longer support Moodle version 3.4.x and below
Zoola will no longer support of PHP version below 7.0.x

If you have questions or concerns about this, please contact Support at support@lambdasolutions.net