The latest update for your Moodle LMS has arrived, including enhanced interactive content with H5P functionality, better search and filter controls, and streamlined activity management. Here's how to harness the new features and get even more from your favourite open source LMS.
Moodle updates are pretty much Christmas and Birthdays combined for LMS course creators and admins. Ok...not really, but Moodle 3.9, the latest core release, does seriously boost the open source platform's accessibility and interactivity, heightening immersion and user experience, at a time when eLearning is more valuable than ever.
Version 3.9 is a major release, meaning it includes brand new features for the system (plus the standard bug and security fixes). 3.9 is also being marketed as a long-term release, intended to be supported for three-plus years, signalling that Moodle HQ considers it to be the current best-available software.
So what does Moodle 3.9 bring to the table, and how can eLearning professionals leverage these new tools in their roles? Let's find out.
In this article:

To get all of this info an easily digestible form, watch our webinar, on Absolutely Everything You Need To Know About Moodle 3.9, presented by Lambda's Director of Learning Solutions, Ben Young.
Accessibility and Search
Moodle ran an accessibility audit among students, teachers, and admins when developing this update, helping them identify issues for which solutions should have the most impact. This resulted in changes to search function capabilities as well as several navigation panels, including a new look Activity Chooser.
Activity Chooser
Before 3.9, the Activity Chooser was basically just a long list of activities. It worked, but it was inefficient and caused scrolling fatigue. Now, user navigation is vastly improved, with helpful built-in categories as well as the ability to set custom filters.
While it's still possible to view all activities and resources in the course builder, you can now bookmark useful apps with the Star button. Starred activities show up in their own tab for convenient access.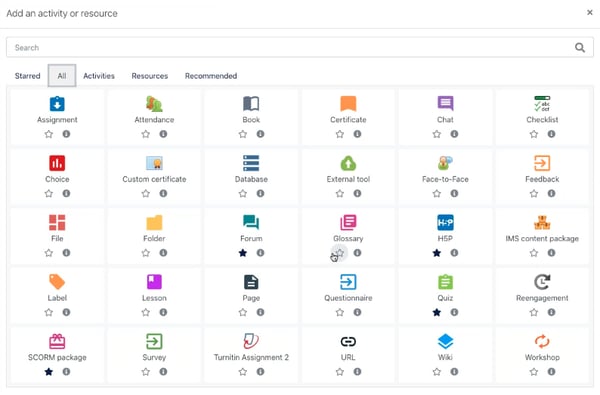 Activities and resources also have their own sections. In general, activities will ask learners to do something and may score them on their input, while a resource offers more passive or informational learning—think an eBook or course folder.
The Recommended tab allows course creators to go into a course and suggest activities to other users; useful for L&D teams who develop materials from a shortlist of activity types.
Watch this short video for a walkthrough of the Activity Chooser settings.
Course Copy
This feature allows course creators to quickly copy an entire course, rather than going through a lengthy backup and restore process.
Simply navigate to the course and category management tab, and select the copy icon next to the course you want to duplicate. Moodle will then ask you to rename the course, assign it a category, and set visibility.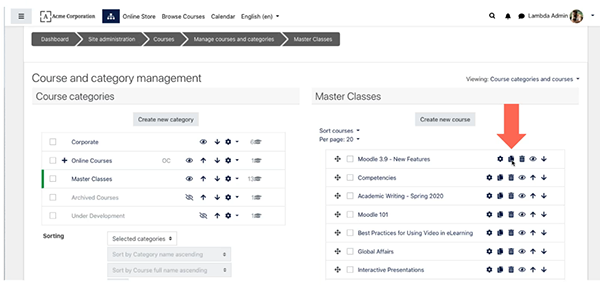 One-click course copying. Easy as that!
Activity Completion
3.9's improved completion condition means that activities can unlock based on the completion of prior activities. While this was possible in previous versions, editing the structure of courses meant losing completion and unlocking settings—which was pretty frustrating.
Now with its own bespoke section, it's easy to keep an eye on how learners are progressing through your course, and ensure that each activity is completed in the correct order. This can be super useful in more formal settings, where learners may need to progress sequentially through information to earn legal or compliance certifications, for example.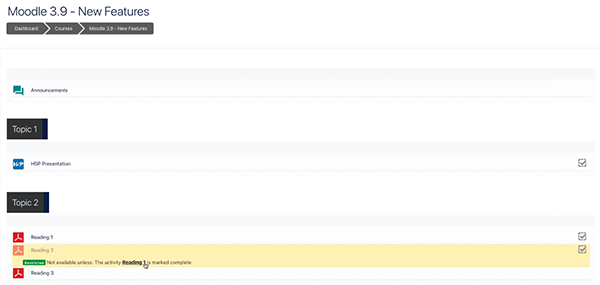 Learners can't progress to 'Reading 2' until 'Reading 1' is marked as complete.
Search and Filter
New filtering functions make it easier to search through large student bodies and identify learner subsets. Extra filter types let you add multiple conditions to a filter set, creating highly specific learner categories.
Logical operators including 'and' and 'not' are now compatible for shortcutting your searches. Moodle says that the search page itself has also had an upgrade, meaning that results should load faster than in previous versions.
Book Navigation
A small but much-needed update comes in the form of clear directional arrows in book resources. This increases engagement, ending the frustration of searching for navigation options when trying to progress through content.
Safe Exam Browser
With the safe exam browser, it's possible to block certain websites, as well as certain functions (for example, copy and paste) for learners taking certain activities. This can be used to narrow down learners' options when taking exams. With more and more critical learning happening though LMSs, this is a highly useful tool for summative assessments.
Using the drop-down menu, simply choose which options you do or don't want learners to have access to—chosen in collaboration with eight universities in Germany, Austria and Switzerland. These include whether learners can reload the exam page, see the time remaining, use spell check, and enable audio, among others.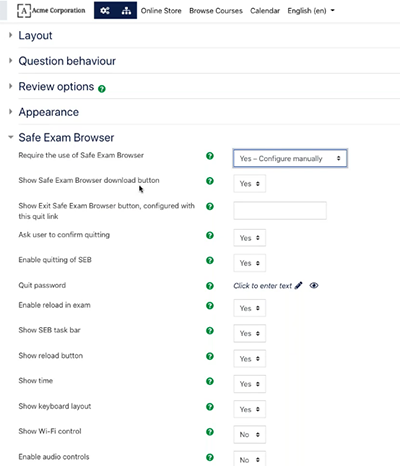 Use this tool to create exam-like conditions in learners' own homes.
This short video will show you how to set up an exam with Safe Exam Browser option.
H5P
H5P (short for Html 5 Package) is a tool supporting interactive content creation. Using H5P it's possible to quickly turn static resources such as heavy chunks of text into interactive quizzes and other Active Learning activities.
By making content seamlessly interactive, H5P hopes to up the usability and shareability of learning materials, making learners more likely to engage. For course creators, using H5P's interface means you don't need to deal directly with Html-5, which is the underlying code supporting interactive content.
You can build content on the H5P website, or directly through Moodle 3.9, saving course creators some extremely valuable time.
If you're new to interactive content, and wondering What is H5P? (And Why Your eLearning Needs It!) here's an article designed to answer exactly that question.
A short video on the H5P activity from the learner perspective.

H5P began as a Moodle plugin, but 3.9 integrates the technology as part of Moodle's core offering. If you're currently using the H5P plugin, we'd recommend downloading any existing H5P activities before upgrading—just to make totally sure that no data is lost.
If you're looking for support while upgrading any part of your eLearning program, you're in the right place! Check out our Knowledge Hub, or get in touch with one of our experts for some guidance.
How to Use H5P in Moodle 3.9
Content libraries are new to Moodle 3.9, which affects how course creators use H5P. As you build (or upload) interactive activities, they are stored in the content library for future use. This provides a more efficient way to draw upon previous efforts when developing your next course.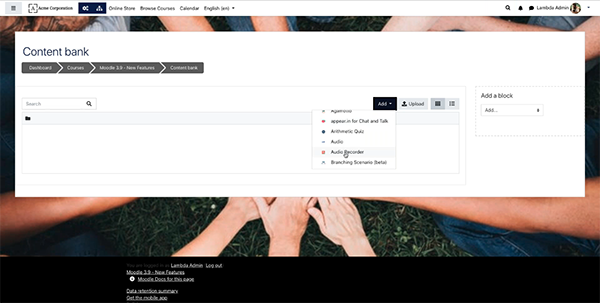 Here, our Content Bank is empty, but all of your H5P content should appear in your library, ready to be inserted into a course.

To drop H5P content into a course outline, navigate to the H5P icon in Activity Chooser. Fill out the descriptor tabs then insert your H5P content, either by uploading directly into the course or by clicking the page icon (file picker) under the section, Package File: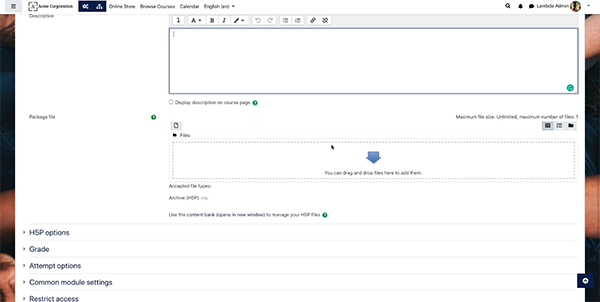 Click the page icon (file picker) above the drag and drop box, to access your content library.

Here, you should find and linked folders containing resources, as well as your content library. When selecting the H5P activity, we recommend checking the box titled 'create an alias/shortcut' rather than making a copy of the original file. This ensures that all instances of the activity will be updated along with the original file, helping maintain consistent user experience.
If there are scored components to an H5P activity, then rules and scoring can be chosen via the activity page. You can also set activity completion rules here, determining how learners can pass or fail their activity.
All of which goes to say that Moodle 3.9 really packs a punch when it comes to learner engagement. Having learners directly interact with materials is a proven engagement booster, especially when gamified elements such as scores and badges are introduced. If you're in the process of developing H5P content for your eLearning program, here's our article on H5P: Interactive Video For Blockbusting eLearning Engagement.
Other Features in Moodle 3.9
Badges. The newest version of Moodle LMS now supports Open Badge 2.1, which provides greater shareability and access to a brand new backpack in Badgr.io.
User Tours. You can now set bespoke access dates for managing tour visibility, allowing you to target who should receive walkthroughs to help orientate learners within your course.
Bulk upload custom field. When bulk uploading courses, it's now possible to add custom fields, which are highly useful for tracking your data.
For the full list of new features, bug fixes, and security updates introduced by version 3.9, see Moodle's release notes.
Of course, being an open source LMS, Moodle's features don't end with system updates. Moodle is designed on a modular-basis, making use of the eLearning and programming expertise of its global user base.
Plugins are continually being added to the platform, many of which can add significant value. Here's our post on the top 10 Moodle plugins available for users right now.
Summary
To sum up, Moodle updates are always welcome, but being a major release, version 3.9 helps move the platform forward and align content with learner expectations. Accessibility updates might not be the flashiest changes to the system, but they greatly improve the user experience for learners and educators, erasing those niggling frustrations that can hamper enjoyment when interfacing with training courses.
With the full integration of H5P, Moodle content can now look and feel as professional and luxurious as pricey off-the-shelf materials. By adding interactivity, even if it's simply the ability to manipulate text or drag and drop instructional content, users switch from a passive to active learning mindset, increasing their probability of engagement and retention.
Tired of fighting with your Moodle capabilities? Let us walk you through a solution that brings the benefits of Moodle with eCommerce and Analytics to the table.
How to Check My Moodle Site's Version?
Oh, and if you're wondering whether or not you're already running Moodle 3.9, simply navigate to Site Administration > Notifications, to check your operating version, as well as any pending updates!
Update your solution to a Moodle-based system with eCommerce and Analytics. Check out Lambda Suite.
Looking for more? Our eLearning industry experts have put together everything below to offer you more advice, best-practices, and how-to guides for growing your revenue, ROI, and growing your learning business: