In a recent survey from Towers Watson, several key HR survey results bring to light trending HR transformation plans, goals and progress from 1,048 organizations around the world. Namely, the survey indicated that HR activities are empowering organizations though: smart investment decisions, balancing efforts and managing change effectively. The survey also found that HR technology spending continues to be strong and that HR professionals are continuing to use a variety of data sources to create valuable insights. Let's take a closer look.
Balancing Efforts
In the March 2014 survey, Towers Watson found for the first time ever, that key HR initiatives are striking a balance between people, processes and technology. Respondents indicated that an equal amount of time and focus is being allocated towards rebuilding HR processes/refocusing HR business partners and improving managers/leveraging employee and manager self-service. The survey also uncovered the fact that streamlining HR business processes was the number one HR initiative with talent management coming in at a close second.
HR Technology Spending Continues to be Strong
While some HR functions experienced a tightening of the belt, other areas expanded budgets. Tower Watson strongly attributes this to the fact that HR professionals increasingly understand the importance technology has in driving the effectiveness and efficiency of processes. This is corroborated by the survey which found that HR spending is being allocated towards new technologies such as HR portals, talent management platforms, mobile services and software-as-a-service-systems. An additional trend in HR spending has been investment in HR data and predicative analytics programs. Interestingly enough, nearly 30% of respondents indicated they would transitions to entirely new HR Management Systems.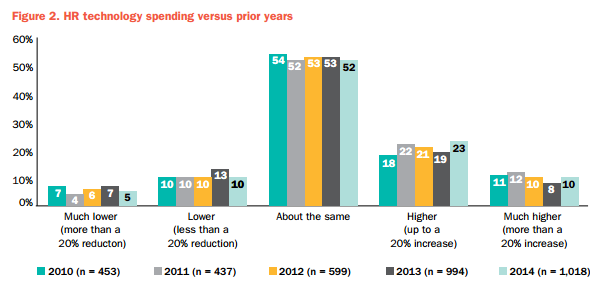 Big Data
Big data continues to be a huge area of strategic advantage for HR departments. One tool that has been particular popular over the past year has been the employee engagement survey. 33% of survey respondents indicated that they use results from employee engagement surveys to influence organizational transformation related to engagement. This compares to 30% of respondents who want be doing more with their data but don't have the knowledge and reporting and analytics tools to do so!

*Images sourced from: Tower Watson's 2014 HR Service Delivery and Technology Survey, Highlights Report — Key Global Findings