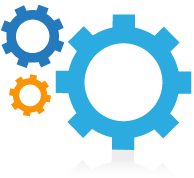 Developing new plugins are part of the way that open source community members share their cool ideas and functionality. They create code that literally plugs-in to the Moodle core. Plugins make the learning experience richer and allow you to do many things the standard version of Moodle does not include. When choosing plugins, keep in mind that they are open source – developed and maintained for free. Not all plugins are equal. Some might have been developed by people who are not experienced Moodlers, or who may not have the resources to maintain the plugin to keep up with new Moodle versions. We've created a list of what we call the gold-plated, "Lambda Solutions Approved" Moodle plugins for you, but you can still choose others to extend the value of your learning technology.
Selecting wisely is especially important when considering plugins vital to making your learning management system work the way you want, since sourcing a replacement may prove difficult and laborious. Imagine, for example, if your webinar plugin simply stopped working after upgrading to the latest version of Moodle--currently Moodle 2.6. As with all things, it is important to do a little due diligence before you choose the next plugin expansion to your LMS. There are many factors to consider when choosing a plugin. Here are some of the major things to check out:
How many times has the Moodle plugin been downloaded?
Check the 'stats' tab on the plugin page on Moodle.org. The configurable reports plugin, for example, has been downloaded 28,756 times. Popular and reliable plugins are more likely to be maintained and updated by the author. Check to see whether the plugin is new. Many quality plugins are continually created and if one is brand new, that may explain lower download numbers.
Which Moodle version does the plugin support?
If plugin authors don't update the plugin for new Moodle releases, it might not work with the latest versions. Generally, if a plugin works with version 2.X onwards there is a high probability it will work with current versions of Moodle. We recommend sticking with plugins that have a consistent track record of keeping up to date with current Moodle version--the Certificate plugin is a great example.
When was the Moodle plugin last updated?
If a plugin has not been recently updated, it may be that the author won't improve it further and in the long run it may stop working completely. If a plugin hasn't been updated for over a year, you can assume that it's not being maintained anymore and there's a good chance it won't continue working for much longer (if it hasn't already broken your site).
Has the author produced any other quality plugins?
Consider the source. This is especially important when you are considering a new Moodle plugin. The lead "author" of a plugin is listed under the main plugin page, under Contributors--also known as Lead Maintainer. Look to see if they have produced other plugins that are popular and well received, chances are that any of their new plugins will be similar in quality.
What are people saying about the Moodle plugin in the comments section?
On the plugin's main page, scroll down to the bottom to take a look at the comments section. There, you'll see if people have problems or suggestions for improvement, they might post a comment. If the author responds to the user feedback, that means he or she is listening and interested in maintaining the plugin and making it more useful for people.
Is the plugin listed on the Moodle Stats page?
Moodle keeps statistics about which plugins have been downloaded most on an annual and bi-monthly basis. While this by itself is not an indicator of plugin quality, at least you know that you'll have plenty of company using the plugin. As a result, the author will be motivated to ensure that it works. You can also get great ideas from this list with regard to new functionality you might consider adding to your Moodle.
These are just some of the ways that you can screen Moodle plugins for yourself. Interested in learning more about the features and functions in certain plugins? Attend our Top 5 Moodle Plugins to Enhance Productivity webinar on January 23 to hear our experts cover plugins best practices.