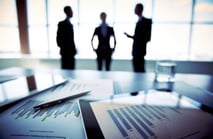 The LMS market is projected to reach $11 billion in worth 2020. With this anticipated growth, corporate training investments are also steadily inclining - there is nearly $4.5 billion being invested in learning management systems for corporate training, as organizations are quick to jump on effective ways to deliver employee training.
There are quantifiable outcomes and benefits to LMS corporate training, related to knowledge retention, learning performance, and organizational success. In fact, 96% of LMS users said their learning management system had either a very positive, or somewhat positive effect on the organization of their training content organization, and their ability to track the progress of their learners. A great number of users also said there was a correlation between their LMS, and increased employee engagement, learning retention, and on-the-job performance.
Top 3 Corporate Training & Learning Trends in 2016
Software Advice, a LMS software reviews website, surveyed about 200 corporate LMS users and found the LMS trends in 2016. Users were asked about their LMS usage, training experience, advantages/challenges/pains they experienced, and future plans to invest in their LMS. Here are some of the key takeaways from the survey data:
96% of users said that their learning management system allowed them to better organize their training, and track the progress of their learners.
68% of LMS users are using blended learning methods to train employees, by mixing self-led education with instructor based training.
Despite the increase in mobile activity, only 9% of users said they access their LMS through a mobile device.
Focussing on some of the specific outcomes of this survey, here are the top three corporate training trends from 2016.
1. Outsourced Cloud Hosting
More than half of users opted for a cloud hosted instance of their learning management system.
Cloud hosted users enjoyed that they had access to their LMS from anywhere, anytime (dependent only on Internet connection). This provides cloud hosted users flexibility to learn and train from anywhere, whether from home, or from the office.
Outsourcing their hosting also freed up their servers, their time, and their own IT teams, relying instead on their vendor to take care of keeping their system running.
When asked why they chose cloud hosting over self-hosting, 69% of users credited the ability to access their system from anywhere, 68% said it was for the quicker implementation time, and 46% said it was because they wouldn't need to depend on their own IT team.
2. Large adoption of blended learning.
68% of users said they have adopted a blended learning approach to employee training. Blended learning has been proven to improve learning performance, because it allows increased flexibility, as it enables anytime anywhere learning. It eliminates the need to attend face-to-face sessions, which allows a further geographical reach. It caters to different learning styles while simultaneously improving their performance. It includes visual, auditory, and written components to encompass all different kinds of learning styles. It also allows the delivery of information to be spread out over time, and through a variety of resources and mediums. Having so many different learning components helps keep learners on their toes, and highly engaged.
3. Desktop Over Mobile
85% of users access their LMS from a desktop, 76% from a laptop, and most surprisingly, only 9% from a smartphone. This percent dropped by 10% since last year. Why such a low percent? We've deduced that users prefer to learn from either a desktop or a laptop, but sometimes mobile learning is their only option. As a last resort, it's understandable why it has such a low use-rate. As well, mobile learning is dependent on organization's making courses adaptable to mobile devices. This means it needs to be responsive to a small screen - fonts and images need to be formatted in a way that make it easy to to digest.
Want to learn more about corporate eLearning? Check out our eBook, Expert Insights into Corporate Learning & Technology. Get insight on topics like Social Learning, Lean Learning, and Smart Tools from seven corporate learning professionals.