Customer's Business: Business Career College (BCC) has been conducting training for the financial services industry since 1997 and focuses on financial and insurance certification.
Opportunity: To have a reliable, scalable LMS running 24/7 to provide students more online tools for learning, and robust reporting capabilities.
Solution: Moodle Professional Cloud Bundle with Lambda Analytics (5,000 Users)
Results: Adopting the hosted Moodle solution provides reliable support, secure updates and backups in case of an emergency. BCC runs approximately 400 reports per month with Lambda Analytics—providing valuable insights for helping students be more successful with their training and flagging when to issue certificates of completion.
About Business Career College (BCC)
Business Career College conducts training in several centres across Canada, supporting students in their efforts to achieve success in the financial services industry. Business Career College works with more than 300 companies to help them bring new people into the financial services industry. The college focuses on providing individualized solutions for all of its partners.
In June of 2007, the corporation opened a campus in Calgary and in 2009 began to offer programs in Vancouver and Toronto. The college has full and part-time instructors in various locations across the country and offers web-based instruction. BCC takes pride in its ability to be "always open" and deliver a variety of programs in locations right across Canada and via the internet, to enable students to learn when and how they want.
The Challenge
BCC needed an online learning solution and adopted the Moodle LMS. But with no IT or programming expertise, they decided that they needed to move to a third party provider to help manage the system.
Reporting and analytics was also an issue as BCC did not have personnel skilled to be able to generate reports on their own, nor the proper tools. Now that BCC has their online portal live, these functions are critical in order to deliver training that leads to helping its students achieve the necessary training and certifications in order to work in the finance and insurance industries.
300+ COMPANIES
60+ COURSES
The Solution
By switching to a hosted Moodle solution that includes Lambda Analytics, BCC provides a convenient way for people to get training for careers in the financial industry and obtain necessary training for certifications and recertifications. BCC's online learning portal offers its thousands of students' easy access, 24/7 live support chat, and online courses and exams. BCC staff include managers, as well as operations, software development and marketing personnel.
Being able to monitor the more than 60 courses offered and analyze learner activity is even more crucial now and helps the BCC team gain valuable insight to make students more successful with their training.
For students entering the field of finance and insurance, obtaining current certifications in these highly regulated industries is crucial. BCC has created the LLQP Exam Progress Report using Lambda Analytics which shows the grades of learners for major quizzes they have recently completed. This helps administrators to issue certificates of completion, which are needed for students to demonstrate mandatory competencies and accreditation.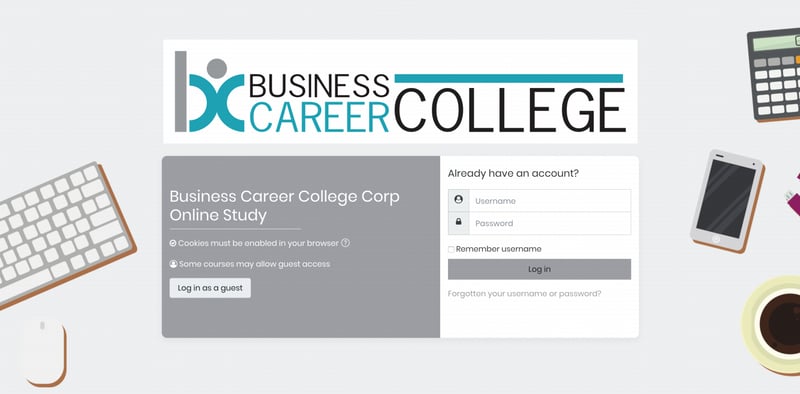 Results

1. Achieved:
24/7 Operations

BCC achieved their goal of having a reliable, scalable LMS running 24/7 and providing students more online tools for learning.

2. Optimized: Reporting

BCC has substantially increased their usage generating reports with Lambda Analytics to over 400 reports per month.

3. Support:
10 out of 10

BCC has found Lambda's support team to be extremely helpful in implementing the solution, and getting and keeping the learning platform up and running smoothly.
"My experience with Lambda has always been great. The greatest thing I personally like about them is the quick response time to all support questions. No matter the importance of the question or concern, my queries are always answered quite quickly. Everything is also managed very securely such as always making sure Moodle has the most secure update and providing backups in case of emergency. These provide a very secure and easy to use service that has been valuable." - Anthony Summers, Developer, Business Career College Corporation