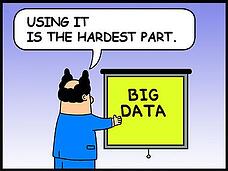 Your integrated open talent platform (that's your LMS plugged in to your HRMS, ERP, and/or CRM systems) is collecting lots of data—big data—on your workforce.
Are you using it? You should be. Your data can be harnessed to make better decisions, foresee risks, and identify opportunities when it comes to building and managing your workforce for success.
Here are some of the ways big data can help you:
Big data for hiring, training, and retention
Human capital is expensive, but vacancies even more so. Succession planning—identifying future leaders and other internal hires—can help mitigate the cost of vacant roles and bad hires. According to the CEB's 2012 Talent Report, less than 8% of the population possess leadership potential and less than 6% 'true innovator' potential.
Using the skills assessment data from the training program component of your talent management platform, you can identify those individuals with leadership capabilities or other special talents. Maybe you'll fast-track them into appropriate professional or leadership development programs, or encourage their managers to help them build their skills for future promotion. Nurturing talent not only helps you with succession planning, but it also helps you engage—and retain—your most valuable employees.
Your data can also help you halt and reverse bad trends. Does one particular division stand out for its high rate of turnover? Would better onboarding help stem the tide of losses? Perhaps the dataset from one particular region shows a technical skillset is lacking locally, and could benefit from a targeted training module? Or even bringing in foreign, more-appropriately skilled workers? Your data can help you both identify problem areas, and help you monitor the effectiveness of attempted solutions.
Managing differences and creating more effective engagement with big data
We've all heard about the differences between boomers and millenials, and how those differences play out in the workplace. According to the CEB report, 65% of boomers say they would be willing to stay with the same employer throughout their working lives—but only 20% of millenials say the same. Clearly, one-size-fits-all will not work for workforce engagement strategies.
Your data can help you offer the right opportunities, incentives and fixes. Employee satisfaction surveys, demographic data, and skills assessments can be cross-referenced to ensure generational, role-type, personality, or other differences are taken into account when communicating with, encouraging, and rewarding different types of workers. You might offer a workplace health program to people with more frequent use of sick days, or provide elective employer pension contributions to workers with a personality profile that tends to be risk-averse. This type of customized engagement will help build loyalty.
One of the key benefits of an integrated talent management platform is the ability to collect, compare, cross-reference, and merge datasets relating to your valuable human capital. But your data is only as valuable as you make it, so put it to use—the more you understand your workforce, the more control you can leverage over its success.
If cost is also a big issue when it comes to implementing a talent management software, you'll want to attend our webinar on April 30th to find out how to reduce learning management costs.