Originally published on April 26, 2016. Last updated on April 28, 2020.


eLearning success comes in many forms, and more often than not, you won't be dealing with a dollar for dollar return. So when management wants to know whether investments have been worth the costs, it's important to be able to show the value of your eLearning program. Here, we lay out the four levels of eLearning ROI: engagement, retention, culture, and minimized exposure.


ROI Level 1: Engagement
Measuring the impact of outcomes
Engrossed learners are learners maximizing their potential, so content that engages should be considered a worthy marker of ROI. Of course, what makes something engaging is subjective, but engagement itself can be tracked. A good learner analytics engine such as Lambda Suite's analytics solution lets educators build out dashboards to visually illustrate metrics like time-spent learning, course feedback and course completion.
Beyond the data, measuring engagement is a qualitative process. Learner surveys and opportunities for feedback are good for finding out how users feel their training is going. Often, the most valuable insights are gained from asking specific, yet open-ended questions. For example, asking How does this training apply to your job? Could reveal areas currently neglected by your content. Asking Which aspects of training did you find most/least beneficial? Is likely to help narrow things down for your L&D team.
ROI Level 2: Retention
Measuring increases in efficiency and performance
A second marker of eLearning ROI is whether training sticks. If skills within your team are being improved as a direct and long-term effect of internal training, it's hard to argue your eLearning program isn't providing good value.
Measuring this ROI level can be achieved by looking beyond training, to real performance markers, as well as through gradated testing—before, straight after, and at a longer period after training is complete. This process doesn't only indicate if learners have absorbed your content; according to some educational strategists, it also boosts retention rates.
Educators who believe in the value of Sticky Learning use strategic content repetition to hack the brain's natural forgetting curve, transferring content from the short to long term memory. For more on the concept of sticky learning, try this webinar: The Sticky Learning Knowledge Boosters Your eLearning Needs.
ROI Level 3: Culture
Measuring changes in attitude and compliance with organizational goals
As levels of ROI move further away from your training program and into the wider organization, it becomes relevant to ask how employees are applying their newfound skills. Have there been noticeable changes to processes or outcomes—and are changes to workplace culture translating into increased productivity?
This is a crucial marker of returns. The first two content-focused levels of eLearning ROI (Engagement and Retention) don't mean much if the results aren't converted into tangible behaviour changes. Attempting to measure culture shifts is therefore important, but not easy. Many HR departments look to accomplish this through qualitative interviews, but it's best to complement subjective observations with definable metrics like incentive scheme usage or employee retention rates.
ROI Level 4: Minimized exposure
Measuring decreases in regulation or rule violations
The final level of eLearning ROI is the impact your training has on overall business outcomes—for instance, did safety training coincide with a decrease in safety violations?
These are measures typically collected by the wider business, based on bottom-line figures, vulnerabilities, or compliance needs. However, the relationship between eLearning and end-level ROI means educators still need a voice in deciding what those key performance indicators should be. The challenge here is in agreeing on expectations for your training—what exactly is your organization hoping an eLearning program can achieve?
We also conducted a survey on eLearning's biggest challenges. Download this white paper which identifies and shows you how to overcome the most common challenges eLearning providers face, and answers the question: how to get the most from your budget while increasing eLearning ROI?
To summarize the four levels of ROI in eLearning...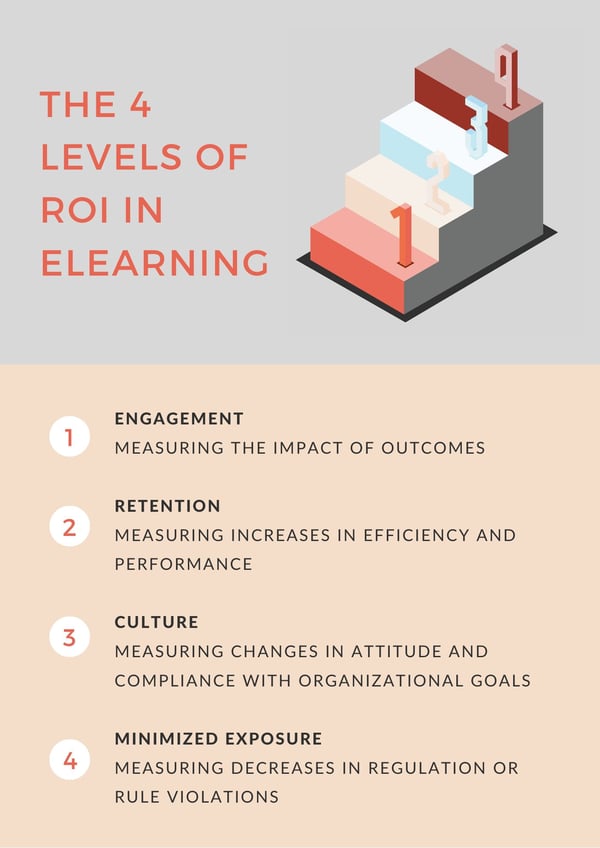 Other Resources you might be interested in: