Whether already running your training through an LMS, or considering the benefits of integrating a learning management system into your organization, there is one expectation everybody shares - that using an LMS will increase your return on investment (ROI).
The good news is that, for the majority of users, this is true! The slightly more complex reality is that getting the best value from your LMS requires knowing exactly where your platform is performing to expectations, and where your team can focus their attention to better meet organizational needs.
So how do you utilize LMS tools to understand more about your ROI metrics? This post breaks down five core elements: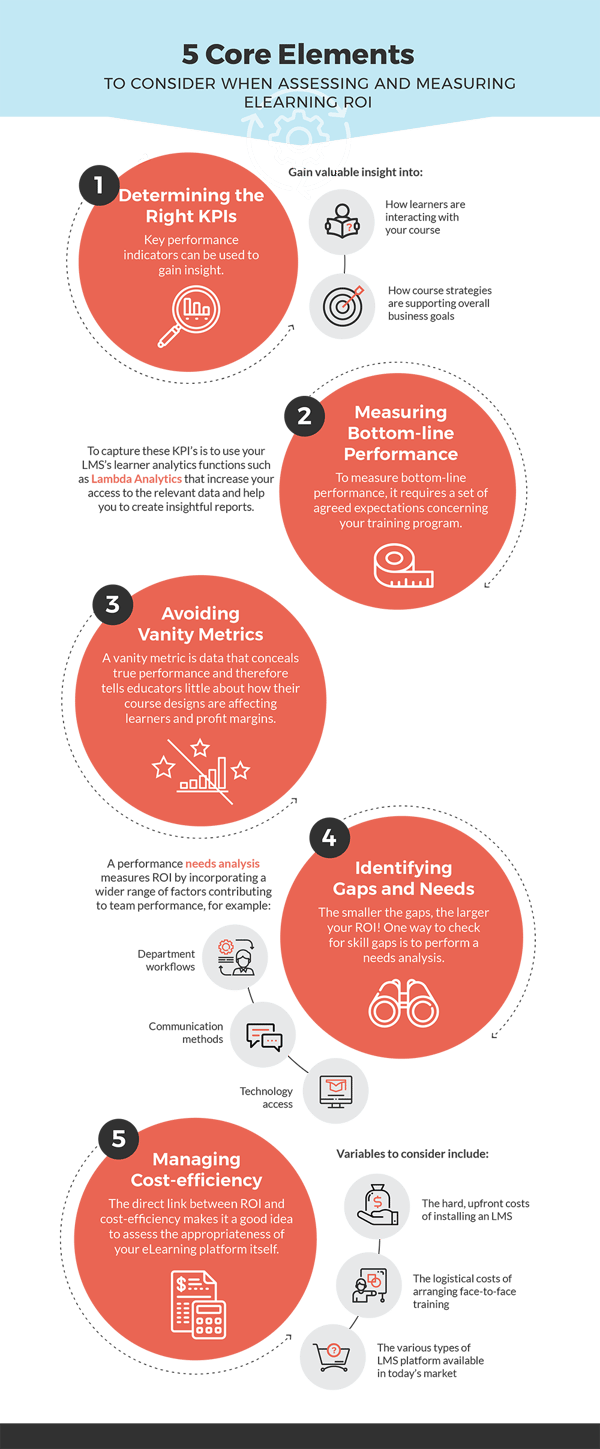 1. Determining the Right KPIs
Key performance indicators are the basic components of your LMS ROI metrics. They can be used to gain insight into how learners are interacting with your course, as well as how course strategies are supporting overall business goals.
One of the most important factors to bear in mind when measuring eLearning performance is learning engagement. The more learners immerse themselves, the more value they are likely to derive from your content, and the more beneficial that content becomes for the entire class. Metrics that reveal engagement often relate to activity data, and include how often the average learner is online, the depth of their interactions, and how long they spend studying.
2. Measuring Bottom-line Performance
Next to learner engagement, there's little more relevant to ROI than knowing how your program is contributing to company success. However, the indirect relationship between training and overall revenue means measuring bottom-line performance through an LMS is slightly more complex than other KPIs.
Often, it requires a set of agreed expectations concerning your training program. Indicators can then be established depending on the specifics of what you'd like to achieve. For example, do any changes in team-satisfaction surveys correlate with changes to your eLearning? Or has an addition to your training resulted in business goals being achieved more frequently, more quickly, or with more consistency?
The best way to capture these KPI's is to use your LMS's learner analytics functions. Installing reporting software such as Lambda Analytics will increase your access to the relevant data and help you to create insightful reports. For more information on how to assess ROI for online learning through KPIs, download this white paper:
3. Avoiding Vanity Metrics
Vanity metrics might look good on pitch decks, but they do little for giving companies a true indication of ROI. A vanity metric is the opposite of a KPI - data that conceals true performance and therefore tells educators little about how their course designs are affecting learners and profit margins.
For example, ranking social media profiles in terms of followers might deliver one picture of an industry landscape, while ranking by interactions is likely to result in a different, and more accurate, result. The same general concept can be applied to eLearning data.
For more information on how to sort useful from vanity metrics, take a look at this post:
4. Identifying Gaps and Needs
Designing corporate training is often about finding gaps between company goals and team performance, and devising solutions that close those gaps. The smaller the gaps, the larger your ROI! One way to check for skill gaps is to perform a needs analysis. These set ideal criteria for your team, then measure performance against that standard.
Similarly, a performance needs analysis (PNA) measures ROI by incorporating a wider range of factors contributing to team performance. These might include department workflows, communication methods, or technology access.
The results of a PNA can help course designers pick the best training methods to match performance needs. This white paper details the different decisions that might occur during this process - Assessing Return on Investment (ROI) of a LMS.
5. Managing Cost-efficiency
Finally, the direct link between ROI and cost-efficiency makes it a good idea to assess the appropriateness of your eLearning platform itself. Variables to consider include the hard, upfront costs of installing an LMS, the logistical costs of arranging face-to-face training, and the various types of LMS platform available in today's market.
For a significant investment, proprietary learning management systems offer an external support team to maintain and upgrade your eLearning tech. Open-source LMS vendors, on the other hand, offer individualized control through freely distributed software. Choosing the right model to ensure ROI involves understanding the current capabilities of your team.
Is in-house expertise on hand to manage the integration and ongoing development of your LMS? Then working with an open-source model is likely to be the most cost-effective option.
Now you know the 5 core elements to consider when assessing your eLearning ROI, for a series of next steps to help leverage value from your chosen learning or training platform, download this white paper:
Whether you're looking for the ROI metrics of your Learning Management System and need an industry-leading learning analytics solution, or require any other eLearning solutions for selling online training courses (eCommerce), we have the expertise to help you reach your goals.



Contact us today. We'd love to help you create a better way to learn!
Other resources you might be interested in: