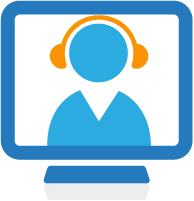 In this part three of our three part series on LMS ROI, we look compare webinar-based training vs. a LMS and look at the costs and effectiveness of each. To get around the costs of face-to-face training, maybe you are using audio conferencing and or webinars. If you are using conferencing software to draw your learners together, the ROI equation changes again. By choosing an online delivery method, you have already reduced costs in terms of travel, accommodations, and venue. In addition, most webinar-based training sessions are recorded and people can "attend" by watching the recording anytime. The cost to host a webinar is relatively low, with services accommodating 100+ participants for a monthly fee anywhere between $50 and $100 – depending on the features you are looking for.
Over time, though, companies have come to view webinars as good for demonstrations, introductory purposes, or in-depth discussions on a topic within a broader course of study. As a replacement for quick 'lunch and learn' kinds of training, or for demonstrating how to use software, webinars are great. But for longer courses, where there is lots of material and the learner needs to engage for longer than an hour to reach proficiency, a webinar is not your best bet. After all, who is going to sit online for two days to participate in a live webinar in order to absorb all the material in a longer course?
For more in-depth courses, an online system leaves the bulk of the learning to students who can access the system any time, and progress through a course at their own speed. Learning management systems are designed to enroll learners into courses, manage the presentation of course materials, and track progress. The administrative functions that an LMS handles are more sophisticated than webinar communications systems – offering compliance tracking and certification as well as human resources functionality such as performance management and 360 review programs built right in to the application.
In short, webinar / conferencing-based learning:
Supports collaboration
Are event-driven instead of course-driven
Assessments are separate activities, not part of a specific unit of a course
Performance is tracked manually using instructor grade book data
As supplements to online courseware, webinars are an excellent way to bring people together, stimulate discussion and present visual information. While it is often appropriate to include webinars in a course as a means to discuss topics, comparing webinar-based training with online learning through an LMS is comparing apples to oranges. They are inter-related, but achieve different goals.