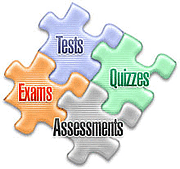 There is a variety of cost savings when moving training to online environments, and the largest may be assessment of learning. Having quizzes that automatically grade and record the learners' answers and outcome saves time – and saves money. The quizzing functionality in both Moodle and Totara are incredibly powerful. Here are some key points to getting value out of the 'quizzing' feature:
Quizzing doesn't need to be saved until the end of the course - nor should it be. Building on key concepts is critical in more complex systems, and validating knowledge acquisition early on builds learner engagement. You can have mini-quizzes throughout the training, and use conditional activities to ensure your learner can not move forward until they pass a portion of your training to your satisfaction. Those questions can easily be used again in other quizzes – to make sure your learners get it early, and remember it. This reinforces their training and maximizes your investment.
You can create questions of a variety of types. Many trainers rely on multiple choice questions to automate grading. Moodle and Totara easily provide multiple choice questions, but also provide a variety of other types of graded question types, such as matching questions and answers, calculated answers, inline answers. Other types of question can be added through free plugins to ensure your training needs are captured. One of our favorite question types is the drag and drop markers (see sample picture below) which allows learners to label a diagram. You'll love it to when those complex diagrams are marked automatically for you.
Feedback should be based on performance. Moodle and Totara make it easy to automate feedback for a variety of situations. Quiz feedback can be shown after a quiz has been attempted. By specifying additional grade boundaries (as a percentage or as a number), the text shown can depend on the grade obtained. You can even provide feedback after each question as they answer, and force them to retry the question until they get it right or provide hints to guide their learning.
You can make cheating on quizzes a thing of the past. Of course, your learners would never try to take a shortcut around completing a quiz. And you can make it impossible for them to do so, just in case. You can scramble the question order. You can have each learner's quiz be a set of questions pulled from a larger question bank. And with Lambda Solutions' Mobile Identity Verification plugin, you can authenticate your learner's identity via SMS, Voice, ID scanner or face match. You can be comfortable knowing your exam is being taken by your learner, on your terms.
Automating your assessments through online quizzing is an easy way to reduce your training costs. Learn more ways to save money through using our learning programs as part of our free webinar on April 30th, "5 Ways to Reduce eLearning and Corporate Training Costs."