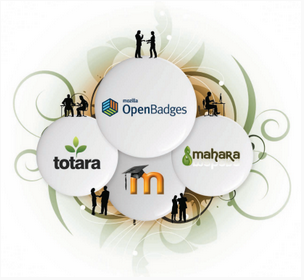 As we were outlining how the new features of Moodle 2.5 improve the user experience, we touched on the game-changing possibilities of Open Badges. This feature in particular could have huge ramifications for how we learn and how we put that learning to use when pursuing our developing our careers.
Our official partner, Totara LMS (like Moodle for corporate training), recently released a white paper, Open Badges: A Catalyst for New Learning Design, outlining the big-picture potential for finally matching learning paths with educational outcomes and ideal vocational results:
What if employers didn't care whether applicants held a diploma or degree but instead asked what "badges" they had earned? Mozilla's Open Badges project aims to provide a technically smart, web savvy, open access framework whereby any organization can offer tangible recognition to learners who demonstrate achievement in a given competency whether that be a soft or hard skill.
The badges can be described as "web savvy" - they are digital indicators of achievement with important machine-readable data embedded, including the capability to be verified and even cancelled by the issuing organization. Employers can easily access the bigger picture behind learner's skills and achievements.
The potential for converting open badges from bleeding-edge innovation to market-changing technology disruptor is clear, given its backers and mix of early users, from Disney-Pixar to NASA and more than 600 other organizations that are already designing badges that are being used right now. Totara Learning Solutions is a leader in this sector developing a badge-issuing and management system for both Moodle and Totara Learning Management Systems (LMS).
We talked to Totara Vice President Willem Boom about this big potential. "Open badges are a new kind of tool that's been well-received in terms of folks trying to get visual recognition for achievements, abilities and skills," he explains. "If I'm a programmer with C++ coding experience or I've got project management skills from university, now I can have a visual representation of what that skill is. We developed this for Totara 2.4 but we're pleased to see so much buzz around this for the Moodle 2.5 release."
Open badges are not a result of programmers throwing ideas at a wall of eLearning students and seeing what sticks, but was inspired quite a bit by the demand of HR departments looking for a solution to a gap between competencies and organizational requirements.
"HR departments are looking for a framework that gives the ability to take areas of a proficiency and map that into what new recruits or present employees are learning, whether those skills are big picture like 'leading a sales team' or something finer-scale like 'using Microsoft Excel'. The other side of it is that when we issue the badge based on a skill or degree, the badge will have data showing authenticity; in other words, if you've got the badge, you really did demonstrate this proficiency."
One of the biggest advantages of Open Badges is indicated in its name: "Open" – as in, open-source.
"Mozilla enables the production of open badges to be more systematic and regulated – and that's a good example of how open source works," Willem says. "A badge determines how companies allowed to show a particular skill. That's important to have a formalized concept there so it can be widely adopted."
· Contact us to learn more about Moodle 2.5's features including open badges