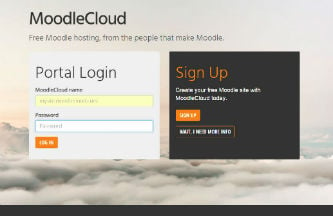 Calling all educators! MoodleCloud was designed specifically to help educators that are looking for small installations of Moodle. Intended for teachers who are looking to implement online learning to 50 users or less, MoodleCloud provides a free Moodle Hosting site for those who are working with no budget.
Database size is unlimited for text pages, posts and activities, and file storage will max at 200 MB, meaning that you may run into a file or course upload errors once you hit a certain point. MoodleCloud also comes with the standard core Moodle theme and a few standard plugins like BigBlueButton for video conferencing. You also have access to the Moodle Blog Plugin, Moodle Forums and Moodle Questionbank and Basic Moodle Reports.
Everything you need for online learning is now at your fingertips with Moodle. Moodle has made it super easy to create your own account in a 5 step registration and authentication process. While this free Moodle Hosting option is great for single classrooms or those who want to play around and test some of Moodle's functionality, it is not a good fit for everyone.
Is Free Moodle Hosting via MoodleCloud for Me?
MoodleCloud may NOT be the best option for you if you require any of the following:
More than 50 users

More than 3-4 courses

Seamless, interactive and dynamic courses (PowerPoint or Adobe Captivate)

Specialized reporting and analytics on course and student progress

Installation of 3rd party plugins to extend the functionality

Moodle Training and Support

Moodle site branding, customization or theme design

Extensive course libraries

A branded login page welcoming users

Built-in survey and course feedback features

An ad-free Moodle site


If you are looking for the above, there are other options for your Moodle site. Do you want to learn more about Moodle to see if it's the right LMS for you?