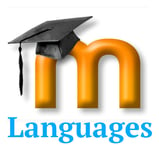 Questions about Moodle's language capabilities are ones that we get often here at Lambda. The multi-language capabilities in Moodle can be used to teach new languages, or support students with different language backgrounds. We know there are resources out there, but we thought we would put together a quick list of the top 6 things we think you should know about the out-of-the-box language capabiltiies available in Moodle!
Your standard Moodle instance will automatically come in English, but Moodle has more than 100 built-in language packs that administrators can install on their Moodle site if they wish (Access through Site Administration > Language > Language Packs). Moodle supports the display of both Latin and non-Latin character sets (e.g. Chinese, Arabic). All languages are listed there for you - just select the one you need and click "Install selected language pack." Language packs are developed and maintained by various members of the Moodle community and Moodle partners.
Language files for modules, blocks, and plugins are stored within each individual plugin (e.g. blocks/badges/lang or mod/workshop/lang), so for developers to change language phrases, it must be done from within each one. This is a common approach taken if there are new features or languages being added - however, there is an easier way to customize the language being used right from within the Moodle interface (in other words, no coding needed). To edit the language packs, navigate to Site Administration> Language > Language Customization, where you will be able to select the language pack you want to edit and proceed through the steps to change phrases. More information on this can be found

here

.
If you need to install multiple language packs, navigate to Site Administration > Language > Language Packs, and simply hold down the Ctrl key (or the Apple key if you're on a Mac) while clicking on the language packs. Installing multiple language packs will not slow down your Moodle - in fact, you can install more than 20 language packs and it will have almost 0 impacts on the performance of your Moodle. You can easily uninstall multiple language packs by clicking the button that says "Uninstall selected language packs."
The easiest way to install additional language apps is straight out of Moodle, but you also have the option of installing them manually by downloading the zip file from the language packs available for Moodle 3.0, and unzipping it to a directory called "lang" in your "moodledata" directory.
If users want to customize their individual language preferences in Moodle, they can do this through the "Preferences" in the top right user menu.
Teachers or Moodle admin also have the option to enforce the language setting in their course by going to Course Administration> Edit Settings > Appearance > Force Language.
Want to learn more about Moodle's features and capabilities? Check out The Complete Moodle User Guide, where we go through the most frequently asked Moodle questions! Broken into 3 chapters, we cover an introduction to Moodle, how to set up Moodle, and advanced Moodle features.