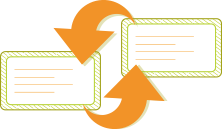 Many enterprise-level companies run a Learning Management System (LMS) along with other enterprise systems, including human resources management systems (HRMSs). A business objective which we often help clients with is the need to take information from one system and import it into another - without any manual intervention. Many corporations have a (HRMS) as well as a Learning Management System (LMS). As companies expand to Enterprise-level, it becomes critical that information from the HRMS can be linked with an LMS. For example, human resource professionals want to extract information about learning progress, grades, competencies and certifications from their LMS and upload to the HRMS. Although the integration process can be somewhat complex, we wanted to provide you with quick overview so you have an idea of the different steps.
1) Discovery: Define your needs
Our analysts will work with you to define your specific needs. Would you like staff added to the HRM to automatically be added to the LMS? Does grade information need to move from the LMS to the HRM? How often do they systems sync?
Not sure? Don't worry, we can provide you with the right kind of integration methodology and the best solutions for your needs.
2) Method: Choosing the right process
Once we have the ideal flow, we can decide on the method of integration. Using conventional flat files is a proven method and takes less programming time. Web services require more programming, but have the advantage of offering a real-time or near real-time option. Identifying errors in flat files is more difficult and the process has to be manual, so it is typically used if there is no requirement for real time bi-directional communication and there are limited IT resources.
3) Development: Connecting the systems
This process requires our teams to work together to ensure your HRM application interface is prepared to accept and transfer data. Once we have a working system, we test each workflow to ensure they all work as designed.
4) Go live date: Test and Train
Before the Go Live date, we'll ensure your users are fully trained on the system. Once tested and ready for deployment, web services are activated on live site and the integration/synchronization is active.
For most clients, the process takes between three to six weeks start to finish—depending on integration method and number of integrations between the systems. We have experience integrating with different CRM, HRM and student management systems, such as Saba, and Workday, just to name a couple.
Ready to get the most out of your training program? Contact our integration's experts to get started.