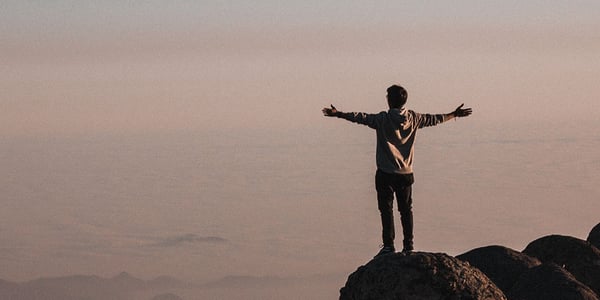 For any business or organization, knowing that investments made to improve the workplace are benefiting its success is important. For that reason, you should want to track return on investment (ROI) for training programs, particularly educational ones such as compliance training.
The question for most businesses or organizations is not whether measuring compliance training ROI is a good idea, it's how compliance education ROI can be measured. Measuring the ROI of compliance training may seem nebulous, but it can be calculated for eLearning and compliance training programs if you take the correct steps.
Discover how to do exactly that with our free eBook: How To Make Compliance A Competitive Advantage.

Understanding ROI in the context of eLearning and compliance training
ROI is difficult to calculate, to begin with, much less hyper-accurately. Calculating eLearning ROI can also be needlessly expensive, ironically taking funds from the very assets for which it's being calculated. When evaluating a compliance training program, your first priority should be to find an easy and intuitive way to figure out a general ROI. All you need to know is whether the training program is cost-justified, so getting needlessly bogged down in specifics and numbers will only hurt your business or organization in the long run.
Aim to calculate ROI in two ways: trainee surveys and learner data. Getting opinions from trainees will let you know what impact the employees feel that training is having on their performance in the workplace. Gathering learner data allows you to cross-reference employee opinions to see whether the numbers back the feelings.
One of the best tools on the market for collecting, analyzing, and sharing learning data is the award-winning Lambda Analytics, which you can try out for free!
One of the most important facets of calculating the ROI of a compliance training program is to do it consistently as the program is used. Conduct consistent trainee surveys, say every two to four weeks, to have a constant understanding of how learners view their education.
Similarly, require that educators consistently collect and summarize learner data for you. If you just understand the ROI you're getting for training programs once they've concluded, you'll have no idea how optimized your procedures could be. By always understanding the ROI, you can iterate and improve training programs as they're running, steadily increasing ROI, learner engagement and the training's efficacy.
Using an LMS to improve the ROI of compliance training
One of the most reliable ways to improve the ROI you get out of compliance training is by using a learning management system (LMS) to administer the training.
We have two informative on-demand webinars you can access for free that cover the benefits of establishing compliance training in your LMS of choice:

A major advantage of an LMS is that it is capable of collecting extremely granular learner data. Using an xAPI data analysis tool such as Lambda Analytics allows you to gain a comprehensive and accurate overview of how effective eLearning is. Learner data can also be compared year-to-year, allowing you to ensure that iterations of the training programs are increasingly effective. In addition, worker performance can be compared year-to-year to evaluate whether your workforce also is becoming increasingly effective.
With the right tools and know-how, you can use your LMS to improve the return your compliance and training investment. Discover how to do exactly that with our free eBook: How To Make Compliance A Competitive Advantage.

Whether you're looking to improve the ROI of your compliance training with your Learning Management System, are looking to optimize your LMS and eLearning programs with learning analytics, or need any other integrated eLearning solutions, we have the expertise to help you reach your goals.
Contact us today, we'd love to help you create a better way to learn!
Related Blog Posts: