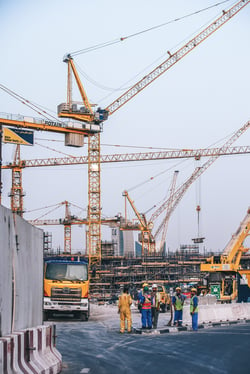 Compliance. A scary word that implies a prime risk for companies and that managers take very seriously. Current compliance environments in almost every industry are increasingly more onerous and complex, and are continuously shifting—particularly in highly regulated industries like finance, insurance, healthcare and oil and gas. Executives struggle to interpret regulations and turn them into business practices that meet requirements.
In an ironic twist, the very systems put in place to make workplaces safer and less prone to error, have become the biggest source of corporate risk. The stakes are higher too—accrediting bodies and enforcement agencies are wielding their power and imposing stiffer penalties.
Small to mid-sized companies simply don't have the resources to hire full time compliance officers, or buy and implement governance, risk and compliance software suites. However, they do usually have training programs to ensure employees understand how to be compliant with the regulations pertinent to their industry.
Using LMS for Competitive Advantage
The right Learning Management System and reporting solution can help executives manage the mine field of compliance. By training workers for legislated regulations it's workers must meet, they get the added benefit of aligning individual employee performance with corporate strategy—producing a serious competitive advantage.
The ideal system combines online learning with talent management so that compliance training can be linked directly to employee performance. A good talent management system monitors and assesses each individual's existing credentials and any progress toward new ones. This reduces the risk of non-compliance by monitoring training levels and maintaining accurate records as evidence of compliance. Alerts can be set to let managers and workers know when credentials require renewal. The system will show employees exactly which courses they need to take in order to keep their status, allowing them to obtain permission and register in the course they need all from one interface.
Competence vs Compliance
And what does competency have to do with it? Actually, everything. Ensuring your organization is covered in all areas of compliance, starts with monitoring the competency levels of your team and building training programs to fill gaps and fulfill compliance obligations.
Why Compliance Training
→ Who are the staff with the right training for this job?
→ How do I get staff the right training for this job?
These two burning questions are constantly in the minds of managers and administrators. Take forest management for example. In the province of British Columbia, the BC Wildfire Service employs seasonal personnel each year including firefighters, dispatchers and other seasonal positions. Almost 64% of the province, about 149 million acres, is forested. So when a forest fire starts, personnel are immediately deployed to quell furious flames that can spread in seconds and have devastating consequences. All workers, before being allowed to work on a forest fire site, must prove that they have the basic S100 certification that requires a mandatory annual recertification. Or they must go online, take the course and get certified before being accepted for work.
Or, in the world of a food processing company, managers must ensure that it's staff are highly trained and that legislated safety standards and practices are adhered to by its workers throughout the entire supply chain. Casinos also can't afford to gamble on not meeting strict compliance regulations similar to those imposed on banks that help monitor, detect and report on potentially illicit financial activity.
An effective compliance training program:
Avoids violations by employees that could lead to legal liability for the organization
Creates a more hospitable and respectful workplace
Adds business value and a competitive advantage
Upping Your Competitive Game
Aside from concerns stated above that effective compliance training addresses, let's not forget about how it can add tremendous business value. Going back to the casino example, massive amounts of revenue are generated daily in a casino and being in compliance is literally like a license to print money. In fact, the American Gaming Association estimates that there are over 1,000 casinos (commercial and tribal) and card clubs operating in the U.S. generating over $60 billion in revenue, so the stakes are high.
On the other end of this spectrum, not meeting legislated compliance can seriously damage a business. Take for example a popular restaurant chain with locations throughout the country. Restaurants undergo frequent and ongoing safe food handling and cleanliness inspections (often with no notice) and if they are found to not be in compliance, risk being fined. Or worse, ordered to shut down operations until deficiencies are met. Loss of revenue is only one aspect of risk for that restaurant chain. What about the PR disaster if word got out that the restaurant's food isn't safe to consume? Consumers will simply choose another establishment to spend their hard-earned dollars in, could post negative online reviews that last into eternity and may take a long time (or never) to regain their confidence in the restaurant and return.
Compliance Training
Compliance Training is the process of educating employees on laws, regulations and company policies that apply to their day-to-day job responsibilities.
According to an ADP Research Institute survey, 30% of mid-sized companies surveyed reported expenses, including fines, lawsuits or penalties, due to noncompliance with basic government workforce and payroll regulations alone.
Challenges with Compliance Training
Why do so many companies struggle with compliance training? First of all, this type of training is compulsory and is designed to be as efficient as possible. Make it quick, cheap and be as non-disruptive as possible. It immediately puts people on the defensive with its guilty-until-proven innocent approach and breeds a resentment mentality.
Learners become resistant to the material if it is not immediately applicable to their work. Ticking boxes is boring and they would rather be engaged and working on solving problems through teamwork, dialogue, debate and reflection. To make matters worse, most compliance training involves testing and requires a certain grade to be achieved—a major stress factor that takes people back to their old school days. Add to this the potential dire consequences of not meeting standards. If desired outcomes are not reached within certain timeframes, employees may even be at risk of not being able to continue, or be allowed, to do their jobs.

Stepping Up Your Compliance Training Game
Compliance training doesn't have to be at the bottom of the eLearning barrel. Follow this checklist to ensure your employees have a more positive experience and are fully invested in the programs:
Positioning
Provide rationale for the training. Right up front remove the "Why the heck am I here?" questions in learners' minds. Change the attitude of resentment.
Presentation
Present the policies and procedures, clearly and simply, and in the most engaging ways possible. Use interactivity, graphics and other elements in your instructional design that hold the interest and attention of your learners.
Control
Many companies have discovered that giving employees some element of control over mandatory compliance training increases employee engagement and satisfaction with the training.
Real World Examples
Make it real by aligning the training with work examples that employees can relate to.
Safe Environment
Allow ample opportunity for practice, safe from danger and the risk of embarrassment. Use simulations and scenarios that relate to employee's jobs.
Support
Support learners in applying what they have learned on the job through a variety of ways including coaching or supplementing reference information available on demand.
Provide Rewards
Managers need to "walk-the-walk" and reinforce the new behaviours by modelling skills themselves and providing rewards through a performance management system.
For further learning, reinforce the concepts in this post by reviewing our webinar, How to Make Compliance Programs Simple Yet Effective.
In our next blog, Compliance & Competency Training: How To Create an LMS Framework for Both (Part 2), we'll discuss various types of competencies and how to set up a framework within your LMS to set up a system for training. This system links back to compliance obligations within your organization and identifies knowledge gaps that need to be addressed with online training.
This part one article is a summary of "How to Make Compliance Programs Simple Yet Effective", a webinar led by our Manager of Learning & Development, Erin Melvin.