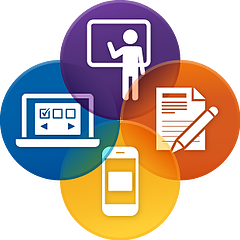 The Face-to-face plugin for Moodle makes it easy to incorporate blended learning into your eLearning courses. Today's learners—whether in corporate or education institutions—desire the flexibility to learn in ways that resonate best. We frequently hear how older generations want face-to-face training and how younger generations want a combination of in-person and online. Blended learning makes this possible and it is extremely effective. In a study with over 30,000 students, blended learning allowed students to achieve 25% more than their non-blended learning counterparts.
Due to the success of a blended learning approach, clients often ask us how to utilize Moodle and Totara to achieve this strategy. Today we will walk you through the benefits of using Totara and Moodle's Face-to-face plugin for scheduling in-person training or lectures directly in your LMS. With a proper understanding of how this plugin works, you will be able to allow learners to register for face-to-face sessions directly from their online course material. Better yet, administrators will leave understanding a streamlined approach for course registration and management. For a comprehensive guide to Moodle plugins for blended learning we also recommend reading this guide.
The Face-to-face Plugin from a Learner's Perspective
Depending on the style of your course or training session, the Face-to-face Plugin allows you to either embed sign-up options directly in power point or within your course page. When presenting the in-class session to users, you have the option to provide all available sessions to learners or alternatively, only the sessions they are eligible for.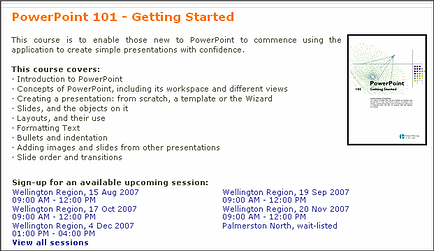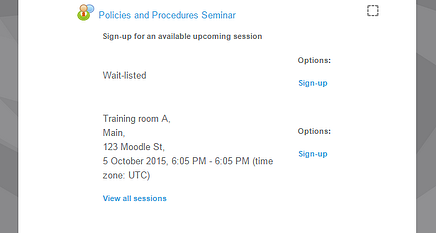 Once users have selected the session(s) they would like to sign-up for, they are then redirected to a description page of the session prompting them to either 'sign-up' or 'cancel'. If the learner chooses to sign-up for the session he or she will then be asked to input or confirm their manager's email. This will send a registration confirmation email to both the registrant and the manager. If permitted, registrants will also have the option to see others who are attending the session in addition to cancelling registration for the session they have registered for.
The Face-to-face Plugin from an Administrator's Perspective
While the Face-to-face plugin is very convenient for learners, it is even more popular with administrators because it streamlines the registration and administration process. Within Moodle (or Totara), administrators can view who is registered for which sessions and if full, who is on the waitlist. In the scenario that more seats open up for the class, administrators also have the ability to move those on the waitlist to a registered student. Additionally, if a learner is in a session that they are not eligible for, they can easily cancel their registration. While registration confirmation emails are automatically sent out, administrators also have the option message the entire group of registrants or specific users if further information needs to be delivered. The final perk that administrators rave about is the Face-to-face plugin's ability to make it easy to track attendance right within the LMS!
If you're curious about the methodology of blended learning and want to learn more about the tools to effectively implement a blended learning approach—Save your seat for the Blended Learning Break Through webinar on February 26th!