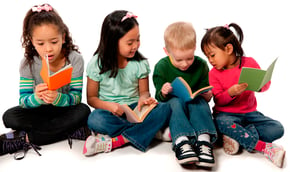 One major challenge teachers face, is how to effectively and efficiently teach students with varying educatonal needs. The solution, is blended learning. One of the benefits of blended learning is that it allows teachers to step back and take an observatory approach that supplements the lessons they are administering. It provides insight on when to step in if students need more help, and when to step back when it seems students have mastered a skill.
Looking for more information on blended learning? Watch our recorded webinar on The Blended Learning Breakthrough, where we go over the limitations of traditional modes of learning, the impact of social media and social learning in the development of blended learning, and more successful models of blended learning.
Here are two blended learning models, that have been used effectively in K-12 classrooms, to increase student reading levels:
1. Station Rotation
This model aims to keep students engaged with learning that is focussed and individualized, by having teachers at established stations where they will work with a small number of students at a time. Not all stations require technology (thus, the blend of technology with tradition). Here are some examples of stations:
A computer station where students receive a somewhat self-paced session on foundational reading skills. Teachers at this station can address student needs accordingly. For students who are require more time and instruction, teachers can recycle lesson plans that are at the same level, to provide a simple but still effective lesson. For students who are catching on quickly, teachers can provide them with the next lesson. This ensures no student is being rushed onto the next stage before they are ready, or prolonged in a stage they have already mastered.

A reading station where students can be pre-assigned books to match their reading level, and be given reading comprehension questions as a follow-up.

A video station that provides grammar and spelling lessons. Teachers can introduce new words weekly or bi-weekly, and assign writing assignments where students must include the new words to prove they understand their meaning.

An examination station, designed to "check-up" on a student's progress, and determine where in the reading level they fall. This is essentially a student assessment.

Based on the assessments that teachers assign, they can group students who are at similar reading levels, and provide the necessary lessons for each group accordingly.
2. Lab Rotation
This model is set in a computer lab, mediated and supervised by a teacher, where they can administer engaging assessments on what is being taught in class. This allows students to test their new skills, and teachers to determine whether the students are ready to move on to the next lesson. This model also allows teachers to pinpoint which students could use more help in which areas, so they can then provide the relevant resources and education to assist.