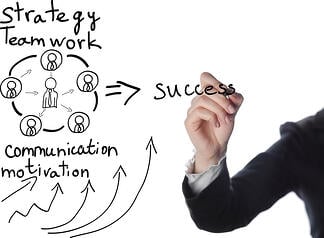 Good companies test and tune their corporate strategies on a regular basis. Strategies alter to take advantage of external events, or to steer around potential obstacles. How do you make sure everyone on the team knows how the changes impact their work and personal development? Aligning talent development and corporate strategy is difficult. Often it seems the corporate goals are large, unwieldy and difficult to grasp at the department level -- let alone at the individual level.
In well-managed companies, line of business leaders identify how their unit can contribute to achieving the larger goals and then identify the roles and competencies required. While there are generic skills like time management, critical thinking, effective communications and so forth, there are also specific competencies based on role. For each role, competencies, certifications and regulatory requirements, as well as job performance appraisals and progress in the generic skills, can form the basis for a unique talent development program at the individual level.
When all these steps are taken, individuals can see exactly what they need to do next to achieve new levels of competency, or to bring their skills up to an acceptable level. With visibility into their performance and development path, employees can more easily steer their own career trajectory. And management can spot the high flyers, or those who need help.
An integrated learning and talent management system can aid in the following ways.
Career Path Definition
A manager needs to define a role associated with a goal, enter the skills and certifications required to fulfill that role only once. When a new hire is added, he or she is assigned a role and the system automatically populates their record with the skills and certification path they'll need to follow to get to their next desired role – assuming it is within the same organization. By showing people directly what they need to do to get to the next level, they can make informed career decisions. For management a well-defined and easily communicated career path documented through the system, constitutes an auditable employment record. Because you can see who is working to improve their skills and cross-reference that with their actual performance, you can spot the high performers that your organization would want to foster and or promote over others.
Workforce Performance Measurement
By keeping all employee information in one unified system, human resources professionals and other corporate leaders can view aggregate statistics regarding workforce performance. Because roles are associated with larger goals, you can find out which are most actively supported by training. Line of business managers can easily see when an important goal is lacking roles and associated training. Moreover, corporate leadership can see on aggregate whether the people in the organization are working effectively toward corporate goals.
Individual Contribution to Corporate Goals
The average employee working on their tasks might never understand how what they do contributes to larger corporate goals. With access to their record in an integrated learning and talent management system, employees can view their role and which goals it supports. If their career aspirations are not in alignment with their current and future roles within an organization it should become obvious. Most people confronted with the fact they are not in the right role, decide to change roles within the organization, or leave. In this way, over time, the right people fill the right roles, because it is abundantly clear what they are required to do in order to be successful.
Aligning talent development and corporate strategy is very important given the scarcity of good employees and the competition to keep them. There are many more important workforce management challenges that an integrated learning and talent management system can improve. We'll explore those in future posts.