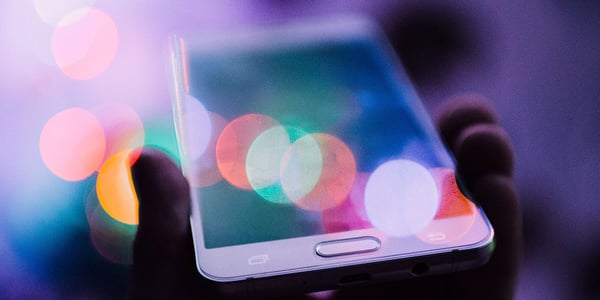 With 59% of companies allowing employees to use their mobile device at work, it makes sense to use this platform to deliver training material. Here's how the mobile platform can improve the ROI of your L&D program:
You can increase the ROI of your L&D program by embracing the flexibility of the mobile platform to deliver training resources.
Mobile devices can improve completion, performance and engagement due to the convenience factor.
Microlearning is the perfect format for long-term information retention.
Turning mobile devices into a handheld knowledgebase will support employee performance.
What is the best way to deliver your learning content? Mobile learning has the potential to become a valuable and flexible tool that helps you achieve your training goals at a company wide level.
A mobile learning strategy can increase the ROI of your training program and represents one of the best investments you can make in your workforce and L&D program.
Want to know exactly how to bring mobile learning to your LMS? This on-demand webinar will show everything you need to Harness the power of Mobile Learning:
Completion, Performance and Engagement
These three elements are crucial for the success of a training program. In fact, these are three of the areas you should focus on to track your success with actionable KPIs.
Why these three areas are important:
Completion includes completing units or courses. It can also refer to users meeting their personalized learning goals.
Performance helps measure progress by looking at how users score on quizzes. Performance should also include how well employees use new skills and knowledge on the job to meet quality or customer satisfaction goals.
Engagement is another area you should focus on. Users will get more out of a training program if they consume content regularly, stay motivated, see value in the program and actively seek new challenges and learning goals. In fact, creating engaging eLearning programs is the most effective way to Make Your Learners Fall In Love With Learning.
Download our eBook Getting Engaged: How To Make Your Learners Fall in Love
with Learning:
Mobile learning can address these three areas by making your program more accessible. Most companies have a BYOD policy, which means that employees are only a few taps away from accessing training material at any given time.
Repetition and Information Retention
Users need to retain information over the long term for training material to have a positive impact on job performance. Education professionals believe that something has to be repeated at least seven times for the information to be retained.
The real value of an L&D program lies in employees' ability to acquire new skills and knowledge they can apply.
The mobile platform is perfect for creating a microlearning program that delivers bite-sized modules users can easily access as many times as they need to.
This approach breaks down training into a daily habit that only requires a few minutes and reduces time spent away from job-related tasks.
Hungry for more on how mobile learning and microlearning can benefit your L&D efforts? Save your appetite with this webinar: Microlearning - Why You Should Order the Nuggets!
If you are in an industry with strict regulations, we've put together an eBook especially for you: Compliance and Competency Training Made Easy with LMS.
Support Employees with a Mobile Knowledgebase
Mobile devices can become valuable tools that directly impact performance and revenues if your mobile learning strategy turns these devices into a handheld knowledgebase.
You can build a searchable knowledgebase by creating bite-sized modules or videos that cover very specific topics and using tags to make this content easier to find.
Employees can conduct a quick search and find a module, video or guide whenever they need a refresher for a specific task. Turning mobile devices into a knowledgebase can improve quality, reduce human errors and even mitigate compliance risks.
This knowledge base will become an extremely valuable tool for new hires and give them the confidence they need to ease into their new role. It can also be a convenient reference tool for product training if you often add new items to your inventory.
For more on how to harness the benefits mobile learning offers, take a look at this on-demand webinar: Harness the power of Mobile Learning
How does the mobile platform fit into your current training program? Lambda Solutions can help you answer this question and explore new ways to deliver training content on the mobile platform to turn smartphones and tablets into a valuable resource that directly impacts performance and revenues.
Whether you need to implement mobile learning for your Learning Management System, are looking to optimize your LMS and eLearning programs with learning analytics, or need any other eLearning solutions, we have the expertise to help you reach your goals.
There are other ways to improve your eLearning ROI. Check out this white paper, Solving 4 Common eLearning Challenges To Increase Your eLearning ROI, as we discuss the four common challenges in many organizations, and the solutions to each.


Related Resources: